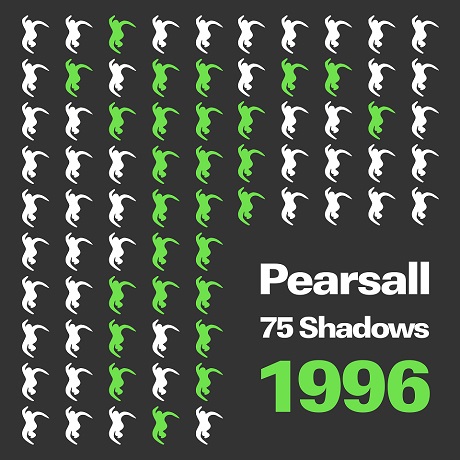 right-click, save as to download
Mixed in Berlin, July 2022
100% Vinyl
(57:39 139 MB, 320 KBPS MP3)
Cover art by Michal Idziak
Direct link to the mix:
http://sonicrampage.org/mixes/75shadows/Pearsall-75Shadows004-1996.mp3
Tracklisting:
Another week, another exciting entry in my 75 Shadows mix series, devoted to the sounds of the mighty Moving Shadow between 1993 and 1997.
This week … 1996!
1996 is interesting, because it's probably the first full year where we can say that jungle had really transitioned into drum n' bass. Before we get further into the post, I want to stop and briefly discuss semantics, as I actually remember 1996 pretty well, as that was when I first started buying records and when I started really paying attention, and what I remember of the time is that the terms 'jungle' and 'drum n' bass' were still used pretty interchangeably, at least by the punters.
What has happened since with the passage of time has been the emergence of a consensus that has mostly bounded 'jungle' to stuff released in 1994 and 1995, with a little overlap either side to 1993 and 1996. This consensus has also roughly defined a sound that is distinctively jungle, which would put the tracks on this mix more firmly under the 'drum n' bass' categorization.
So what do people mean when they say 'jungle'? Obviously ragga samples, tearing Amen drums, a general sense of chaos … but it can also mean other stuff released in 1994, even tunes without the omnipresent Amen break. I'll just be real with you that this is a rabbit hole that I don't really want to go down, so all I will say is that I consider 75 Shadows 002: 1994 to be a jungle mix, 75 Shadows 003: 1995 to be a jungle/drum n' bass mix, and this one to be a drum n' bass one; realistically the division between jungle and drum n' bass is kind of porous, but I don't feel like litigating the difference right now. 😉
Back to the topic at hand – by 1996 drum n' bass had truly emerged as the catch-all name to describe a particular style of (mostly) British high-paced breakbeat dance music, but within drum n' bass you had by 1996 probably five distinct styles or sub-genres (with of course plenty of cross-pollination/overlap between them):
Jump-up: The main rave sound of the time. Hip-hop samples, cartoon bass, gangsta attitude. Blasting from car radio stereos all over London, but not really something that Moving Shadow was involved in. Mixes of mine to check: Keep It Foolish, Actual Pirate Material
Intelligent: A name that inspired a lot of controversy, but 'intelligent drum n' bass' was the general name used to describe the mellower style of drum n' bass pioneered by LTJ Bukem and Fabio (amongst many others!) that took its cues from soul, jazz, and funk; I guess the idea was that this was a more mature sound, one that was less pop-pupilled rave mayhem, ergo less dumb. Moving Shadow was certainly a key player in the development of this style. Mixes of mine to check: Lost in Love, Prawdziwa Milosc
Rollers: Associated above all with South London's V Recordings and the crew around Bristol's Full Cycle label, this style was also heavily informed by soul and funk, but was tougher and more minimal. These tracks just rolled and rolled and rolled, and were perfect for sweaty dancefloors. Mix to check: The Bristol Rollers Appreciation Society
Hardstep: A term pioneered by Grooverider to describe the style of tracks he was playing from late 1995 onwards, hardstep was all about the roughest beats, the heaviest bass, and being pure dancefloor fodder. I guess I often think about hardstep as denoting the heavier dnb tracks from this area that didn't have a very specific sci-fi atmosphere (like techstep), but honestly the line is pretty fine.
Techstep: Robotic beats, dread atmospheres, distorted basslines … the sound of techstep! Techstep was the reincarnation of 1993's darkside aesthetic within a sterner, stricter framework, with the last flashes of rave-era nuttiness stripped out. Although Metalheadz was the most important single label for the development of this style, Reinforced also played an absolutely crucial role. Mixes of mine to check: Truly Dread, Drop the Hammer 13, Orange Dawn
I should mention that this is kind of my own categorization, so feel free to argue with it! Hardstep and rollers are probably the most contentious ones here. If you want to argue about this, you know where to find me.
Needless to say, as one of the most important drum n' bass labels going at the time, Moving Shadow was a key player in several of these sub-genres, and this mix contains tracks that I would consider as fitting into the intelligent, hardstep and techstep sub-genres. I've deliberately organized the mix to start with mellower sounds before switching things up with darker, heavier, more intense tracks.
With intelligent drum n' bass, the key label was LTJ Bukem's Good Looking / Looking Good, while with techstep the key label was Goldie's Metalheadz, nevertheless Moving Shadow was key to the development and growth of both of those styles; on the mellower side through releases from artists like Aquasky, Guardians of Dalliance, Basic Unit, E-Z Rollers, and, above all, Omni Trio, as well as for a series of compilations exploring the deeper / more soulful side of drum n' bass, while on the techstep side Moving Shadow became the primary home for two of the key players on the darker side of things: Dom & Roland and Technical Itch, both of who used a succession of releases on Moving Shadow to break boundaries in exploring this new darkside sound.
Personally, I'm really happy with this 1996 mix – these tracks still sound really fresh, and the mix of vibes is unbeatable.
I hope you enjoy it too!
Five key tracks from this mix:
Cruising Detroit: PFM (short for Progressive Future Music) was a group consisting of Mike Bolton and Jamie Saker (although later it became a solo project for Bolton alone); they were best known for a series of releases on LTJ Bukem's labels in the mid to late 1990's that helped to pioneer a deeper, mellower and more atmospheric sound in drum n' bass. This track was a rare appearance on a non-Bukem label, appearing in 1996 on the 'Storm from the East' compilation, which was dedicated to tracks by artists from eastern England like E-Z Rollers (this compilation features their track 'Walk this Land', which later became famous when it was used in the Guy Ritchie movie 'Lock, Stock, and Two Smoking Barrels'), JMJ & Richie, Flytronix, Photek, and Hyper-On Experience. 'Cruising Detroit' is a classic PFM track, rolling along smoothly with a haunting female vocal sample and plenty of atmospherics that hint at the bedrock influence of Detroit techno (hence the title).
Fever: Moving Shadow released several great compilation albums in 1996, of which 'Trans-Central Connection' was one. Dedicated to the Midlands scene, it features a great mix of tracks, mostly on the mellower side of the spectrum, but with some exceptions, like this incredible hardstep tearout from scene stalwart Tango (RIP). This is a steel-toe boot level banger. Absolutely fearsome.
Dynamics: Few producers have had as distinct an impact on drum n' bass as West London's Dominic Angas, aka Dom & Roland (the Roland being a reference to his Roland sampler!), and 'Dynamics' was his very first release on Moving Shadow under this alias (he had previously had a few releases as Current Affairs, both of which I've included on this mix). An associate of the No U-Turn crew, he really exploded on to the scene in 1996 with his combination of eerie atmospherics, precision-engineered drums and depth-charge bass. It says a lot about his talent that he's still going strong as a key player in the drum n' bass scene almost thirty years after this track was released!
Revelations (Fallout Mix): This is a track from the third great compilation that Moving Shadow released in 1996 – 'The Revolutionary Generation', which was a collaboration with the Creative Wax label and featuring their artists Alex Reece, Wax Doctor, DJ Pulse, Digital, and, as on this track, Tango and Fallout. 'Revelations' is a quite legendary track that did the rounds in 1994/1995 on dubplate, but the original dubplate version was never released (I included a remake that I cut to dub on my mix 'Not the Future We Were Promised'), and so this somewhat different version was the only version that ever saw the light of day. That tinkling guitar sample is instantly recognizable, and it's worth buying the album just for this (of course, there are plenty of other great tracks on here).
The Dreamer: I've decided to finish the mix off with a personal favorite – 'The Dreamer' by Technical Itch, aka Mark Caro from Birmingham. Technical Itch was one of the key producers behind the rise of the techstep sound, and 'The Dreamer' is, for me, a signature tune, with its rough and smooth combination of smooth melodies, growling bass, sharp-edged drums and robotic 'I have a dream!' voice. It's a personal favorite and still to this day a high point (IMO) in the whole techstep sound.
Join me next week for the final mix in the series: 1997!