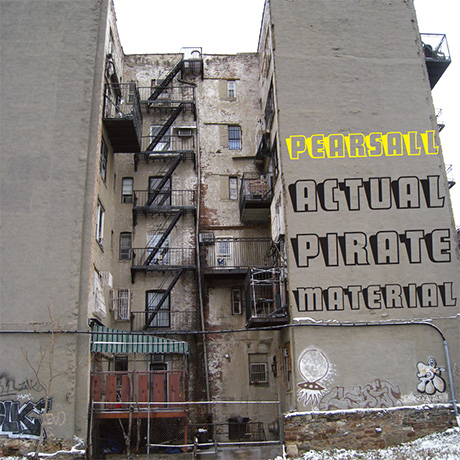 right-click, save as to download
Mixed in London, July 2013
(74:11, 170 MB, 320 kbps MP3)
Zip file (split into separate tracks)
Big cover
Cue file
Style: Classic junp-up jungle/drum n' bass from the mid-90's
direct link to the mix:
http://sonicrampage.org/mixes/apm/Pearsall-ActualPirateMaterial.mp3
Tracklisting:
01. P-Funk – P-Funk Era (Frontline)
02. Scorpio – Li-Li (V Recordings)
03. Shimon & Andy C – Recharge (Ram)
04. DJ Kane – Let's Go To Work (Trouble On Vinyl)
05. Realtime – Desert Storm (Collusion)
06. DJ Red – Energize (Trouble On Vinyl)
07. Tribe Of Issachar – His Imperial Majesty feat Top Cat (Original Dubplate) (Congo Natty)
08. Roni Size & Reprazent – Electricks (Talkin' Loud)
09. Krome & Time – Hip-Hop Ride (Tearin Vinyl)
10. Firefox – Buck Rogers (Philly Blunt)
11. Roni Size – Dayz (V Recordings)
12. DJ Red – Murder One Remix (Trouble On Vinyl)
13. Dillinja – So Damn Tuff (Test)
14. Mampi Swift – The One (Charge)
15. DJ Krust – Warhead (V Recordings)
16. DJ Krust – Warhead (Ram Trilogy Remix) (V Recordings)
17. The Dream Team – Public Enemy (Joker)
18. DJ Trend – Anthem (Miditraks)
19. Armand van Helden – Ain't Armand (AV8)
20. Renegade – Dark Soldier (Dread)
21. Decoder – Elements (Second Movement)
22. Aphrodite – Style From The Dark Side (Aphrodite)
23. Basement Jaxx – Fly Life (Roni Size Remix) (Multiply)
24. Skool Of Hard Knocks – In Da Jungle (Grand Larceny)
25. DJ Hype – On That Dust (Regulators Remix by Dextrous & Teebone) (Ganja)
26. DJ Die – Special Treat (V Recordings)
27. Benny Blanco – Remember Me? (Ganja Cru Remix) (Back 2 Basics)
28. DJ Sappo – Ding Dong Bass (Remix) (Rinse Out)
29. Splash Collective – Rebels (Remix) (Splash)
30. Dom & Roland – Killa Bullet (Moving Shadow)
Cover: Tenement building, Williamsburg, Brooklyn, January 2009
"Shout going out to the Randall in Paddington from Arjun in Maida Vale …"
Back when I was a teenager, fifteen, sixteen, seventeen, I was obsessed with jungle/drum n' bass. Every week at Blackmarket buying the latest tunes. Every day dreaming of white labels. Every night tuned into the pirate stations, doing my homework as the dj's tore through the freshest tunes. Phoning up the station to send a shout to my friend Arjun (and him returning the favor), and to ask them to identify particularly choice tracks. Recording sets off the radio to listen to on my Walkman as I walked to school.
Pirate radio had (and has) a unique energy; a special vibe that just isn't captured on commercial radio. Chalk it up to what you will, but it's definitely there, just as live rave recordings also had that little extra layer of vibes. Ever since then, I have been fascinated by the challenge of recapturing that energy, spontaneity and effervescence, and combining it with the deep thought, attention to detail, and careful production inherent in the finest studio mixes.
With this mix in particular I am going back to my roots, to the classic jump-up drum n' bass sound of my teenage years. This is hardly new territory for me – see my mixes Urban Takedown, King of the Rollerz, Firestorm, and Don't Panic for more – but just because you have already done something, that doesn't mean it isn't worth doing again! And this is territory well worth revisiting …
In my post to accompany Urban Takedown, I went into great detail about just what it was that made jump-up so awesome:
The drums – Although this is a bit of a generalization, by and large jump-up tunes featured drums that were less complicated than what had gone before, with more of a focus on rolling beats than the tearout sound that had so defined jungle. The classic jungle sound relied heavily on the Amen break and it's uniquely flexible sound, like a rippling mesh of raw drums. By the time '96 rolled around, the Amen was less omnipresent, and there were a wider range of breaks involved, and the drums were a bit less frenetic. This helped make it easier to up the tempo, as tunes were by now being made at about 170 bpm, as opposed to 160-165, like they were before. Of course, the Amen was still around, and this mix has a number of Amen tunes in it.

The bass – 95/96 was roughly when basslines started featuring more twisted midrange sounds than the chest-pounding thump that had previously been the default jungle bass. This was a trend in both jump-up and techstep, although (unsurprisingly) the classic techstep Reese bass sound (a reversed, distorted version of a bassline originally featured on a Reese Project techno record) was much dirtier and nastier than the almost cartoonish basslines that many jump-up records featured. So, yes, in case you are wondering, this is where you can trace the heritage of the wobble sound so popular in modern drum n' bass and dubstep!

The samples – When jungle first emerged one strain of the sound, raggga jungle, became popularly identified as the definitive jungle sound, even though the genre was in fact much more sonically diverse. This led to lots of gnashing of teeth amongst the elite dj's, particularly when the dancehall artist General Levy had a chart hit with Incredible (which, looking back, was a really good record!). According to a 1998 Mixmag interview with DJ Rap, there was even a 'jungle committee' set up to blackball General Levy for claiming he 'invented jungle' and, more broadly, to push the scene away from the ragga sound. Since ragga chat came to be frowned upon producers began to mine American rap for samples – as you can see from this mix, which is overflowing with rap samples and attitude over crazy bass and chunky beats. Not that the ragga influence completely disappeared, of course, as the Congo Natty crew continued to put out loads of classic raggatastic drum n' bass all through this period.
This is very much a party kind of set, a bit more 'big room rave' than the futuristic darkscapes of my previous dnb mix, Orange Dawn, but as with that mix it contains a wide range of basslines and breaks, as UrsaMal from Darkfloor discussed in his review:
Some of these tunes are miles away from the monotone kick-snare-midrange roar of much modern DnB in terms of texture and complexity …Basslines alternate between 808 hits and reeses, at the time astonishingly twisted, which now seem somewhat simplistic by modern production standards, yet in combination with the timestretched pads produces a slick, stealthy dystopic vibe.
It was a bit of a complicated time in the history of jungle, because the original hardcore party vibe had long since dissipated, and, as mental as the music was, the clubs and raves (in London at least) had developed a bit of a moody vibe, something Simon Reynolds picked up on in his 1996 article "Slipping into Darkness":
I'm struck by the fact that nobody seems to be having fun; or to put it another way, 'fun' doesn't seem to be the reason everyone is here. It's old news that the effervescent bonhomie of 92-era Hardcore is long gone, but basic civility seems to be in short supply. Even among groups of friends or boyfriend/girlfriend couples, smiles are rarer than hen's teeth, conversation is minimal. I spot a gang of super-sharp stylists, eyes masked behind sunglasses, standing erect and statuesque in the middle of the dancing throng. Their faces are frozen, their arms folded across the chest, b-boy style, but whether this intransigent posture is a salute to the DJ or disapproval, it's hard to say; their expressions are unreadable.

AWOL's resident crew of DJs – Randall, Mickey Finn, Kenny Ken, Darren Jay – sustain the mercilessly minimalist and militaristic assault of hardstep, all parade-ground paradiddles and atonal, metallic b-lines that bounce joylessly like ball-bearings in a pinball machine. The night stays at a plateau of punitive intensity, no crescendos or lulls, just steady Ardkore pressure. By about 4am, the dancers are jigging about with a kind of listless mania. One girl twitches and bounces mechanically, her limp limbs inscribing the exact same patterns in the air, as if she's animated by some will other than her own. For a Saturday night out, the compensatory climax of a week's drudgery, this seems like hard work. I start to wonder if she, like me, got sucked in by Ardkore's explosive euphoria, its manic, fiery-eyed glee, and then got carried along by the music's logical evolution to wind up at another place altogether, dystopian rather than utopian. Maybe that stunned, dispirited expression on her face comes from finding herself in the midst of an entirely new cultural formation, "a way of life" that can no longer offer release, let alone a redemptive vision.
Dark and militant or happy and cheesy, for me this music will almost always be mostly about … FUN! I have so many good memories of these tunes, of bouncing in the air on the All Saints Road to the Trouble on Vinyl system during Carnival, to entering the World Dance at Wembley on New Year's Eve 1997 and seeing thousands of people dancing under the lasers, to, yes, listening to pirate radio and dreaming of dubplates.
Anyways, enough of my waffling … the sun is shining out there, crank up these tunes and enjoy!