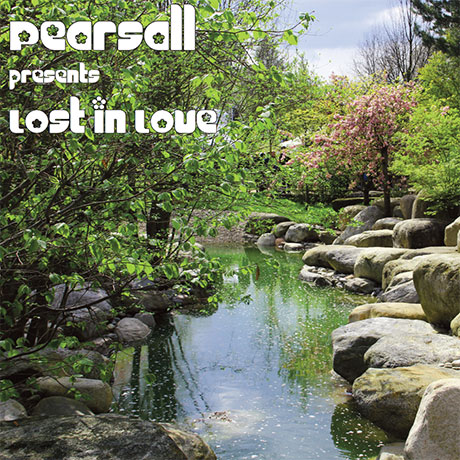 right-click, save as to download this free mp3 mix
Mixed in Berlin, July 2014
100% vinyl!
(75:26, 173 MB, 320 kbps MP3)
Zip file (split into separate tracks)
Big cover
Cue file
Style: Beautiful atmospheric Drum n' Bass music from the mid-90's
Direct link to the mix:
http://sonicrampage.org/mixes/love/Pearsall-LostInLove.mp3
Tracklisting:
01. Chameleon – Links (Good Looking)
02. Shogun – Together (Renegade)
03. J Majik – Tranquil (Metalheadz)
04. Peshay – Latin Jungle (Street Beats)
05. PFM – The Western Tune (Good Looking)
06. The Shamen – Transamazonia (LTJ Bukem Remix) (One Little Indian)
07. Voyager – Long Distance (Promised Land VIP Mix) (Higher Limits)
08. DJ Trace – Miles High (Dee Jay Recordings)
09. Universal – Groove Therapy (Looking Good)
10. Alex Reece – Pulp Fiction (Metalheadz)
11. Adam F – Circles (Section 5)
12. Lemon D – Going Gets Tough (Prototype)
13. Blu Mar Ten – Futureproof (Good Looking)
14. Alaska – The Vortex (Renegade)
15. Source Direct – Secret Liaison (Good Looking)
16. Essence Of Aura – So This Is Love (Moving Shadow)
17. Photek – The Rain (Remix) (Razor's Edge)
18. St. Germain – Alabama Blues (Wax Doctor Remix) (F Communications)
19. Shogun – Sunburst (Renegade)
20. Appaloosa – Travelling (Earth)
21. DJ Zinc – Contact Lost (True Playa'z)
22. JLM Productions – Autumn (Reinforced)
23. Eugenix – Sunshine feat Corelle (Bear Necessities)
This is a super super long post, so to make things simpler, here are links to the three main sections of the post:
1. General purpose waffling
2. A tune-by-tune breakdown of the mix
3. A special competition to celebrate 30,000 plays
Fuck yeah! 30,000 plays on Soundcloud. OK, that's not that much by many people's standards, I guess, but I am overall pretty pleased at how often people have listened to my mixes.
Considering the absolutely endless choice of mixes available on the net, it gives me that warm fuzzy feeling that on Soundcloud my mixes have now been listened to over 30,000 times.
And what better way to celebrate than with uploading yet another mix?!?
This mix right here is one that I did back in July before going away on a family vacation to Nova Scotia (crazy beautiful part of the world, may I add), that I have sat on for a little while, biding my time, waiting for the right moment … which is clearly now.
Lost In Love is a selection of some of my favorite ever deep drum n' bass tunes. Some people called this 'intelligent drum n' bass' at the time to distinguish it from the ragga/hip-hop inspired stuff that got played at the big raves, but I always thought that was a stupid name that set up a false dichotomy between the different sides of the scene. These tunes weren't good because they were 'intelligent', and nor did listening to them prove you were 'smart' – they were good because they combined the took the rhythmic science of drum n' bass/jungle and combined it with influences from other styles of music, particularly jazz, funk and ambient, to come up with something that could work as well on your headphones as well as on the dancefloor. Unfortunately by around '97/'98 this style had descended into parody – it seemed like every shampoo commercial director by then had ordered up some weak jazzy dnb beats to soundtrack their ad.
This was a sad turn of events because, as demonstrated by the tunes on this mix, things didn't have to be that way at all! At its best, this music combined melodic flair, hard-hitting beats and bass, and a nose for a funky groove.
Basically, consider this a very long-awaited sequel to my mix Over The Horizon, which I recorded way back in 2008.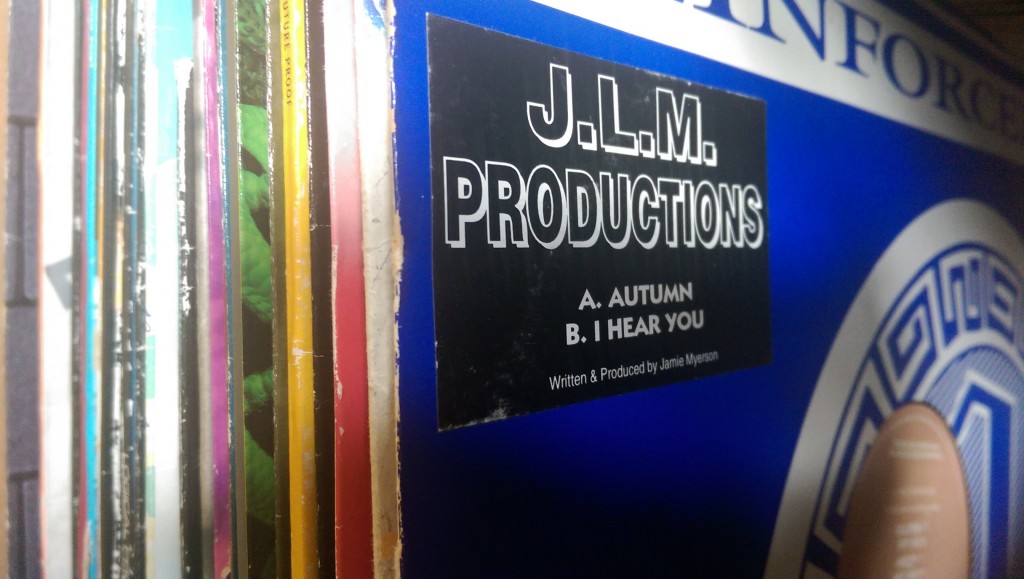 The Tracks:
Chameleon – Links: a sublime number that begins with a classic Ferris Bueller sample before kicking into a chunky rolling break and gorgeous harmonies. Chameleon was the deep drum n' bass alias of Mark Pritchard and Tom Middleton, two brilliant and prolific producers who are best known as Global Communication (their 76:14 album was an ambient landmark) who have over their long careers produced literally hundreds of tracks under multiple aliases across many different genres – with some other examples being Jedi Knights for funky electro, Secret Ingredients for deep house, Link & E621 for IDM and Reload for ambient and other experimental electronic music projects.
Together: A simple and gorgeous track from Shogun on Renegade Recordings. Renegade was the deeper sibling of the more street-oriented Trouble On Vinyl, and, as tastes changed and the scene developed, it was also joined by Renegade Hardware on the techstep tip.
Tranquil: Long-overshadowed by its flipside, the monstrously anthemic Your Sound, 'Tranquil' is a luscious roller from J Majik, all razor-sharp beats and twinkling melodies. Like many of the Metalheadz camp, J Majik was equally adept at making planet-smashing techstep monsters and deeper, more meditative tunes like this one.
Latin Jungle: Paul Pesce is one of the true originators of the sound, and a man who has been responsible for huge numbers of awesome tracks, from hardcore darkside business to jazzy rollers like Miles From Home. Mostly known for his releases on Metalheadz and, later, Blue and Cubik Muzik, I actually think that some of his strongest stuff came out on the Basement Records sub-label Street Beats. This tune, in particular, has it all for me: clever drum programming, a beautiful breakdown, and, crucially, enough bass to level a small wooden structure at fifty paces. On the flip is the equally awesome but more throat-grabbing On The War Path.
The Western Tune: More high-grade tunage from the Good Looking camp. This is my favorite PFM tune of them all, a sublime roller that fits in the mix like a glove, all choppy beats, twanging guitar samples and gunshots.
Transamazonia (LTJ Bukem Remix): The Shamen were terrible. There I said it. Now I am eternally grateful to Mr. C for going on to become the svengali of the London tech-house scene as well as eternally changing London clubbing for the better by co-founding The End (and what a brilliant venue that was). Unfortunately, his original group The Shamen just weren't that good. But that doesn't matter when you have LTJ Bukem at the height of his powers on remix duty. Like here. This one just rolls and rolls and rolls, sweeping you away with it.
Long Distance (Promised Land VIP Mix): From the Promised Land Volume Two compilation, here is legendary engineer Pete Parsons under his pseudonym Voyager. I inserted this one here as I thought it was a nice bridge between the Transamazonia remix and Miles High.
Miles High: Absolutely huge tune from the man like Trace. Honestly, I don't really need to say that much about the next few tunes, given that they are all so well known (I will, though). Through the course of the mix I tried to be not too obvious in my track selection, but I guess I got to this point and went: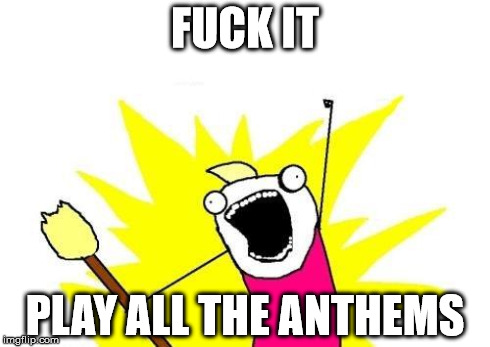 What can I say? It felt good.
Groove Therapy: Another classic from the sets of LTJ Bukem, this tune slips so effortlessly into the mix, and when it drops into the melody … man.
Pulp Fiction: One of the biggest dnb tunes ever, this was huge everywhere from Speed to Metalheadz at the Blue Note to the grimiest jungle raves. Yeah, ok, including it in this mix is a Captain Obvious move, but fuck it, there's a reason this tune is so beloved. This is pretty much drum n' bass distilled to its platonic essence: catchy horn sample, snapping breakbeats, and a bassline so deep you need an oxygen tank to properly fathom it. Still awesome almost twenty years later …
Circles: … But not quite as awesome (in my opinion) as this tune. As far as I am concerned, this is the single greatest tune ever made by Adam Fenton (the son of 70's glam rock star Alvin Stardust). This was one of the first tunes that really turned me on to drum n' bass. Everything about this tune is awesome, from the bassline to the breaks to the perfectly used vocal sample.
Going Gets Tough: You can't make a mix like this without including some Lemon D! Yet another classic tune, this one mixes beautifully with Circles, and is another weighty, funky number.
Futureproof: I love the Amen break. You love the Amen break. But like many things in life, sometimes things are more satisfying if you wait for them. That's why I waited 13 tracks before bringing in a proper Amen smasher, in this case from the Blu Mar Ten team. It's just a beautiful and satisfying moment when those rippling drums start emerging from the mix out of 'Going Gets Tough'.
The Vortex: A fantastic tune from the Alaska alias of Dev Pandya, who is better known for his work as Mixrace and Paradox. Dev Pandya has long been one of the finest exponents of breakbeat science, of processing and chopping up drums in fantastical ways, and this release is an exhilarating example of his art in action, combining deep atmospherics with some of the best drums you will ever hear.
Secret Liason: In all honesty, things went a little wonky here. Both the mix in and out of this tune didn't quite work – they are in time, but they just sound a bit off somehow. This is not an easy tune to mix! But it is totally worth including it, because, well, I mean … Christ, you don't need me to explain. Just listen to it – it's amazing! Source Direct were two of the greatest producers ever in drum n' bass, and this is one of their best tunes. You do the math.
So This Is Love: Essence of Aura was a Coventry-based production crew that started out making mental hardcore rave in the early 90's before following the natural progression of things into jungle/drum n' bass. Their catalogue isn't as deep as some of the other producers, but they released a number of quality tunes on Moving Shadow. This one was my personal favorite – great vocal sample, quality Amens, excellent melody.
The Rain (Remix): After a three-track Amen session, I decided to dial the madness down for a little bit with this one. The original version of 'The Rain' appeared on Photek's Natural Born Killa EP on Metalheadz, and then this remix appeared on the Metalheadz remix sub-label Razor's Edge. If you are a collector, you know how every single one of the early releases on Razor's Edge is a must-have. The format was pretty straightforward – each release had on one side a remix of something from Goldie's classic album Timeless (in this case Photek remixed 'Still Life'), and on the other side a remix of something else from the Metalheadz catalogue.
Alabama Blues (Wax Doctor Remix): Wax Doctor was one of the most prolific producers and remixers around in the mid-90's. Along with his friend and occasional production partner Alex Reece, Paul Saunders was one of the go-to guys in the mid-90's for anyone looking for a drum n' bass remix, remixing artists as diverse as Model 500, Frank de Wulf, The Ballistic Brothers, and Friends From Rio. Here he turns St. Germain's jazzy house favorite 'Alabama Blues' (which was also memorably remixed by New Jersey garage legend Todd Edwards) into a yearning drum n' bass classic, all sweeping pads and swooning bass.
Sunburst: Round 2 from Shogun. Another gorgeous tune, and one that mixes sensationally with the Alabama Blues remix.
Travelling: LTJ Bukem's Earth Volume One is a beautifully packaged box set, featuring a mix of drum n' bass and downtempo tunes. My two favorites are Doc Scott's sensational Tokyo Dawn and this one, which I love for the majestic chord sequence that comes in during the breakdown. Beautiful.
Contact Lost: I defer to no man in my love for DJ Zinc – hell, I even made an entire tribute mix to the guy! So this is another wicked tune from him, a slightly harder-edged roller to take us nicely into the finale.
Autumn: When you look at American contributions to drum n' bass in the mid-90's, they were basically pretty thin on the ground (later on, of course, many American producers and dj's became leading figures in the scene). One exception, however, was Jamie Myerson, who released several fantastic EPs on the legendary Reinforced label. My personal favorite tune of his is this one, which came out in 1996. I think this is just gorgeous, and it blows my mind that it is available so cheaply at Discogs, when you consider how many inferior tunes now command farcical prices.
Sunshine feat Corelle: And the last tune! I actually decided to let this one play out in its entirety, because the intro is just sooooo nice. Eugenix was a collaboration between Toby Best and Austin Reynolds. Austin Reynolds is one of the unsung heroes of dance music, because he was the in-house engineer at Suburban Base Records from 1991 to 1993, which means that he was a key behind-the-scenes figure during the making of some of the biggest rave anthems ever. Later on he worked extensively with Billy 'Daniel' Bunter as Bang The Future and was a key figure in the development of trancecore/freeform hardcore. Which is nice.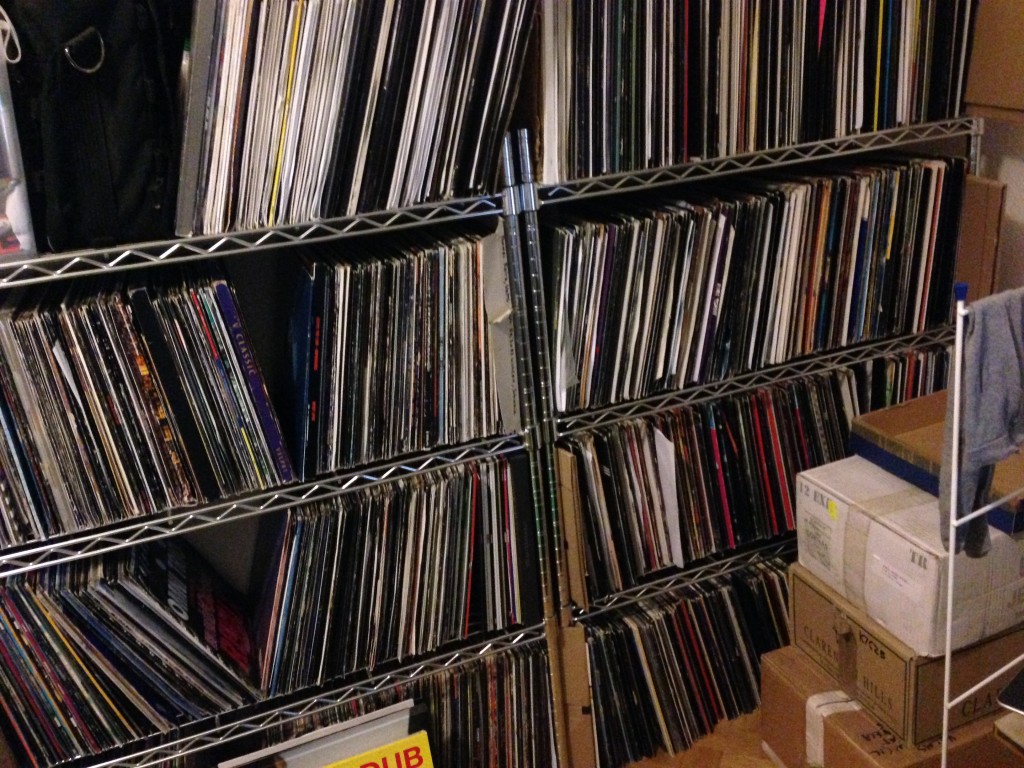 Competition Time!
To celebrate hitting 30,000 plays on Soundcloud, I also decided that now would be a good opportunity to run a little competition.
The competition will be super easy to enter. Just share the link either to this blog post or to the mix on Soundcloud with the hashtag #sonicrampage30k on Facebook (it has to be public otherwise I won't be able to see your entry), Twitter or Tumblr. That's it!
The competition will close on Friday the 31st of October at lunchtime and I will then announce the winner in the afternoon. Good luck!
Here are the competition prizes:
Pick my next mix for Sonicrampage from the list below
Get a personal 15 track mix from myself – only you and I will have it! This will be made available to you in your format of choice: wav, FLAC, mp3. You pick the genre (within reason!) or multiple genres or even tunes – it's all negotiable. I'll also spend up to 50 Euros of my own money acquiring tunes to make this mix a reality
Here are ten (!) ideas for mixes that you can pick from:
A Long Way to Enlightenment (Acid): Another journey from acid house to acid techno, covering vintage acid tunes from the labels like Phuture Wax, Harthouse, No Respect, X-Trax, R&S, Important, and Choci's Chewns. Similar to The Waveform Cult, Slaves to the Silver Box, and Beyond The Valley of the Acid Vixens.
Way Of The Future (Jungle): Classic tearing '94/'95 jungle from the depths of my record crates. Solid gold classics and amazing obscurities from the likes of Dillinja, Photek, Remarc, Tango, Ellis Dee, Chatta B, and many many more. A follow-up to Street Dreams, which is to this day one of my most popular mixes.
Truly Dread (No U-Turn Special): A tribute to the No U-Turn crew and their associates, the purveyors of the darkest drum n' bass sounds in the 90's. Expect awesome tunes from Ed Rush, Trace, Nico, Optical, Dom & Roland, Fierce, and Matrix.
Dumb Drums (Jump-Up Drum n' Bass): Because jump-up is just too fucking good. Honestly, same vibe as Actual Pirate Material and Urban Takedown, just different tunes.
Morally Diminished 4 (Electro Techno): 'Electro' might have become a bit of a dirty word, but this crate-digging selection featuring cuts from Kiko, Anthony Rother, The Hacker, Miss Kittin, and more will show there's more to electro-influenced 4/4 sounds than cheesy guys in stupid sunglasses gurning away in Ibeefa.
Kowloon Nights (Technasia Tribute): A tribute to my favorite techno producer: Technasia!
Sunrise Over Hamburg (Nuclear Hyde Tribute): A tribute to my favorite hard trance production team: the three German masters who were variously known as Nuclear Hyde, Plex, Override feat. G-Meter, Twisted, and Scope. Expect stripped-down, pulsing beats a million miles away from the velveeta arpeggios that most people think of when they hear the word 'trance'.
Pearsall in Wilmersdorf (Mala Tribute): A tribute to DMZ legend Mala (with the title a cheeky reference to his fantastic album Mala in Cuba) – yes, the world is overloaded with Mala tributes, but I still want to do one. 😉
Squat Rocking 7 (UK Hard/Acid Trance): Hard, fast energetic hard trance sounds – the kind of music that was played at parties like Escape From Samsara, Pendragon, and Antiworld. Like Squat Rocking 5, if you enjoyed that sort of thing, but maybe a little different. 😉
Eurotrash 6 (European Hard Trance): Since Eurotrash 5 was so fast, Eurotrash 6 will be slower – it won't go over 145 bpm at all! This will be all about the hypnotic grooves.
Enjoy posts like this? Please consider making a donation to help support Sonicrampage