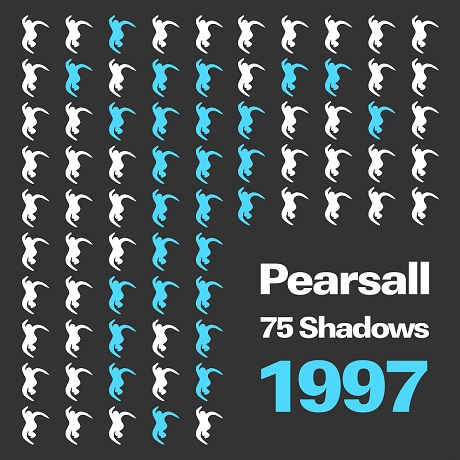 right-click, save as to download
Mixed in Berlin, July 2022
100% Vinyl
(50:56, 117 MB, 320 KBPS MP3)
Cover art by Michal Idziak
Direct link to the mix:
http://sonicrampage.org/mixes/75shadows/Pearsall-75Shadows005-1997.mp3
Tracklisting:
Five years of music over 75 tracks on five mixes, released over five weeks … this week I'm very excited and proud to share the final edition of my 75 Shadows mix series, which I've done to explore the legacy of the amazing Moving Shadow record label, one of the great British electronic music labels, a label that played a key role in the development of British dance music from hardcore to jungle to drum n' bass.
The idea of the series was to showcase each year in isolation, to really give the listener a clear sense of where things were that year, while also showcasing the development of the label over the years if you listen to the mixes in sequence. The gap between the tracks featured on this mix and those that featured on the very first mix in the series, 75 Shadows 001: 1993, is quite large, and it's a testament to the creativity of the scene that such a big change happened in a relatively short time period.
1997 was an interesting year for Moving Shadow, as it continued in the pattern it established in 1996 of releasing tracks from across the drum n' bass scenes divides, both from the mellower, more atmospheric side of things, as well as from the harder, techstep side of the scene. 1997 saw Moving Shadow release many singles (including on its Audio Couture sub-label), as well as several full-length albums: Omni Trio's Skeleton Keys and the compilations Storm from the East 2 and Blueprint.
For this mix, however, I have done something a little different from the previous mixes in the series; specifically, I have chosen not to represent the full diversity of Moving Shadow's 1997 output, by which I mean I haven't really included any of their deeper, funkier, mellower releases, and instead I've kept things strictly techstep.
The reason why is pretty simple:
I felt like it
Not everything needs a complex reason! In this case, I wanted to open with 'Valves' and end with the 'The Shadow (Process Mix)', and I decided that I didn't need to detour to mellower stuff in between, but I could instead keep it dark throughout, while still building up the intensity, starting with crisp stepping drums and dark atmospherics and then building up to smashed-up drums and heavily distorted basslines. Also, if I'm honest, I prefer Moving Shadow's techstep releases from 1997 to their more atmospheric stuff, hence the focus. It's also worth noting just how much this mix revolves around the prodigious output of Dom & Roland, he had a hand in 9 of the 15 tracks on here … which is maybe a bit much, but when they are so good, why not?
It's a short ride, but still quite a journey!
So that's it for the series … I'm really proud of this whole project, and it's had a really good reception (special thank you to Simon Reynolds for featuring it on his blog), with almost 2500 listens in one month across the four mixes on Soundcloud, which is nice!
Thanks for listening, and for reading. More new music projects soon.
Five key tracks from this mix:
Valves: As far as I know, this is the only collaboration between Dom and Ed Rush that was ever released, and if people would expect such a combination to produce something absolutely brain-blitzingly heavy, this … is not that. The main thing that distinguishes this track is it's strange break, which sounds like Darth Vader unwrapping a drum kit inside a bottle. Actually, I have no idea if that's even an accurate description … the main thing is that the break sounds very strange. Is this even dance music, or just something to fuck with high people? Whatever it is, I love it and think it's inspired.
The Vandal: This, on the other hand, is drum n' bass at its stripped-down, clinical best. The two step drum pattern ultimately became very boring / overplayed, but there's a reason it became so hugely popular – unlike the crazy rhythms of jungle, two step is really easy to dance to. You can have two left feet and happily lurch along without feeling like a total idiot. This track is, in my opinion, one of the finest two step tracks of all time. A militantly clipped beats, sweeping atmospherics, a build up of tension, and then finally the bassline drops: distorted, angry, solid, like a very ripe lemon being squashed under a very large rubber boot. It's great!
Synesthesia: By 1997 the dark wave had swept up lots of people who were previously known for producing other styles, among them E-Z Rollers, who were best known for producing jazzed-out, funky rollers. This track is their take on the dark sound, and oh lord, what a tune it is, as they integrate their jazz influences with the techstep sound by combining some spectacularly tricky drum programming with dark atmospheres and solid blasts of 808 bass. Everyone should hear this on a club soundsystem at least once in their life – I remember them playing it at Manga in Edinburgh's La Belle Angel when I was a university student, and it sounded like it had been beamed in from an alternate dimension. Absolutely crucial.
Distorted Dreams: Here's another one of the nine (!) tracks on this mix that Dom Angas had a role in; this one was a collaboration with label boss Rob Playford (aka Timecode) and was one of the two tracks featured on Moving Shadow 100, with Rob & Goldie's 'The Shadow' on the flipside. I actually have the promo gold pressing, which I picked up at Blackmarket Records (they pulled it from under the counter for me!). I've used both the original and the Desired State (aka Origin Unknown) mixes on this – both have militant drums, distorted bass, and enough dark energy to fuel a necromancer's ball.
The Shadow (Process Mix): How to finish this whole series? With this! Rick Smith from dance music superstars Underworld provided this remix as part of the Moving Shadow 100 celebrations and it's … frankly incredible. A very looooooooong and atmospheric intro and then it drops and it destroys absolutely everything in sight. Simply devastating. I've always found it interesting that more artists from other dance music scenes didn't do more with drum n' bass, especially in the late 90's when dnb was at it's critical and commercial peak – this is actually pretty rare, all things told. Perhaps sometimes the experiments weren't that good? In any case, this is an all-time fucking banger, and a very suitable way to finish this whole series.
Thanks to you all for listening, and for the great feedback. Putting together this series has been huge fun, and I'm really happy with how it turned out.
And, oh yeah, huge thanks to Moving Shadow for the music … check out their new incarnation Over/Shadow for great modern drum n' bass and jungle!