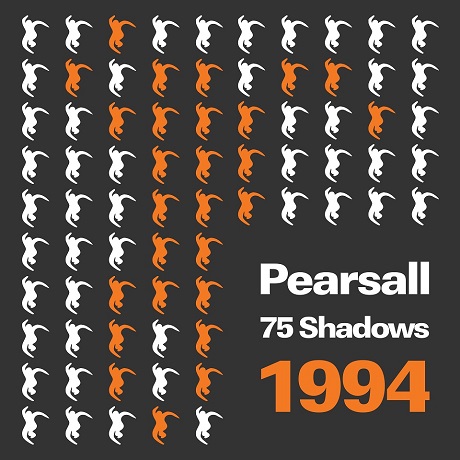 right-click, save as to download
Mixed in Berlin, June 2022
100% Vinyl
(50:35, 116 MB, 320 KBPS MP3)
Cover art by Michal Idziak
Direct link to the mix:
https://sonicrampage.org/mixes/75shadows/Pearsall-75Shadows002-1994.mp3
Tracklisting:
One week later, here's my next edition in my special summer series of Moving Shadow tributes … 75 Shadows!
I've been really pleased with the reaction over the last week to the first mix in the series, dedicated to the sounds of 1993, and I'm hoping that people also enjoy this mix, which is dedicated to the magic of 1994. I was quite pleased to see Simon Reynolds post about this mix – I don't think anyone has ever written about the UK rave scene better than Simon, so it's always a great honor when he writes about one of my mixes!
So, then, 1994 … what a year!
If 1993 was the last year of the unified hardcore rave scene, 1994 was the first year where things started to properly split between happy hardcore and jungle, although of course in reality things were somewhat less tidy than the normal story that is told like this:
1992: euphoric breakbeat hardcore
1993: darkcore
1994: jungle
1995: hardstep
1996 and onwards: drum n' bass
Reality is always messier than the stories we tell ourselves to make sense of the world!
By looking at just Moving Shadow's output for 1994 we can see what a fascinating time in the music's evolution that year was; there's a little bit of everything in this mix! In fact it was a challenge to narrow things down for this mix, simply because Moving Shadow was so wildly prolific in 1994, putting out dozens of releases, including the nine editions of the essential Two on One series … in fact you could do a killer mix composed solely of tracks from just that series.
The first half of the mix, roughly, consists of tracks that epitomize the earliest stirrings of what came to be known, somewhat unfortunately, as 'intelligent drum n' bass' … soulful, jazzy, rolling tunes, what I like to call 'rugged soul', of the kind I featured on my mix Rolled in Sunshine a few years ago:
What's nice about this mix, for me at least, is that it points at a direction for jungle music that wasn't so well explored in the end – jungle as a rugged form of soul music, with sweet melodies and vocals rubbing up against tough breaks – the sounds of rare groove and jazz funk reimagined in a rave context. In the endlessly bifurcating river of breakbeat music, the 'deeper' side of this music, as represented in this mix, ended up evolving by 1996 into a very smooth sound, with well-mannered beats matched to tasteful samples from jazz and funk. I like that stuff too (see here), but I still feel like something vital was missed in the transition, and making this mix (and listening to it over and over and over) has just reinforced that for me. I much prefer this tougher sound to what came later, which sometimes sounded a bit like it was designed to soundtrack shampoo commercials.
After starting quite mellow I then head into darker territory, with a series of tracks that were probably made in 1993 but only released in 1994; they certainly have that characteristic '93 dark sound, albeit with more advanced drum programming. Chopped-up breaks, dark stabs, horror movie vibes? Come on, I love that shit. I can't get enough of it.
Finally, of course, things end with some classic jungle tearouts. How could I not? I sort of thought about not including 'Terrorist', but that would be ridiculous. It's one of the biggest and most recognizable jungle tunes of all time – I don't consider it particular typical of Moving Shadow's output over the years, but I would have been insane to leave it out.
Overall this mix was a lot of fun to put together, and honestly, the tunes, just so good. There's really something special about jungle music, I can't help it, I love it:
These tunes have a very special vibe to them, a unique power and force that is missing, in my opinion, from modern drum n' bass. Maybe the secret was in the way the music managed to be simultaneously simple (in the focus on drums and bass) and richly complex (just listen to the incredible rhythmic detail of Remarc's 'RIP'). Or maybe it was in the relatively restrained speed – as time went on drum n' bass got faster and faster, removing the space for the beats to breathe. Another possibility lies in the fact that this was when producers were still experimenting with dynamics, so the structures of the individual tracks were not yet as formulaic as they were to become.
5 key tracks from this mix:
Music is the Key: Few production outfits matched the consistency of Northampton's Foul Play throughout the 90's. Steve Bradshaw (who sadly passed away in 1998), Steve Gurley, and John Morrow were responsible for huge hardcore anthems such as 'Finest Illusion' and 'Open Your Mind', but by 1994 they were already moving in a more soulful direction, putting their soul, jazz, and funk influences to good use in charting a new direction for UK breakbeat music. This track is really a great example of this, being that rarest of 1994 jungle beasts … an actual, honest-to-God song! Featuring the soulful vocals of Denise Gordon, this is a heartfelt paean to the power of music, layered over perfectly chopped breaks and beats. Simply incredible.
I'll Give It to You: As I mentioned in the last post, Gavin Cheung (aka Nookie and Cloud 9) was one of the key figures in shifting the UK breakbeat sound in a more soulful direction, and this track is a shining example. Sampling the vocal from 'My Love' by New York house legends Masters at Work, this track layers a beautiful house vocal over pianos, strings, a funk-filled bassline and precision-engineered breaks to deliver a masterclass in soulfulness. Timeless music.
Thru the Vibe ('94 Mix): Many (most?) people in the early 90's assumed that Omni Trio was, well, a trio, but in fact it was one guy: Rob Haigh. Haigh was considerably older than most of the other junglists, having started his career in music in the late 1970's, playing in the experimental rock band Labyrinth as well as releasing ambient electronic music as Robert Haigh and Sema. So by 1992 he was already a musical veteran, which made him somewhat of an outlier in a scene that was largely composed of young people making things up as they went along. With the creation of the Omni Trio project in 1992 he brought all his influences to bear on creating music that paved the way forward towards the development of drum n' bass, through his experimental approach to drum programming, through his use of melody, through creative uses of samples, through the usage of atmospheric orchestral sounds, and through an emotional palette that ran a wider range than the super-obvious euphoria or darkness that had previously characterized hardcore. This particular track wasn't one of his major anthems, but it absolutely encapsulates all of the characteristics I mentioned in the last sentence: creative drums, euphoria strained through a melancholic filter, powerful synths. It's great!
Lords Of The Null Line (Foul Play Remix feat DJ Randall): One of the most beloved, most sampled, most remixed, most influential 1993 hardcore tracks of all was Hyper On Experiences 'Lords of the Null Lines'; I chose not to use the original mix in my 1993 selection because I wanted to use this particular remix in the 1994 mix. It's Foul Play on absolutely top form, with dj legend Randall along for the ride … this tune is the perfect bridge between hardcore and jungle – super-intricate jungle drums married to spooky synths and that iconic Predator 2 sample, 'voodoo magic, man!'
Terrorist: Come on, you can't do a Moving Shadow 1994 mix and not include this. I think that the jungle police would come and take you away if you tried! One of the biggest records in the scene ever, and certainly Ray Keith's biggest record, this samples the piano from Japan's 1980 release 'Nightporter' before dropping into a fathomlessly heavy bassline sampled from Detroit techno legend Kevin Saunderson's alias The Reece Project. This bassline, endlessly sampled, twisted, and mutated, is known simply as 'the Reece bass', and 'Terrorist' was one of its first and deadliest uses. This track still hits with the force of a runaway train – absolutely essential, and the perfect way to conclude the mix.
Bonus video:
Back next week with 1995!