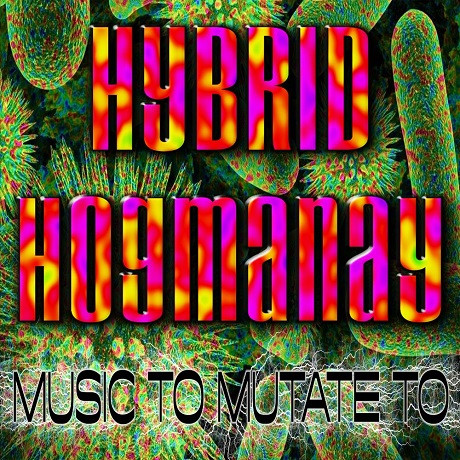 right-click, save as to download this free mp3 mix
Mixed in Berlin, New Year's Eve 2021/2022
100% Vinyl
(65:18, 149 MB, 320 kbps mp3)
Artwork by Eyejack
Direct link to the mix:
http://sonicrampage.org/mixes/hh/Pearsall-HybridHogmanay.mp3
Tracklisting:
These are the tracks I played while livestreaming on New Year's Eve for my good friends Andy and Lizzie's Hybrid Hogmanay party. Originally I was supposed to be in Edinburgh with them for the actual party, but the Omicron variant put paid to that, so instead I streamed from my home in Berlin.
I was playing first, at 5:30 Berlin time (since we had a party to go to as a family in the evening), so I decided to keep things to a rather stately 130 bpm and not get too caught up in chopping and changing. Also, since I hadn't planned or practiced, I mostly used records that I already knew quite well – most of these records have appeared on various past mixes.
Actually, I think it's a pretty cool mix! You can judge for yourself, of course. But I like it. 😀
Here's a few words about each of the tracks that I've used on this mix:
The Force: I've kicked off the mix with my favorite ever Laurent Garnier track. Moody bassline, acid, repetitive robotic vocals? Sounds like fun to me! I've previously used this on both Morally Diminished 3 and Meaty Aged Acid Dad.
Zulu (Trance Mix): Thumping tribal house from the master Armand van Helden, this is from a 1994 appearance he made under his Circle Children alias on Strictly Rhythm. Yes, I did indeed use another mix of this on Downtown Sound a few weeks back.
Rainbow: Erik Rug was a French house producer who made a few well-received records back in the 90's, but this one in particular is a tune I've always liked. I picked it up in a second-hand shop in Paris back in the late 90's and I've had it ever since. Just a nice, groovy house record. I used this previously on Tessmix.
All Night Long: Is this the best NYC house record ever? Change my mind! Just a masterpiece of house music. Timeless. Funky bassline, soulful vocals, plinky keys. It's got it all! Weirdly it's been almost twenty years since I used this on a mix – the last time was Rampage Teknikal 3.
I Can't Complain: I always like a spicy mix-up, so following on from vintage deep house with trundling acid madness was, well, fun! This is the German acid gods channeling the early Chicago sound; they originally recorded this for their DJ-Kicks mix compilation in the 90's, where it featured alongside vintage 80's acid classics, sounding 100% correct and well suited. I used this seven years ago on A Long Way to Enlightenment.
Green Line Acid: More acid! This time it's from West Coast act Metro, whose acid breaks sound was very popular across the US back in the 90's. I've never actually used this track in a mix before, mainly because I've never actually done a mix this slow! I like it though – pumping acid house that later turns into tumbling acid breaks, although I mixed out before the beat switch happens.
Rock Shock: Chicago house legend Roy Davis Jr is most famous for his deep house classic Gabriel, but this is a more upbeat disco-funker for Thomas Bangalter's Roule label. Kind of a switch from the two acid tunes preceding it, but why not, eh? I last used this back in 2009 (gulp) on Morally Diminished 2.
Donkey: Ridiculously banging house from the legendary Armand van Helden. It's just a kickdrum, some squeaky noises, a little percussion, and a guy repeating 'get on the donkey' over and over in a New York accent. Genius. I've never used this one on a mix, but I did use Jerome Hill's homage to it a few months ago.
Daydreemin' (Mr. C Remix): Tech-house has become something of a dirty word, but back in the late 90's in London it meant a warm, bass-heavy sound that combined the best of house and techno. It was the sound of Wiggle, Subterrain, and the early days of Fabric. End Recordings, the in-house label of the legendary club The End in Covent Garden, was one of the key labels for the sound, and this cut features three of the key artists from the period: Layo & Bushwacka (under their The Usual Suspects alias) and label and club boss Mr. C (formerly of early 90's chart botherers The Shamen). Sinister and funky! I kind of lost interest in the overall London tech-house sound a while ago, but I still really like this record – even though I haven't used it on a mix since Morally Diminished 2 in 2009.
Tardis: Another Bushwacka production (two in a row!), this is an acid bubbler from his 1998 album Wak'd, an album which is undeservedly obscure these days! Lots of cool stuff on there, in my opinion, and this particular track is my favorite. It's also the hardest, so I guess no surprise there? This is the first outing for it on a mix since The Waveform Cult in 2008.
Cum On: Back in the 90's, South Australia's HMC produced some of the most memorable acid techno of the decade. From everything I've heard from Australian friends he is also a genius dj, but I've never had the pleasure of hearing one of his sets. I'm a big fan of his productions – just relentless, rolling, tweaking acid. The perfect soundtrack to dark, strobelit rooms. This is a classic of the genre – not over-the-top in any way, shape or form, but an unstoppable pulse with constantly percolating 303 lines riding over the top. What 'minimal' should mean. Love it! This one last made an appearance in my 2017 Mechatronica promo mix, which is now a surprisingly long time ago!
Teacher: This one is just Canadian techno legend Richie Hawtin bashing you over the head with some sharp-edged, percussive acid techno. I've not been a huge fan of all of his work, but I've always loved his harder stuff, and I think the tracks he released in the early 90's under his Circuit Breaker moniker are amongst the best acid ever released, so I've been excited to hear him start to re-explore this style recently, as on his new track Acid King. I've never used this track on a mix, but I've used some other Circuit Breaker tracks before, for example 'Creator' was on 30×3.1: Your Mind on Acid.
Gonk: Dave Clarke needs no introduction, but this track might. This is probably one of his lesser-known tracks, originally appearing on the flipside of the massive techno anthem 'Wisdom to the Wise' (also known as Red 2). B-sides of much-loved anthems often struggle to get a hearing, but I think this one should be better known. I love this track's combination of panel beater percussion, organ vamps and funkily twisted bassline. I last used this one in 2008 on Tessmix.
Break Beats (Wild World): Here's another track that I feel is criminally overlooked – it's a production by Japanese techno artist Co-Fusion that is just perfect in it's simplicity. It's basically a kick drum with some heavily chopped up breakbeats over the top with a little synth action and some cut-up vocals. That's it! The nice thing here is that the breaks don't sound like hardcore or jungle-style breaks, which is what you would typically hear from UK techno artists, but really more like funk or soul-style drums just chopped over a techno kick. It's a really funky track! I first heard this on Amil Khan from Technasia' Plus Mix, which I picked up in Japan in the spring of 2002 when I was visiting my friend Dan there. I loved it, so I ended up tracking down a copy for myself. This is yet another track that I last used on Morally Diminished 3.
House (Ben Sims Remix V.1): If you're a fan of the funkier side of techno, you're no doubt acquainted with Ben Sims. Coming from just outside of London, he's well-known as one of the best and most consistent dj's in the scene, as well as for his extensive back catalogue of relentless machine funk. This tune is one that he put out on Primate many years ago, it's not among his better-known tunes, but I like it! Just funky techno, nothing more, nothing less, but that's enough! I thought that I've never used this one on a mix before, but I've just checked and in fact I used this in 2003 on Rampage Teknikal 2, so almost twenty years later it has got another airing. 😉
2 The Floor (With DJ Nasty and Fletch Flex): I don't know if I'm capable of making a techno mix without one of Technasia's old tracks. Definitely among my all-time favorite techno artists, I previously used this track on my Technasia tribute Kowloon Nights.
The Riff: To finish things off, here's an epic track from Swedish techno legend Adam Beyer on Primate's sub-label Primevil. This is as euphoric as techno gets – when that bassline hits, arms fly into the air! Amazing track, and my favorite from him. This is actually the third time I've used this track – most recently it was on Morally Diminished 4, and before that on Rampage Teknikal 6.