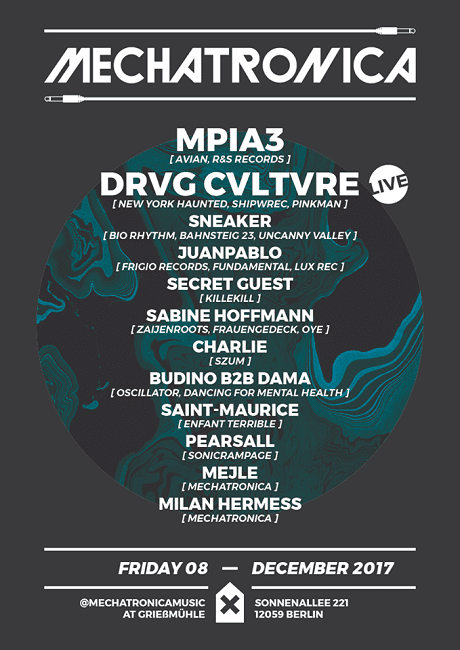 right-click, save as to download this free mp3 mix
Mixed in Berlin, December 2017
100% Vinyl
(66:42, 152 MB, 320 kbps MP3)
Style: Techno and acid – old skool and new!
Direct link to the mix:
http://sonicrampage.org/mixes/mechatronica/Pearsall-8amAtMechatronica.mp3
Tracklisting:
Tracklisting:
01. Intimacy – Memory Card (Vector Works)
02. HMC – Cum On (Dirty House)
03. Exilles – XY (Boston 168 Remix) (Involve)
04. Joey Beltram – Electric (Warp)
05. The Hypnotist – Pioneers Of The Universe (Rising High)
06. Regal – Trave Generation (Involve)
07. Boston 168 – 90's Space (Enemy)
08. I Hate Models – Emerald (Monnom Black)
09. Dirty Bass – Emotional Soundscape (DirtyBlue)
10. Overrider – The Wave (Hazchem)
11. Mellow Trax – Outta Space (D.A.V.E. The Drummer Remix) (Substance)
12. Mella Dee – Music Controls You (Warehouse Music)
13. Anetha – Interstellar (Stranger Remix) (Blocaus Series)
14. Ghost In The Machine – Tank Station (Genosha Basic)
15. Umwelt – Critical Incident (Acid Avengers)
16. Swiss Made – Green Plate (Planet Vision)
17. Rainforest – The Last Rites (Rainforest)
18. The Pump Panel – Ego Acid (Original Mix) (Primate)
19. Special Request – Curtain Twitcher (Houndstooth)
20. Ruff With The Smooth – Art Of Intelligence (Basement)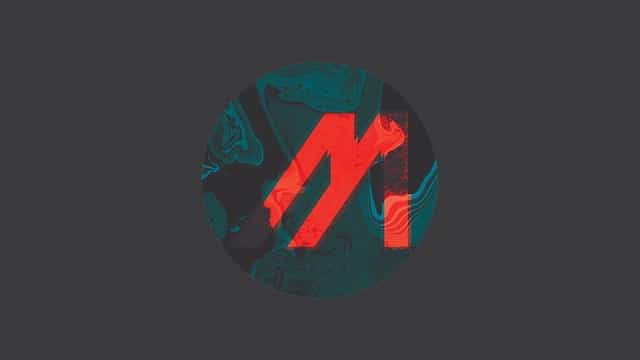 This Saturday morning I will be playing the last set at the mighty @mechatronicamusic at Griessmuehle in Berlin-Neukoelln. I'm starting at 8am and playing through to whenever, so if you are down to hear some banging acid and techno, please come down!
Party details:
Resident Advisor
Facebook
This is a little teaser mix I threw together today featuring some old and new records – this is all vinyl and recorded totally off the cuff with no planning. Enjoy!
More info:

MPIA3 [Avian, R&S Records]
Drvg Cvltvre LIVE [New York Haunted, Shipwrec, Pinkman]
SneakerDJ [Bio Rhythm, Bahnsteig 23, Uncanny Valley]
Juanpablo [Frigio Records, Fundamental, Lux Rec]
Tigerhead [Killekill]
Sabine Hoffmann [OYE Records, Frauengedeck]
Charlie [Szum, Szpitalna1]
Budino [Oscillator, Dancing For Mental Health]
Dama [Oscillator, Dancing For Mental Health]
Saint-Maurice [Enfant Terrible]
Pearsall [Sonicrampage]
MEJLE [Mechatronica]
Milan Hermess – DJ [Mechatronica]

RA night > residentadvisor.net/events/1024411
RA afterhour > residentadvisor.net/events/1028553

24 hours across genres and dimensions on 3 floors.

Truss is back at Mechatronica, this time via his alias MPIA3, which spurred some legendary industrial acid techno records on R&S and Avian. He's joined on the halle floor by Drvg Cvltvre live with full machinery, alongside Tigerhead b2b Sabine Hoffmann.

In the silo room we invited Dresden's most wanted dance music digger over the past couple of decades (SneakerDJ), one the best new female selectors from Poland (Charlie), Frigio Records label boss Juanpablo who released music across an umbrella of genres in the last 10 years – and finally the Dutch underground sound shaman, DJ Saint-Maurice.

Cosmic duo Budino and Dama open the wintergarden/sunroom in the early hours with an extended b2b session, grooving into late afternoon.

Half-price entry from 8am to 10pm.

Electro, acid, techno, rave, EBM, italo, new beat, house, breaks, disco, experimental and everything in-between. See you in the dark.