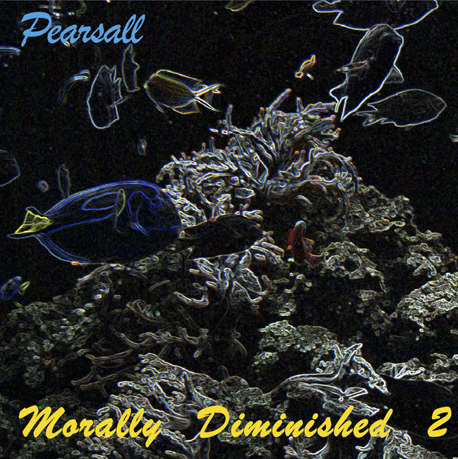 right-click on the title and save as to download
Mixed in London, August 2009
(72:29, 131.59 MB, V0 VBR MP3)
Style: house and techno
Direct link to the mix:
http://www.sonicrampage.org/mixes/md2/Pearsall-MorallyDiminished2.mp3
Tracklisting:
01. Presence – Better Day (Presence Vocal Mix) (Pagan)
02. Skydiver – Show Me Love (Weekend World)
03. Trevor Rockcliffe – Tremor (Mentor)
04. Roy Davis Jr – Rock Shock (Roy's Original Mix) (Roulé)
05. Mood II Swing – Closer (Swing To Mood Dub Remastered) (Amenti Music)
06. Motorbass – Ezio (Different)
07. Bob Sinclar – Mo Underground People (Yellow Productions)
08. Kiko – Monique (GoodLife)
09. Harrison Crump – The Talk (Etienne De Crecy Mix) (Nepenta)
10. Basement Jaxx – Jus Becuz (Atlantic Jaxx)
11. The Youngsters – Spanish Harlem (F Communications)
12. Little Mike – 11th & Broadway (Casa Del Soul)
13. Agoria – Anni Mari (PIAS)
14. Octave One – Blackwater ft Ann Saunderson (E-Dancer Dub) (Concept Music)
15. The Usual Suspects – Daydreemin' (Mr. C Remix) (End Recordings)
16. Christian Smith & John Selway – Luminor (Underwater)
17. Technasia – A Thing Of Beauty Is A Joy For Ever (Technasia)
18. Joris Voorn – Incident (Sino)
19. Galaxy 2 Galaxy – Hi-Tech Jazz (The Science) (Underground Resistance)
Apologies for the delay in new content, I've been super busy over the last month or so. I've still got a couple of unreleased mixes to tease you with over the next couple of months, so don't forget to check back!
This mix is a sequel to 2006's Morally Diminished 1. Like that mix, it starts off on quite a housey tip before moving through to a more techno-oriented sound. Like a lot of my other recent mixes, this one was a case of searching through the crates to find some good but somewhat obscure tunes. It starts off with some tracks from the London tech-house scene of the late 90's/early noughties and ends with of the true classics of Detroit techno, a journey made via classic American house, chunky French house, sweeping tech-house and some brilliant homages to the Detroit sound.
This mix kicks off with a couple of tech-house tracks by producers who were involved in the London tech-house scene back in the late 90's/early 2000's. This scene, based around parties like Wiggle and Subterrain, record shops like Eukatech and Swag, and dj's like Terry Francis, Nathan Coles and Mr. C, focused on filtering the classic sounds of Detroit and Chicago through a London prism.
I first became interested in it after picking up a copy of Terry Francis's Architecture Volume 1 mix cd on a recommendation (worth checking out if you can get a copy second hand – great mix cd!). The best tunes that this scene created are simply wonderful – emotive, funky and totally danceable, hypnotic music to lose yourself to on the dancefloor. At its worst, though, it was awful, soggily inoffensive pap whose blandness was confused for 'proper music' by aging ravers who could no longer hack the intensity of the fist-clenching mayhem of the early 90's.
Of course, I've tried to select the good stuff! The Presence record that opens the mix was a bit of an anthem back in the days, a quality vocal choon in a scene that usually kept strictly to anonymous instrumentals. Their other big track from back then was 'Sense of Danger' (see above) with a vocal from Shara Nelson, who was the voice of Massive Attack's legendary 'Unfinished Sympathy'. I don't know too much about the Skydiver record beyond the fact that I picked it up one day in the basement at Eukatech and I've always liked it. Sometimes you don't need to say anything more! Trevor Rockcliffe is a veteran house/techno producer from London who has long straddled the borderline between the genres. Not sure what he's up to these days, but over the years he has made many tunes that I enjoy (you can hear some other tunes of his on my Rampage Teknikal 1 and Morally Diminished 1 mixes).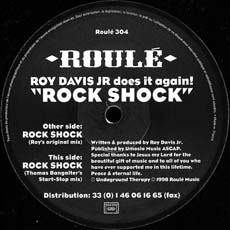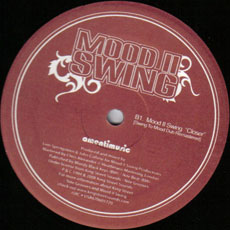 Moving on from the first three tunes I've selected a couple of slices of classic American house from Roy Davis Jr and Mood II Swing. Roy Davis Jr. is a Chicago producer who is probably best known in the UK for his track 'Gabriel', the 'Live Garage Mix' of which became a huge hit on the nascent UK Garage scene back in the late 90's before going on to chart success. 'Rock Shock' is quite a different beast, a real funky monster of a dancefloor tune, which is why it's no surprise that it was picked up for release by Roulé, the label run by Thomas Bangalter of Daft Punk. Bangalter contributed a remix on the b-side that was notable for its constant starts and stops – dj confusion reigned all over the world!
Following on from that is 'Closer' by New York house legends Mood II Swing. This is serious mid-90's downtown vibes, honking sax and a little snatch of diva vocal over a funky bassline … you can practically see the glistening pecs on the floor of the Sound Factory!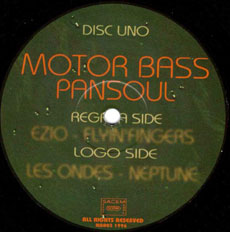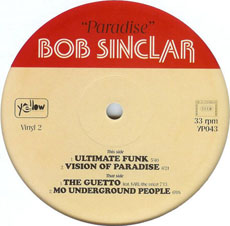 After that little excursion to America we're off to France! Next up is 'Ezio', a track from the Motorbass album 'Pansoul'. 'Pansoul' was one of the first French house albums in the mid-90's and it helped set the template for the whole French house explosion that was to follow: cool disco vibes revamped using modern studio trickery like filters and sampling, with influences from house, techno, and hip-hop. It was a formula that was profitably used by many people, from Daft Punk to Bob Sinclar (whose track 'Mo Underground People' I've taken from the 'Paradise' album, which was best known for Thomas Bangalter's Jane Fonda-sampling disco beast 'Gym Tonic'), Cassius, Etienne de Crecy, St Germain and many more. I've tried to include a range of these French sounds, from Kiko's twisted electro-disco to the Youngsters cool Latin-flavoured techno to Agoria's sweepingly melodic tech-house, as well as of course some classic disco flavour from Bob Sinclar.
It can't be ignored, though, that this stuff was the direct precursor for all the terrible 'funky house' that has come out over the last decade – you know, the formulaic "well, let's steal a disco sample and stick it over a 4/4 kick with some cheesy warbling" stuff. Still, you can't always blame parents for the sins of their children!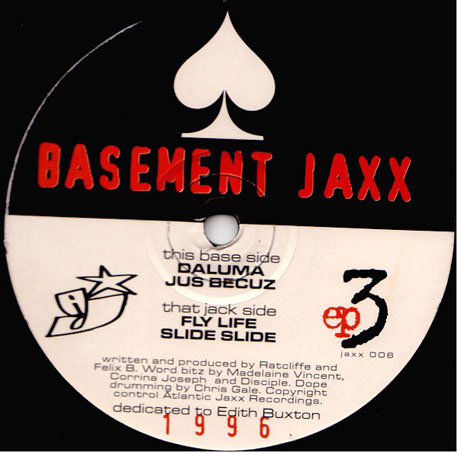 Tracks 6 to 13 are all from France, with the exception of a rather obscure (but great!) early Basement Jaxx tune called 'Jus Becuz', and Little Mike's 11th & Broadway, which is from America. 'Jus Becuz' is an interesting track, because it's long been a favourite of mine, yet it seems to have remained perfectly obscure in the thirteen years since it was released. It's a fantastic slice of spacey deep house, melodic and melancholic. Stirring strings over pumping beats and tricky percussion – how can you go wrong? I guess it was overshadowed by the filter frenzy of 'Fly Life', which was on the same ep, and which remains one of their best-known early tracks (alongside 'Samba Magic').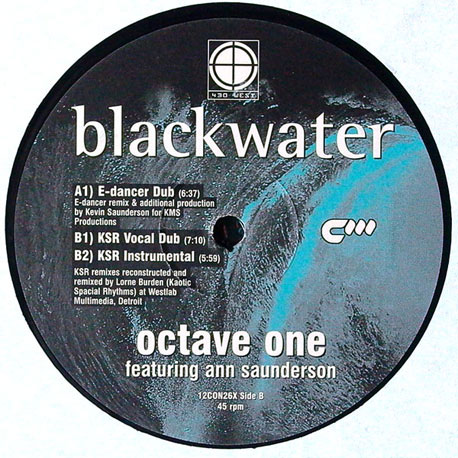 By track 14 the pace has picked up a bit as we move into proper techno territory, starting with Detroit legend Kevin Saunderson's excellent re-rub of 'Blackwater' under his E-Dancer alias. It's stirring stuff – taking a fairly orthodox vocal Detroit house track, and then slicing off most of the vocal, adding some swirling synths, a pounding rhythm, and a bassline that sounds like a fog horn being blasted underwater – can you argue with that? I think not!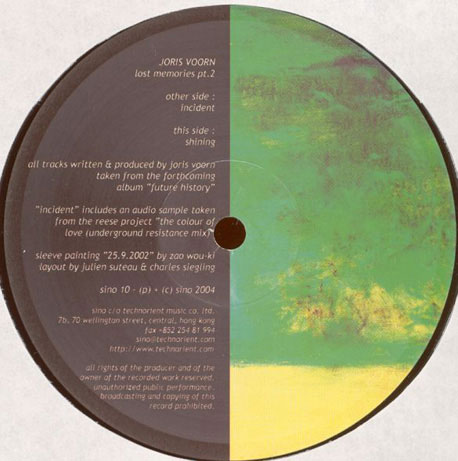 After 'Blackwater' there's a couple more pumping techno tracks before the conclusion, where I've included two of the most beautiful techno tracks of all time. First up is Joris Voorn's fantastic 'Incident'.
It has all the elements of classic techno:
Driving beats? Check
Funky loops? Check
Razor-sharp percussion? Check
What really sets it apart is the stunning piano lick which drops about halfway through the track. Even now it sends chills down my spine, even though I'm just sitting in my apartment typing away and looking out over a gloomy November afternoon in Edinburgh. In a packed club you can guarantee it goes off like a bomb as soon as the piano makes its appearance. Amazing.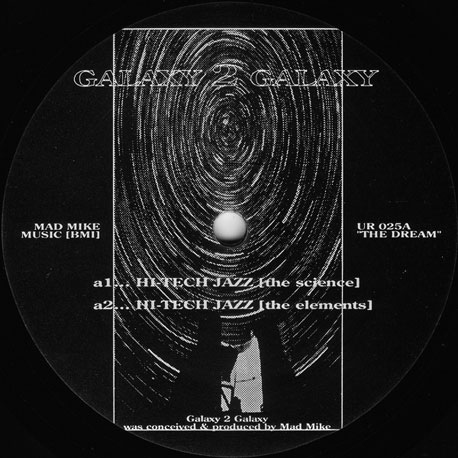 After 'Incident', I've brought the mix to a close with Underground Resistance's 'Hi-Tech Jazz', which is pretty much one of the greatest techno tracks of all time. Taken individually, none of the elements are all that outstanding – a nice little sax lick, some twinkling synths, some emotive chords, a nice bassline, a bit of firing acid. Taken together, this is one of those tracks that just works. Inspirational without being vapid, uplifting without being cheesy. Amazing stuff and a true end-of-the-night classic.
Having said all of this, I don't really think that I can do it justice with my words. Just sit back and enjoy.
You'll thank me for it.