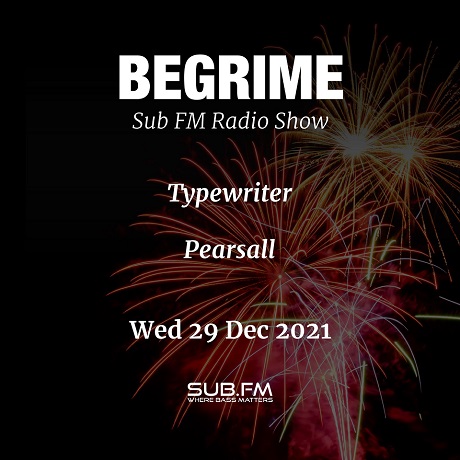 Mixed in Berlin, December 2021
100% Vinyl
(60:52, 139 MB, 320 kbps mp3)
Direct link to the mix:
http://sonicrampage.org/mixes/begrime/Pearsall-RandomOrderSelection2.mp3
Tracklisting:
B:Thorough – Digital Orchid [Coyote]
Lamont – Hold Dat [Tectonic]
Blackwax – Offkey [Tube10]
Zha – Floating [Naan]
TMSV – Temple [Innamind]
Spooky – Snow Forest [Oil Gang]
JT The Goon – Winter Sun [Oil Gang]
B:Thorough – Pixel Drops (Devil Mix) [Dream Eater]
Nights – Combat Mode [NSX]
Jook – Unwary [Sector 7 Sounds]
JLSXND7RS – Ceres ft Armour (Burke Remix) [Dream Eater]
Riz MC – Dark Hearts (Bok Bok Dub) [Night Slugs]
Commodo – Shift ft JME [Deep Medi Musik]
Slackk – 90 Years [Local Action]
Stirling – Alleyway [Slimzos]
Kaiju – Troll [Deep Medi Musik]
BNKRGBY – W.O.R.K. ft Riko [NSX]
Chemist – Blocks (Last Japan Remix) [Coyote]
Walton – Koto Riddim [Tectonic]
Kahn & Neek – Chevy [Bandulu]
Macabre Unit – Mash Up Da Place VIP [Nomine Sound]
Rapid – 3rd Eye [Fabric]
Spooky – Swift Jaws [Ghost House]
Mssingno – Scope [XL Recordings]
Wiley x Zomby – Step 2001 [Big Dada]
This is a little thing I put together right before the new year for the Begrime crew's radio show on SubFM. Typewriter asked if anyone else could contribute and I said sure!
As you can probably guess from the title, this is more a mix of stuff I like than some carefully planned sonic exploration. We'd just got back from our Christmas trip to Italy and I was feeling pretty tired, so I just got a big stack of tunes off the shelves, hit record and made something happen. There's some new stuff and some slightly older stuff and there are one or two slightly wonky mixes, but overall I think it's pretty cool stuff!
I actually did a first Random Order Selection for Begrime early last year, but for some reason never put it on the blog. So here it is!
These are what I would call 'low concept' mixes, they are literally just a selection of tracks from my collection that I like, which is I think very much in the spirit of a radio broadcast. Not everything really requires that much thought, right? I've always felt the best radio broadcasts were just about sharing music, and that radio is basically pretty ephemeral, so when I record radio shows I (mostly) don't get too serious about it.
If you want to hear Typewriter's mix from the same show as mine, you can check it out here: