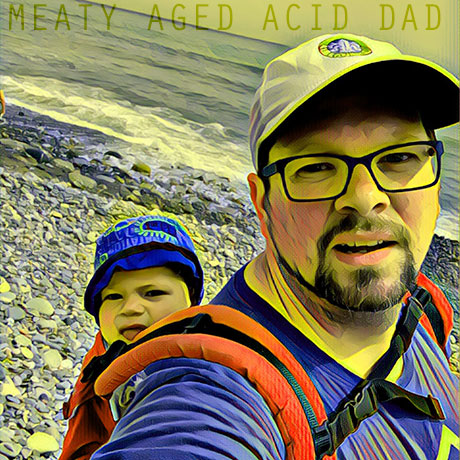 right-click, save as to download this free mp3 mix
Mixed in Berlin, August 2018
100% Vinyl
(86:41, 198 MB, 320 kbps MP3)
Style: Acid & Techno
Direct link to the mix:
http://sonicrampage.org/mixes/meat/Pearsall-MeatyAgedAcidDad.mp3
Tracklisting:
Tracklisting:
01. Winx – How's The Music (Sorted)
02. HMC – Wave (Juice)
03. X-Press 2 – Rock 2 House (Plastikman's Acid House Remix) (Junior Boy's Own)
04. Laurent Garnier – The Force (F Communications)
05. Circuit Breaker – Friend (Probe)
06. Size 9 – I'm Ready (DJ Misjah Remix) (V2)
07. D.A.V.E. The Drummer – Shudder & Twitch (Boscaland)
08. DJ Skull – Acid Sattlight (Djax-Up-Beats)
09. Mike Dearborn – 03:45 AM (Djax-Up-Beats)
10. Winx – You Are The One (Acalwan)
11. Phil Zero – White Lines (Chris Liberator Remix) (Smitten)
12. Hardfloor – Into The Nature (Harthouse)
13. Acrid Abeyance – Dynamique Twins (Remix) (Important)
14. DJ Misjah & Groovehead – Trippin' Out (X-Trax)
15. Defcon 1 – Chromatium (Nitric)
16. Trax-X – Mindwarp (Re-Load)
17. Lawrie Immersion & Dirtbag – Acid Techno (Routemaster)
18. The Subjects vs Jeff Mills – Beyond (Underground Level)
19. The Advent – The Living (Internal)
20. Chris Liberator – All Systems Go (TeC)
21. Dogs On Rope – Buzz Saw (Organgrinder)
Two mixes in one week?!? What is this sorcery?
Although having said that, I have been slack about writing this post, so this is appearing a week late on here. Oh well!
Anyways, this is the follow up to Junior Techno Fruit Gang which featured new(ish) techno, all mixed from vinyl in one sweaty improvised session. The difference is here that I have dug into my collection to throw together a set of old skool banging acid … also mixed from vinyl in one sweaty improvised session.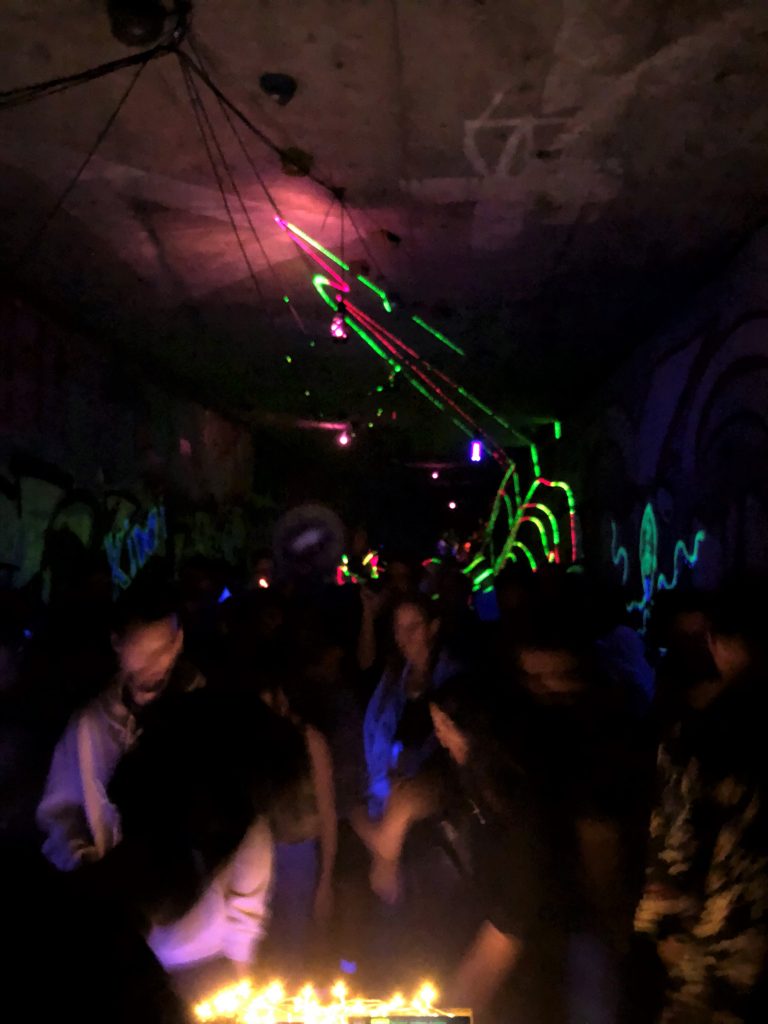 Basically, the idea behind these two mixes was to serve as a bit of a promo for a free party I played at last weekend in the wilds of East Berlin – one mix of new stuff, one mix of old stuff. The actual set was a very interesting experience – I had to walk through the woods for fifteen minutes before I found the venue (good thing I brought my flashlight!) and then when it was my turn to play it was quite challenging as I was playing vinyl and everywhere was very dusty, so my records got quite dirty and the decks kept getting jostled and for a while on one channel sound was only coming out of one speaker. So it was quite challenging from a technical perspective to keep up the energy and nail down the mixes!
It was actually the kind of thing that made me question my single-minded devotion to vinyl – humping all those heavy records out to the middle of nowhere is not so easy, and it would have been simpler to just play on the cdj's with a few USB sticks. But still, it's not the same is it? It's just not as fun as playing off vinyl? Anyways, that is what I can tell myself.
However, the crowd was fantastic, the vibe was great, and it was fun rolling out the tunes, so it was all worth it. Good times!
Here's the set list, more or less, for those who are curious (I have a vague feeling that I missed one or two tracks):
X-Connection – Funky Drive (X-Trax)
Karim – Flash (Do Not Bend)
Regal – Action (Involve)
NoFace – Saturate (Jericho One)
Dax J – Offending Public Morality (Monnom Black)
Anetha – Interstellar (Stranger Remix) (Blocaus Series)
Clones – The Fifth Clones (Side A) (Clones)
Ironik – Slave (TeC)
The Captain & RR Fierce – Street Tab (Tinrib)
DJ Misjah & DJ Tim – Access (X-Trax)
Dax J – Babylon (EarToGround)
PVS – KP1 (Key Vinyl)
Remco Beekwilder – Concrete Jungle (Monnom Black)
Vogelspeed 03 (Vogelspeed)
Dax J – Black Pegasus (Monnom Black)
Stranger – Play Some Rave For Me (Monnom Black)
Adam Beyer – Remainings III (DJ Remix) (Drumcode)
Secret Hero – Jack Me (Stay Up Forever)
Megamind – Taub (Nukleuz)
Immersion – Fat Acid (Smitten)
Signum – The Other Side (Jinx)
The Hacker – Nothing Lasts (Oxia Remix) (Missile)
Lochi – Vote Techno Party (Routemaster)
DJ Choci – Morgun Says Hello (VCF)
Ray & G.O.D. – Target Planet (Time Unlimited)
Choci & Jonesy – Resistance (Choci's Chewns)
Anyways, that's it – more music to come soon …