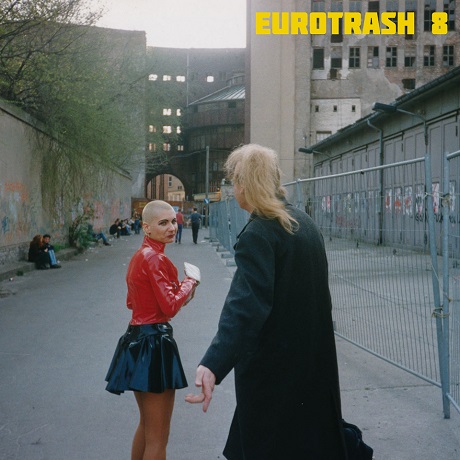 right-click, save as to download
Mixed in Berlin, May 2022
100% Vinyl
(95:32, 218 MB, 320 KBPS MP3)
Direct link to the mix:
http://sonicrampage.org/mixes/et8/Pearsall-Eurotrash8.mp3
Tracklisting:
I'm very excited to present the next edition of my long-running Eurotrash series, devoted to the best in 1990's European hard and acid trance (with the odd foray into acid techno, hardcore, and just straight-up techno).
After several dormant years, I decided that for 2022 I wanted to reanimate the series with not one but four new mixes, in order to get the series up to its tenth edition. The first new mix in the series was February's Eurotrash 7, an unapologetic acid journey, with 30 tracks of squiggly joy. The next three mixes in the series will be back on more familiar trance territory, progressively getting faster and more intense.
This mix, therefore, is relatively sedate by my standards, starting at around 135 bpm and concluding at just about 150 bpm. Stylistically, it's not too far away from some mixes I've done in the past, particularly Escape the Dream and The Dying Light. This mix is what I like to call 'proper trance': hypnotic, melodic, driving electronic dance music. Music that you lock into on a dancefloor and lose yourself in. I guess the word 'trance' has come to be more associated with the overblown stadium anthems of the late 90's, and not this older, more underground style.
Which is a shame!
Personally, of course, I love this stuff – these tunes speak for themselves. I know there's been renewed interest in trance in recent years among some younger ravers, so I hope that some of them might get a chance to listen to, and enjoy, these older tunes.
To accompany the mix I've decided to tell you a little bit about each track and why I chose it and where it fits into the mix.
Katoomba (Sydney Live Mix): The mix kicks off with this relatively obscure tune from the classic German label Time Unlimited. This is proper chugging trance, not very fast, but with a rumbling bassline and punchy acid to get your head nodding. Roughage was a project of the producer Andreas Kettelbach, who seems to have done almost all of his work with Time Unlimited, including under his other alias Gain Force. I chose to kick off the mix with this tune precisely because it's not particularly dramatic or anthemic – it's a nice scene-setter for what is to come.
Watchman's Theme: Phuture Wax was another one of the key German labels of this era, with their output tending to straddle the techno/trance divide more than most. One thing that's interesting about this era, for me at least, was how many producers used aliases to explore different styles of music, and how confidently they traversed genre boundaries. For example, the producer behind this track, Norman Feller, was most famous for his soulful and funky house productions as Terry Lee Brown Jr, which are a far cry from the pounding techno-trance stuff he put out on the side as Watchman. Actually, my first exposure to his stuff came via the Chris Liberator remix of 'Cut the Midrange', which you can hear on my Squat Rocking 10 mix, which led me to check out Watchman's other releases.
The Zoo (Dark Dub '95): Doug Osborne was one of the key early UK trance producers via his aliases Sourmash, Illuminatae and (as heard here) Razor's Edge. He helped create the template for how the UK trance sound would develop in a somewhat distinct direction from what was happening on the European mainland – a bit housier, a bit groovier, a bit more inflected with that unquantifiable but very real UK rave spirit. Released on his own Metropolitan Music label in 1995, this still sounds amazing today – a turning, twisting bassline, some dark synths, and a rock solid kick drum. Just like a great sandwich, you don't need many ingredients to make a proper hard trance track.
Sumo V2: Another key figure in the history of trance is Frankfurt's Oliver Lieb, who is undoubtedly one of the most prolific and consistent producers in the scene – just go to that Discogs link and look at all of his aliases and releases! This particular release was on the b-side of one of his releases on Noom, another essential label, and has always been a personal favorite for its cavernous kickdrum, sharp percussion, and spooky echoey riff. If you've ever heard this on a big soundsystem, you know the sheer power it exudes. Precision German sound engineering at its finest.
Volume III: Extremely creative name! Junk Project was a trio composed of Andreas Kraemer, Faris Al-Hassoni and Markus Schneider. Kraemer and Al-Hassoni in particular were ludicrously productive in the 90's, churning out a massive musical catalogue across a vast array of aliases, but Junk Project was probably one of their best-known aliases. Used mostly for no-nonsense, heads-down acid techno, this track exemplified the high quality for which the Junk Project name became known – relentlessly rhythms coated in endlessly modulating acid lines, music to jump through portals to.
Scream: Here's a release I know little about – I don't even remember buying this, but I assume I picked it up second-hand sometime in the early 2000's, possibly as part of a job lot from Germany. When I was at university I used to buy boxes of 50-100 records from German sellers on eBay and keep the best bits and sell the rest on. I'm pretty sure this came from that! To be honest, I've looked this up on Discogs and there isn't too much more info available, beyond that the artist was German (of course) and the label was German. It's a cool acid trance number, and one that I haven't used on a mix since Rampage Archives 3 almost 20 years ago (gulp).
Persuosion: Another one from the bargain bins! This is actually by Belgian producer Mike Dierickx, aka M.I.K.E., one of the most famous / most popular trance producers of the scene's commercial heyday in the late 1990's / early 2000's. This is one of his earlier productions, and I've always liked it's clean, pulsing sound, with mystical pads overlaid with a little acid stab. Not as anthemic as his later stuff, but still a cool and functional tune.
Confessions: Originally released on Glasgow's Limbo Records, I have the German re-release on Noom. This track is by Scottish dj/producer Davie Forbes, who started out as a hardcore dj (I included his track Apolypse Now on We Control the Night) before moving more into the direction of techno and trance, releasing under a range of aliases on labels like Eve, Telica, Limbo, Combined Forces, Noom and more. This particular track is distinguished by the wonderful sparkling synths that crash in during the breakdown … they always send a shiver racing up my spine!
Purple Phaze: More from Scotland! This was from Aberdeen's Hook Recordings, one of the first (maybe the first?) UK trance labels, and certainly for much of the 90's one of the most prominent labels outside of London. This track was by Canyon, and honestly I don't know anything about these guys. I guess they were from Aberdeen? The one time I've been to Aberdeen I went to play for my mate Skelp at his night Triple Base and it was a top laugh that ended up with all of us at an after party on a council estate, drinking Buckfast until the sun came up. Aberdeen was very grey! Still, good times all round.
Wormhole: OK this was legitimately a big track! Some (many?) of the other tunes on this mix are pretty obscure, but this one was quite a big tune back in the late 90's! Tom Wax is from Darmstadt (near Frankfurt) and was the main man behind the Phuture Wax label and honestly he was another German producer with an insane work ethic in the 90's, and the back catalogue to match it (I'm detecting a theme here …). This track specifically is just a classic bit of driving hard trance. Not too mental, nor too cheesy, it's just exquisitely put together and guaranteed to have people dancing.
W (That Sound): DJ Scot Project needs no introduction to fans of hard trance, but this track might. Released as a b-side to X2, his follow up to 1995's massive anthem U, W is a relatively simple bouncy track, perfect for bumping up the energy a notch.
Nexus 6: This one is quite obscure – I actually found out about it from a video from a 1999 Trancentral party in Tottenham. This one combines a rumbling bass with a Spanish guitar sample, vocal snippets from the iconic sci-fi movie Blade Runner and a fairly cheesy (but fun!) stab pattern to generate a proper late 90's style hard trance banger.
Omega (Pulsedriver Remix): A thumping hardtrance remix from Slobodan Petrovic, aka Pulsedriver or DJ Tibby (amongst other aliases) on the Fog Area sub-label Nothing. I've hardly ever heard anyone else play this, but I've always thought it's a pretty cool track … great main riff!
Back Order: OK, so this mix so far has had lots of German producers, how about some Spaniards? Edgar Paredes and Oriol Crespo originally released this pounding hard trancer on the Spanish label Boy Records in 1997, and it was then picked up for re-release in Germany on Kai Tracid's Tracid Traxxx, later getting the remix treatment from the label boss himself. The track itself is a linear throbber, heavy duty offbeat bass, gigantic stabs, percussion so crispy it's like biting into double-fried fried chicken. Big tune!
Soilent Green: Oh man, I toiled for years looking for this one. This was a big favorite of M-Zone and Mark EG back in the 90's, and I used to hear this on all their tape packs from raves like Helter Skelter and Slammin Vinyl. I think I eventually discovered it via YouTube and instantly ordered it. What would life be like without YouTube, eh? Produced by Hans Jörg Nonn, another highly prolific German (you know the drill by now), this was released on his own label Lunatec, and it's a clear and logical follow-up to Back Order – pounding bass, rippling percussion, and then an explosion of powerful synths right into the breakdown.
This is For (Clubmix): Speaking of Germans producers with a strong work ethic, how about Michael Kores, eh? This is the first one of his three appearances on this mix (albeit in a collaboration with Giuseppe Dimaiuta, Kampf and Frank Hauser), and is a continuation of the previous two tracks – rolling hard trance, offbeat bass pumping, but not too anthemic or euphoric, the kind of track that would get dropped in the club and have everyone snap into a kind of ecstatic synchrony. As I've been writing this post I've been reflecting on just how productive a lot of these hard trance producers were, as well as just how many aliases they operated under, and how different that is from now. Back then record sales were large enough that you could make a decent living just as a producer, and the labels themselves had big enough fanbases that you could just make tracks under a whole bunch of different monikers, because hey, why not? These days in electronic music there just isn't the same money in releasing music, and so you basically have to be a dj as well in order to get paid. Functionally speaking, releasing music is about advertising your services as a dj, so for the sake of your personal brand it's a dumb move to do anything but release under your main alias, right? With Michael Kores, not only did he release as Cores (his main alias), but also as Mirage and Miricale, and in the groups, deep breath, 2 X-Treme, Albion, Alcatraz, Charade, DJ Spacesurfer, Future House, Jaques Le Fit, Magma-Coma, Moonwalker, Power Of Illusion, Sphillix, Tarot, Valdezz, and Voyage. Phew!
The Tribe: Standard issue German acid trance … but that's a good thing! This was just a massive tune in the 90's – super simple but so so so effective. It's basically just a constantly modulating acid line over an offbeat bassline, a kickdrum and some percussion, but it works every time. Can you play this to a roomful of ravers and get no response? I doubt it! One of the best releases on Overdrive, in my opinion.
Secret Silence (Aquaplex Remix): Aquaplex is yet another alias of Thomas Kraemer and Faris Al-Hassoni, and it's one they used for a series of powerful techno-trance tracks in the 90's (for example I've used Aquaplex tracks previously in the Eurotrash series in volume 3 and volume 4). This particular remix came out on the German label Drizzly after being licensed from its original home on the Dutch label Tesseract (it was also later re-released in the UK by Jon the Dentist's Phoenix Uprising with a great K90 remix). The original itself was quite a euphoric and anthemic tune, but the remix takes it in a more technoey direction, with the sheer hands-in-the-airness of the original toned down in favor of a more relentless, driving, sleek feel.
Pulsator Sawrater: Yorkshire's M-Zone was one of the key figures in the development of hard trance in the UK in the 1990's, and on a personal level was a massive influence to me. My first exposure to his style was aged 16 in 1997, buying a tape of his from a Camden market style. I was looking through the tapes and there was one labelled M-Zone and I thought it sounded like a cool name so I asked the guy what it was, he said 'hard trance', so I thought 'why not?' and I went ahead and purchased it. I was blown away! I was familiar by that point with Goa trance and with the kind of UK acid techno/trance that you would hear at London parties, but the fast European hard trance that he was playing on this tape … man I had never heard anything like it!
Back then it was so hard to figure out what any of those tracks were, so I would hunt down M-Zone tapes from the big raves up north and just devour them – he seemed to have so many tracks that no one else had (I suppose also because he had connections to Europe to get stuff that wouldn't make it over via normal distribution channels).
Over the years, of course, I managed to identify and purchase many of those tunes, but I will never forget how amazed I was by that first tape. I listened to it so much on my Walkman that the sound got badly degraded. Big thanks to M-Zone! Oh yeah, and this is one of his own productions on his Teach Yourself Techno label!
Combat Assault (Dawn Raid Mix): This is an extremely obscure record that appeared on the London label Triebhafte in 1997. You can get it on Discogs for virtually nothing, and I recommend you pick it up. It's fucking great.
Acid Air Raid (Silent Breed Remix): Another German with a ridiculous work ethic is Thomas P. Heckmann, probably most famous for the all-time classic 'Amphetamine' by Trope (one of his many aliases). Heckmann is not one of those guys who has faded away, but is still very active releasing stone cold acid and techno killers. Here he puts his hard trance hat on to remix the gigantic and insane twelve minute UK acid trance classic 'Acid Air Raid' by Solar Quest into something more minimal, more throbbing … a perfect track to include as I geared up for the big finale to the mix.
Ice Rain: Yep, Michael Kores again! This was a b2 track on one of his Noom releases, and one that I've kind of overlooked in the past, given that the a-side is 'Matabu Part 1', which I've used not once, not twice, but three times on mixes. This is a classic example of his production style – pounding rhythms, icy synth blasts, tasteful (but not too screechy) deployment of TB-303 acid lines.
Keoma: More Michael Kores! Honestly this isn't too different from the track before it, it just doesn't have any acid in it. This came out on the Technogold label, which was a particularly consistent label within the Undercover Music Group label family (the main label of which was Time Unlimited). Technogold not only put out a bunch of original stuff, like this track, they also licensed tracks from other labels and re-released them with killer remixes, like the Troop remix of 'Sleepless' by Razor's Edge and the Hardfloor remix of 'Pilgrimage to Paradise' by Sourmash.
Planet Hunters: OK, now we're in the last stretch! This is another track from Aberdeen's Hook Recordings, this time by label boss Chris Cowie. It's a perfect example of the label's style – punchy, driving, melodic, but not too over-the-top or cheesy. I actually first heard this track on a free cassette mix from Wax Magazine in 1997, but I didn't end up actually buying the record until three weeks ago! I wanted to make this mix, and I realized this particular track would be a great addition to the mix, so here it is.
Gorgeous (Orgasm Mix): With any mix, picking the last track is always a key task – generally I want the last track to evoke a particular feeling or emotion, sometimes as an even stronger restatement of what went before, other times as a wind down in intensity, a deceleration. With this track I went for full-bore, no limits euphoria. The Secret was a London acid trance live act, well known for their energetic performances at parties like Escape from Samsara and Pendragon, and this was always their signature tune.
Lots and lots of acid, thrumming bass, and waves upon waves of synth euphoria building to a thrilling, even orgasmic, finale … this is like the final boss of last tunes of the night. Just gigantic stuff.