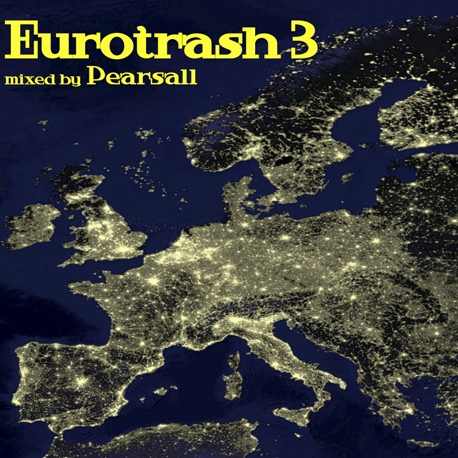 right-click on the title and save as to download
Mixed in Edinburgh, May 2010
(69:50, 129.41 MB, V0 VBR MP3)
Zip pack (cut into individual tracks)
Big cover
Cue file
Style: mid-90′s European acid trance
Direct link to the mix:
http://sonicrampage.org/mixes/eur3/Pearsall-Eurotrash3.mp3
Tracklisting:
01. Hardfloor – Into The Nature (Harthouse)
02. DJ Misjah & Groovehead – Acid Energy (X-Trax)
03. Nuclear Hyde – Pesola (Noom)
04. Aquaplex – Instinct (Universal Prime Breaks)
05. Kind Of Intelligence – Pulsation (Trigger)
06. Kombinatt – Flashback (Choci's Chewns)
07. Sergio C – Surface (Silvereye)
08. DJ Randy – G.O.D. (Smoke Free DJ Tools)
09. Rave Creator – A New Mind (Thai Acid Mix by DJ Jamo & Jack Knives) (Dance Ecstasy 2001)
10. Nitre – F.T.W.A. (Cenobite)
11. The Montini Experience – Scizonoid (Nitric)
12. Cortex Thrill – 2nd Orbite (Bonzai)
13. Cores – Argon (Part 2) (Noom)
14. Pagemaster – Drug Center (Thai)
15. Mark N-R-G – Nightflight On Wax (Overdrive)
16. Ravebase – Runoff (Voodoo)
17. PH1 – Technicidad (No Respect)
18. Wippenberg – Neurodancer (Neuronoid Mix) (Humpy)
19. Aura Infinity – Acid Bottle (Storm)
20. Overcharge feat. G-Meter – Whiplash (Time Unlimited)
Enjoy this mix? Click here to leave a comment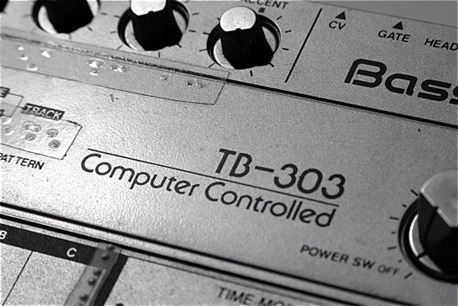 In the end, I always return to that little silver box.
The Roland TB-303 … what an amazing machine:
One of the most important musical instruments in recent music hitory, The Roland TB-303 was a failure at its intended purpose.

The 303 was designed to be an "automatic Bass machine". It was introduced in the early 80′s along with the TR-606 Drumatix drum machine. The two were relatively inexpensive, and were intended to provide a rhythm section backup. Meant to be a backup machine for practicing or for demos, the TB could be programmed with 16-step patterns that could then be arranged into songs. Unfortunately, it was difficult to program and more trouble than it was worth for most musicians. Roland stopped producing them after only 18 months!

In the late 80′s, they could be bought for almost nothing in pawn shops. Around '87, DJ's in detroit began tweaking the knobs of a TB-303 while the bassline played a sequence. Paired with a TR-909 drum machine, it created a unique danceable sound. The rest is history. The TB-303 became a part of most of the electronica styles since then, including acid, house and trance.
This is the first acid mix I've done since Squat Rocking 3 way back in, er, 2008. Clearly it was time to unleash some fizzing acid mayhem once again, to let that little silver box do that beautiful thing that it does.
And since it was time, what better way to get back into the acid groove than with a collection of some of my favourite European acid trancers from the glory days of the mid-90′s?
Well, obviously, there isn't a better way.
Like many of my mixes, I've been kicking around the concept of this mix for quite a while now without actually getting around to doing it.
What can I say?
I plead guilty to procrastination in the first degree. I still have so many mixes I want to do, from 'Wobble City 2′ to a deeper dubstep mix to a UK acid trance mix to a very fast old skool European hardtrance mix to a new jump-up jungle mix to a new London acid techno mix and on and on and on …
In any case, two weeks ago, I found myself alone in the flat on an unusually beautiful Saturday afternoon. The sun was pouring through the windows, my wife was out with friends, I didn't feel like doing any work … clearly the moment was ripe for some thumping acid trance!
OK, sure, maybe that's a bit of a weird reaction. On the rare occasions when Scotland is actually sunny and warm, most people's thoughts naturally turn to finding somewhere to enjoy the sunshine and drink themselves into a stupor. What can I say? Different priorities, I guess.
Anyways, I digress. Out came the stack of acid monsters that I had set aside for whenever I finally decided to go at it, and after a bit of a head-scratch and a few last minute substitutions, up went the volume and down went the needle.
Perfection.
Usually I do a couple takes of my mixes, but I was so pleased with the way this first take turned out that I thought it would be silly to do it over. Sure, it's not perfect, and there's one or two little mistakes along the way, but I figured why tear my hair out about that when the final result is so thrilling. I've deliberately designed this mix to progress from a chunky 140 bpm right through to an absolutely firing 160 bpm in only 70 minutes, featuring an absolutely choice selection of European acid monsters from some of the finest producers and labels of that magical era.
For those of you who remember these tunes (and those days), hopefully this mix will bring a big smile of recognition to your faces, and for those of you for whom this is all completely new, I think you are in for a big treat!
Enjoy!
9 Responses to 'Pearsall presents Eurotrash 3'
Leave a Reply