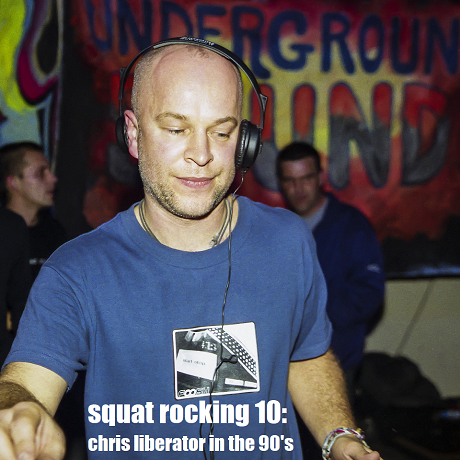 right-click, save as to download this free mp3 mix
Mixed in Berlin, August 2020
100% Vinyl
(106:25, 248 MB, 320 kbps mp3)
Direct link to the mix:
https://sonicrampage.org/mixes/sqr10/Pearsall-SquatRocking10(ChrisLiberatorInThe1990's).mp3

Tracklisting:
Cover image courtesy of Karolina Krasuska: Chris Liberator playing for Underground Sound at an Acton squat party, 2001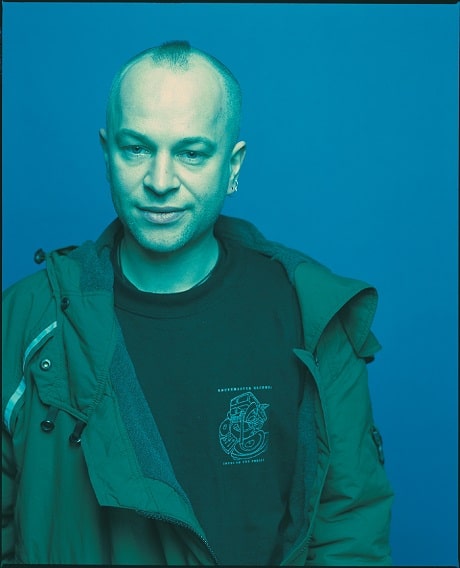 Whew! I am very excited to present to you (finally!) the 10th edition of my Squat Rocking series of mixes exploring the sounds of the London squat party scene that I was involved in as a youth in the late 1990's.
This edition is dedicated to one of the scene's most beloved figures, the almighty Chris Liberator. He is one third of the Liberator DJ's alongside Aaron Liberator and Julian Liberator, as well as part of the management (not sure of his role exactly tbh) of the absolutely crucial Stay Up Forever Label Collective, which includes all of the following labels (deep breath): 4 x 4 Recordings, 909 Editions, Abusive 303, Apex Recordings, Bodyshock, Cluster Records, Hazchem, Hive, Hydraulix, Maximum / Minimum, Power Tools, Ripe Analogue Waveforms (RAW), S.U.F. After Hours, Scythe Squadron, Smitten Is Dead, SP Groove Records, Spartek, Stay Up Forever, Stay Up Forever 909, Stay Up Forever Classics, Stay Up Forever Collective Vaults, Stay Up Forever Party Trax, Stay Up Forever Projects, Stay Up Forever Remix, SUF Protest, Superconductor, WahWah, and Yolk.
Phew! That's a lot of music!
Chris Liberator has played a central role in defining this particular sound and scene – hard, thrilling acid and punishing hard techno echoing around abandoned industrial spaces. Music that takes no prisoners but also has a very English tongue-in-cheek punk edge. Serious, sure, but not po-faced purist techno. No minimal 'ping-pong ball over soft kickdrum' bollocks here!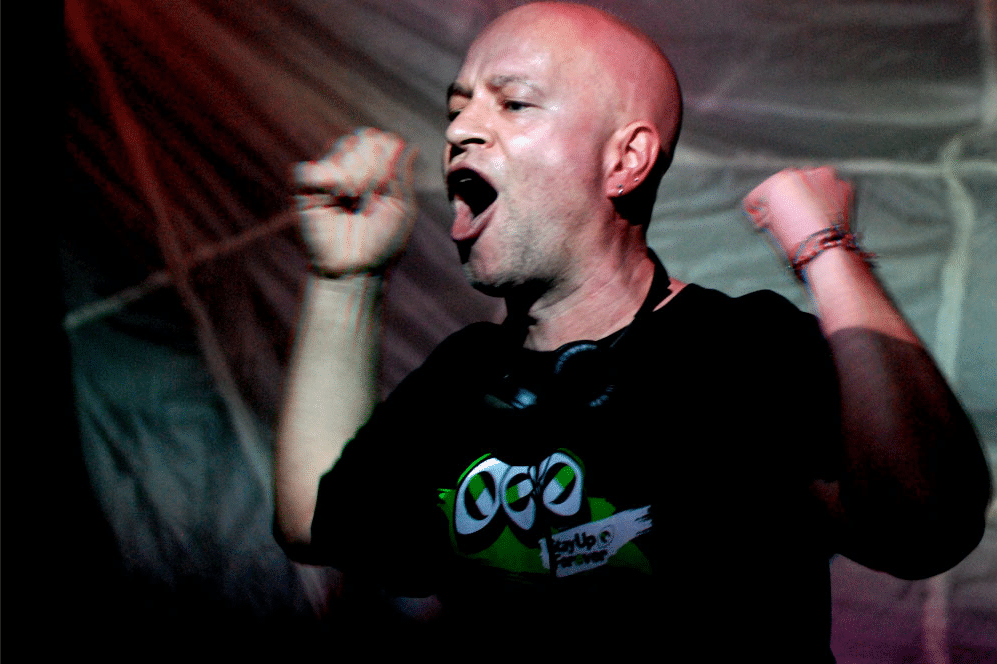 Besides being a great producer, Chris Liberator is also a kickass dj, and has been so for decades. I've heard loads of sets from him in places ranging from grimy warehouse free parties to slightly more salubrious (but still underground) legal clubs, and he has always shown a knack for getting a whole room of people to dance like unhinged lunatics.
One point to make is that these guys are still going strong, putting out regular new releases (check out 909London for downloads and SUF for vinyl), running parties, playing sets, and generally having fun. It's pretty inspiring! I only mention this because the title of the mix might make it seem like Chris only released stuff in the 90's – that's far from the truth!
The reality is that if you look at all of his solo productions, collaborations, and remixes, his back catalogue is truly awesome in its size, diversity and scope, so pulling together a proper tribute mix is basically an impossibility. Someone will always complain, 'hey, you missed this …'
True!
Hence the need, as I saw it, to introduce some kind of a filtering mechanism to make it easier for myself, which led to me deciding to set 1999 as the end point for this mix, to artificially limit what I could work with and make it a bit easier to pick the tracks.
Even so, Chris's 90's catalogue is still pretty vast, so I make precisely zero claims that this is any way shape or form a quote-unquote 'perfect' tribute. It's my tribute, though, and what I did want to do, and what I think I managed to achieve, was to capture the improvised, off-the-cuff vibe that characterized the free party sets I heard from him and the other key players in the scene – that sense that anything could happen next, that keeping up the vibe and intensity was more important than 100% technical perfection. In order to do this, I didn't actually plan this mix beyond the first two tracks – I simply pulled out all of his 90's tunes that I could find (admittedly I missed some), roughly separated them by vibe (a totally subjective split to be honest), hit record and just improvised the whole thing.
I think it turned out pretty nice though!
I did miss out on his most famous tune, 'London Acid City', which was a shame, but my defense is that … I have no defense. I simply missed it when I was going through my acid techno shelves and then forgot to add it later before I actually started recording. It's a failure! Anyways, I did use it on my Escape From Samsara Tribute Vol. 1, so you can hear it there if you want.
Even so, this mix is stuffed with goodies, so if you like this style of music, I don't think you will walk away unsatisfied. Promise.
I've been wondering a little bit about what to write in this space – I tried contacting Chris earlier this week about doing an interview but haven't heard back, I guess because he doesn't check Facebook that often – so I've decided that because this tenth edition is a bit of a milestone for this project, it would be cool to do a bit of a retrospective on the mixes I've done so far.
Squat Rocking 1 (November 2005): The first mix in the series was a very squat-tastic multigenre odyssey, pulling together acid techno, hard techno, nu-nrg, hard trance and even some hardcore techno at 33. The idea was to distil an entire squat party experience into one mix.
Squat Rocking 2 (March 2006): The second mix was more oriented to the classic London hard/acid techno sound. No trance! Starts hard and fast, ends even harder and faster – pure peak time madness.
Squat Rocking 3 (September 2008): Same same but a little different. Starts with crunching hard techno, of a style that was pretty ubiquitous on the scene, before transferring to powerful acid. Ends with some of the most insane acid ever committed to wax. Not for the faint-hearted!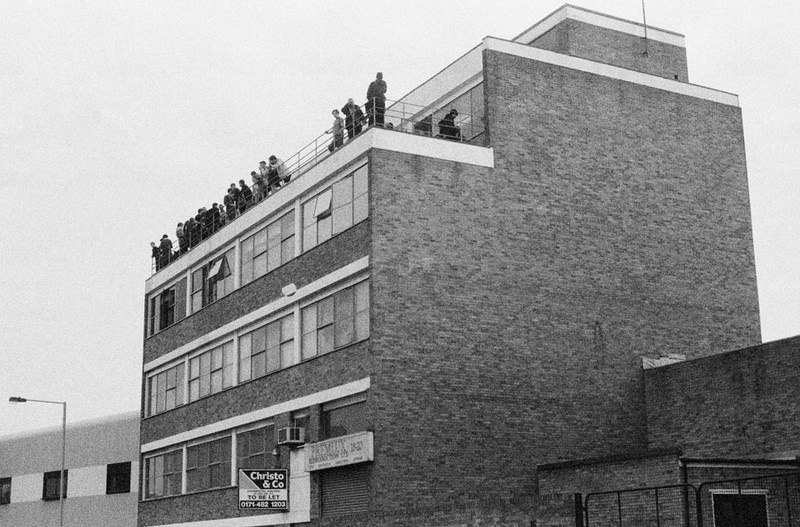 Squat Rocking 4 (August 2009): This edition was dedicated entirely to hard techno, and the blog post that I wrote to accompany this was about my time as a university student in Edinburgh where hard techno was the main sound of the underground scene. Acid had its adherents too, of course, but bass-heavy, percussive hard techno was what really got the local juices flowing, and so I smashed together 28 ruthlessly banging techno monsters to capture that special vibe I experienced in Scotland.
Squat Rocking 5 (March 2012): After a three year hiatus I returned to the Squat Rocking series with an acid trance special, showcasing the kind of high-impact NRG-etic sounds that you would hear from rigs like Pendulum and Undertow on the free party scene. To accompany the mix I wrote about the infamous BangingTunes.com forum, where I spent (wasted?) so many hours in the first decade of the century; this was written and mixed right after the forum finally shut down.
Squat Rocking 6: The Other Side of Acid (February 2014): OK so here is where we really start getting into the more esoteric / themed mixes. This one had a bit of a daft theme, but as mentioned above I'm all about creating a filter to help me narrow down what I'm doing. So for this mix, quite literally, I I focused on the 'other side', constructing a mix entirely from b-sides. And it's pretty banging stuff!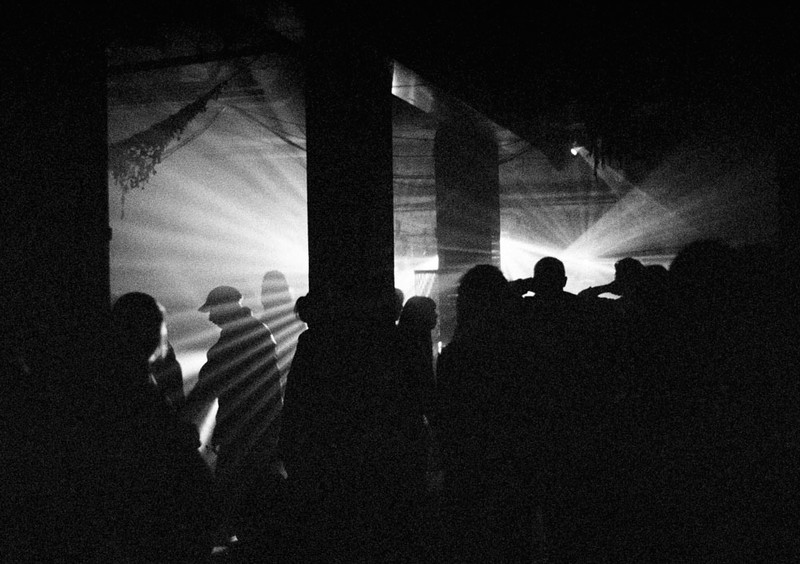 Squat Rocking 7: The D.A.V.E The Drummer Tribute (February 2016): The first artist tribute of the series arrived with this selection of slamming tunes from the one and only D.A.V.E The Drummer! As with this Chris Liberator tribute, this is just an intro to the awesomeness of his back catalogue, but rest assured you can find tons of great techno and acid on this mix.
Squat Rocking 8: The Darkside (December 2016): The first non 4/4 mix in the series covered the kind of super dark, super hard drum n' bass that was a staple of so many squat parties. This is maybe the single most relentless drum n' bass mix I've ever done – a perfect tribute to all those unknown dj's who shredded ravers' minds through a fusillade of diamond-hard beats and bowel-bothering bass.
Squat Rocking 9: Tales of Havok (March 2019): The first label tribute in the series was a very fitting one; my loving tribute to Havok, Manchester label and party crew, who were responsible for some of the most bonkers acid ever pressed to wax. Operating several hundred miles north of the London scene they carved out a unique space in the wider scene, where DJ Medicine Man (aka Pharmacy) integrated hard trance influences, while Mick Beatle (aka Charlie Don't Surf) brought in hard rock and heavy metal influences.
That's it from me – enjoy the mix!