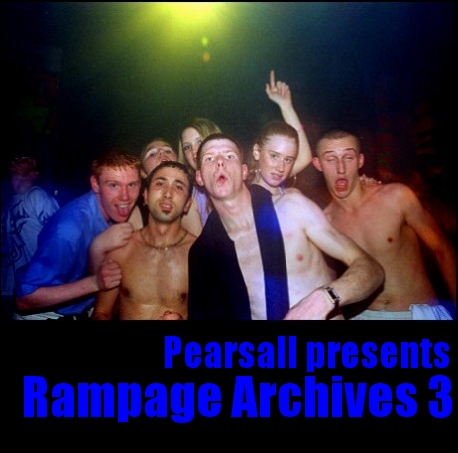 right-click, save as to download
Mixed in London, September 2003
(65:41, 100.33 MB, APX VBR MP3)
Style: old-style European hard trance
direct link to the mix:
http://www.sonicrampage.org/mixes/Archives/Pearsall-RampageArchives3.mp3
Tracklisting:
01. 3-Phase feat. Dr. Motte – Der Klang Der Familie (Tresor)
02. Club De Hippica – Shoemakerlevi 9 (Energized)
03. Johen – Dance to the Beat (Unreal)
04. F-Attack – Crazy Bolt (Overdrive)
05. X-Frame – Scream (Crystal)
06. DJ Randy – Pandomia (Smoke Free DJ Tools)
07. Sourmash – Throwing Caution To The Wind (Zoom)
08. Hark – Omega (Pulsedriver Remix) (Nothing)
09. Rejector – Intoxicating (Wicked Mix) (Subharmonic)
10. Liquid Art – Xplorer (Hook)
11. The Combat Force – Combat Assault (Dawn Raid Mix) (Triebhafte)
12. DJ Misjah & DJ Tim – Access (Ffrreedom)
13. Cyber S – Decadance (Nitric)
14. E-Razor – Yeti (Technogold)
15. Disco Volante – Forbidden (Sweet & Sour Mix) (Transient)
16. Razor's Edge – The Zoo (Dark Dub '95) (Metropolitan)
17. Citizen X – Shadows Part II (Straight Mix) (Technogold)
18. Nuclear Hyde – The Universe (Noom)
19. Man With No Name – Sugar Rush (Refined Mix) (Perfecto)
cover: ravers at one of the Rampage events
The following is a variation on an old blog post of mine:
This is the sort of music that I got into when I first started listening to dance music that wasn't jungle. By 1998 jungle/dnb had really hit a point of stasis and I started to get into acid techno/trance in a much more serious way. To this day it's almost certainly my favorite form of music. I now listen to quite a wide range of stuff, but the romantic appeal of a firing kickdrum and a noisy riff is permanently imprinted on my mind.
It's certainly never been 'cool' music to listen to; it's never been something that serious music critics have paid any attention to, but that doesn't matter to me. It is what it is, and what it is is unashamed rave music. The bacchanalian soundtrack to mutant aerobics in darkened warehouses/clubs/fields, that steady tick-tock of kick-bass framing all kinds of electronic sounds, from giant arpeggiated riffs to squaling 303's to soothing pads. Darkness and light. Even now with the hipsterization of much of past culture fast 4/4 music of the hard trance variety remains beyond the pale for most 'music lovers'. It's the sheer relentlessness of it, the constant repetition of certain themes, the riff-mayhem, the simplistic pile-driver way in which rhythm is used, the snare rolls, the complete lack of any understatement or subtlety, the absence of a 'subculture' beyond lots of loons dancing like madmen. You can't write about it while quoting PoMo philosophers, that's for sure. And the bad boys of IDM won't touch it, content to burnish their cred by badly ripping off black music.
The scene still continues on in Europe, but for me the sort of tunes that I put on this mix were the pinnacle (as well as slightly later stuff from the UK that isn't on here). You'd go out to a party and you'd feel that whomp-whomp-whomp and you could just lock in dancing. Almost purely instrumental music that you could disappear in for hours. The screams of joy from the crowd as a monster riff came in. Enormous cloud banks of smoke drifting through the flashing light, enveloping you in a haze as you furiously stomped to the 160 bpm madness pouring from the speakers. The bizarre selection of people you'd meet on a night out. The end of a night with everyone screaming for "one more!" It was so so so much fun, and so much better than standing at a bar nodding your head to 'sophisticated' and 'stylish' music ever is.
You know this.