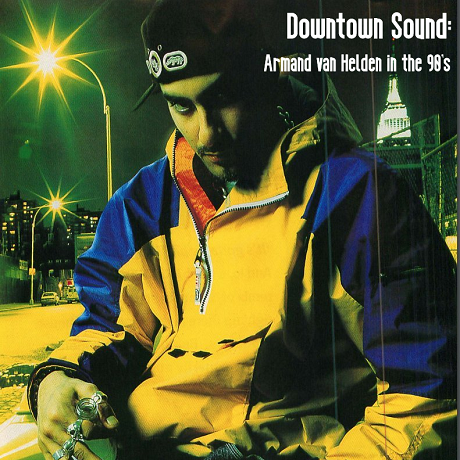 right-click, save as to download this free mp3 mix
Mixed in Berlin, November 2021
100% Vinyl
(102:05, 238 MB, 320 kbps mp3)
Direct link to the mix:
https://sonicrampage.org/mixes/avh/Pearsall-DowntownSound(ArmandVanHeldenInThe90's).mp3
Tracklisting:
2021 … some year, huh?
I guess it was a strange one for many people, at times it felt almost normal, and then at other times it didn't really … a bit of a weird one! On the musical front it's been a fun one, released a record and made some cool mixes, even played out a couple times, and to close out the year here's a very special mix that I'm quite excited to share with you.
No need for suspense, you had to scroll down to get here, so you know exactly what I'm talking about … the mix in question is my tribute to legendary house producer Armand van Helden!
To be honest, it's a mix many people might not expect from me, and sure, it's pretty rare for me to do a house mix, but, well, I've been a big fan of Armand van Helden's productions ever since I first encountered them in the mid-90's.
So why not, eh?
OK, I guess I could stop there, but that would be a pretty lame blog post, so I'm going to have to give a bit of a longer explanation about just what is going on here …
I like house music, I can vibe to it, but it's not my go-to and it never has been – it just has never been something that I have felt deeply passionate about, not in the same way that dedicated househeads do. I recognize that for many, many people house music is something that has played a key role in their lives. This is especially true for the deeper side of house, which has offered community, self-expression, joy and a quasi-spiritual sense of release to hundreds of thousands of people, if not millions.
I'm not one of those people, and that's OK!
But I do like some of it, and amongst the dozens (hundreds?) of house music sub-genres and little scenes, probably my favorite moment in time is that classic mid-90's New York City house sound, that vast flood of music that emerged from that last moment when NYC was unquestionably one of the global capitals of club culture.
The sound of labels like Henry Street, Eightball, Nervous, Tribal, King Street, Nu Groove, Strictly Rhythm, amongst others.
The sound that boomed through clubs like Sound Factory, the Limelight, Twilo, the Tunnel, Roxy, the Palladium, Club USA, and more.
The sound of swooping diva vocals, uplifting pianos, rumbling tribal drum sessions, disco loops filtered to oblivion and back. Pumping kickdrums, funky basslines. Sirens, stabs, crisp percussion. Mellow keys, sweeping strings, every now and then a slinky saxophone. Snatches of hip-hop vocals, gospel choirs, inspirational speeches, catty queens, lilting Caribbean Spanish. Luscious pads, tinny horns. Samples from disco, soul, funk, salsa, rock, samba … the whole spectrum of modern music repurposed for dark dancefloors and endless nights.
And behind it all, the relentless pulse of the kickdrum.
The sound of Masters at Work, Todd Terry, Mood II Swing, Francois K, Danny Tenaglia, David Morales, Roger Sanchez, Mateo & Matos, Junior Vasquez, Victor Simonelli, and a cast of literally thousands of dj's and producers operating across all five boroughs and throughout the whole Tri-State Area. A sort of collective genius in action.
But my favorite?
Always, always, always Armand van Helden.
The boshing kickdrums, the unapologetic diva theatrics, the application of killer samples, the hip-hop attitude, and above all, the sheer genius for bassline magic Shit, he's a guy who churned out a small mountain of house remixes of terrible 90's pop acts (Capella? Ace of Base? Vanessa Williams?) and rarely dropped a clunker … he could have just taken the cash and ran, but somehow we managed the rare feat of polishing some particularly pungent turds. And not just once or twice, but over and over and over!
To me, there's something so distinctly, so quintessentially New York about his music. It's just New York to the core, in the attitude, the grit leavened by a refusal to get too serious, the joyous abandon and the intensity.
Sure, he might actually be from Boston originally, but let's not let that get in the way of this theory.
And it's completely fitting that it's not until he moved to New York in 1994 that he really found his audience and his success.
So as someone who bough my first Armand van Helden record all the way back in 1996 (it was this one, if you're asking), you could say that this mix was literally decades in the making.
As with many of my mix projects, this one has been slowly germinating for a while as I built up a little collection of his tunes. This year, finally, I hit a critical mass of tunes, and it was time to make it happen!
But how?
With all of my mixes I start with the question: "What do I do with this big pile of records?"
Sometimes I just hit record and see what happens, but in this case I wanted to put a little more thought into it, so I pulled out my stack of Armand van Helden tunes and started listening to them, and what really struck me was that he did all kinds of stuff through the course of the 90's. Maybe that's kind of an obvious point ('musician doesn't stand still') but when I sat and listened to about thirty AvH records it became pretty obvious that the story of the mix would be to highlight this career progression and make it explicable to the listener.
The solution was, in the end, pretty straightforward … organize the records by year (more or less) and that would tell the story very clearly. The mix thus covers van Helden's output from 1994 to 1997, roughly (there's I think one record from 1993 and one from 1998), and this approach provides a very interesting overview. Just from listening you can hear in it house music's transformation from a sound for underground clubs to the soundtrack to the rising super-clubs and dance music's emergence as a genuine global phenomenon.
The early tracks have that classic New York tribal sound, all relentless pumping rhythms, whereas by the end of the mix we are encountering a very different sound, much bigger and more ambitious, epic in scope and precise in execution. Gone is the charming roughness of only a few years before, replaced with a deep confidence that, fuck yeah, I can make some big motherfucking ANTHEMS.
Like this one, one of the biggest house records of all time. I didn't use it though! (It's not one of my favorites)
In those last few tracks you can hear Armand van Helden at the absolute peak of his commercial and critical success, dropping bassline monsters that helped spark London's emerging 'speed garage' scene into life, while also raiding the disco archives for the samples that helped him to vaporize dancefloors worldwide and cause an entirely new generation to reconsider the much-maligned 1970's and its signature music style.
It must have been a wild ride for him!
The sheer speed at which his sound progressed in the mid-90's brought to mind a parallel process in a scene that van Helden was deeply influenced by – the UK breakbeat scene, which in mere years progressed from hardcore to jungle to drum n' bass. This music had a huge impact on van Helden's work, altering his own house productions in the late 90's, which in turn sent shockwaves through the world of house as jungle-style basslines were introduced to dancefloors that just weren't expecting them. It's also worth mentioning that he even made an amazing Monica-sampling white label drum n' bass classic called 'Ain't Armand'.
This gave me the hook for the mix – once I sorted the records by year the pattern was obvious. Just as with my Amen Promo Mix, the best way to tell the story of Armand van Helden in the mid-90's was to do it chronologically, starting in 1994 and ending in 1997, and allowing the listener to hear the transformation over time.
I hope you enjoy listening to the mix as much as I enjoyed putting it together!
Bonus reading: