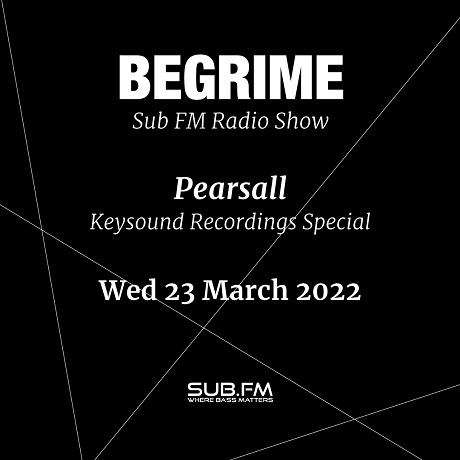 right-click, save as to download
Mixed in Berlin, March 2022
100% Vinyl
(68:24, 156 MB, 320 kbps MP3)
Direct link to the mix:
http://sonicrampage.org/mixes/begrime/Pearsall-KeysoundRecordingsSpecial.mp3
Tracklisting:
This is a mix I did last month for Begrime of some of my favorite tunes from Keysound Recordings, a London-based label that is, in my opinion, one of the most consistently interesting bass music labels of the last 15-20 years. Originally set up as a home for the off-kilter dubstep explorations of Dusk + Blackdown, over the years it has blossomed into a reliable purveyor of interesting takes on all things bass in the 130-140 bpm range (with some journeys above and below that, of course).
Keysound has never really been a label of massive anthems, but it has consistently put out cool, interesting and forward-thinking music, covering everything from dubstep to grime to UK funky and beyond, as well as every now and then covering breakbeats, jungle, weird ambient stuff, and some things that are frankly uncategorizable. This breadth probably has a lot to do with Martin Clark (aka Blackdown's) main career as a music journalist, as someone who professionally has to engage with a wide range of music and is thus constantly exposed to new artists and new ideas. For a taster, check out his long-running blog Blackdown Soundboy.
This open horizons approach to bass music is also reflected in their long-running Rinse FM show, which has over the years showcased a simply mind-bending range of artists new and old, covering all kinds of elements and angles.
As this mix was made for Begrime, this naturally tends more towards their grime output, but I've still mixed things up quite a bit, with a hefty dosage of dubstep (plus other stuff) thrown in for good measure. This is far from a definitive coverage of Keysound's output (you would need a looooong mix for that), but it's a faithful reflection of what I own and like. I hope you will enjoy it!