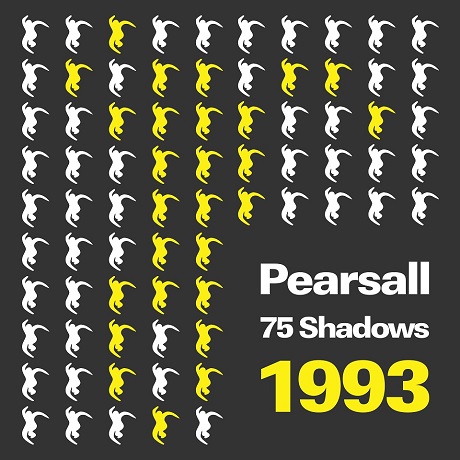 right-click, save as to download
Mixed in Berlin, June 2022
100% Vinyl
(47:57, 109 MB, 320 KBPS MP3)
Cover art by Michal Idziak
Direct link to the mix:
http://sonicrampage.org/mixes/75shadows/Pearsall-75Shadows001-1993.mp3
Tracklisting:
Hey!
I'm very excited to share a new summer project with you; a very special tribute to one of the best and most important labels in electronic music history: Moving Shadow!
Over the next five weeks, starting today, I will be releasing five mixes of fifteen tracks each, with each one covering one year between 1993 and 1997.
75 (Moving) Shadows!
Established in 1990, Moving Shadow was one of the key players in UK rave music, tracing it's evolution from the earliest rumblings of breakbeat house through the explosion of hardcore rave in 1992, to the darkside era in 1993 and onwards to jungle and then drum n' bass in it's many forms, from the smooth and mellow sounds of what was often termed 'intelligent drum n' bass' to the clanking mechanical sounds of techstep.
This project is something I've had in mind for a while, to really put together a proper tribute to the label, something that could properly convey the sheer quality of their output in the 1990's. Obviously, as you know, I love tribute mixes, and I have always enjoyed creating mixes with themes, so for this one I decided that instead of doing one single mix that mashed together tracks from different years, I would instead do five different mixes, one for each year from 1993 to 1997, each covering 15 tracks that were released that year. Now, I realize that due to the dubplate culture of the time the release year doesn't necessarily match the actual year of production, so some (many?) of the tracks I've featured in these mixes will have been produced in the previous year. That's just reality – and I've used Discogs as the guide for what was released when, which seems the most sensible / realistic approach.
In putting together this series, I've made a what I imagine will be a somewhat controversial decision to skip 1992, a year in which Moving Shadow released some all-time classics like 'Bomb Scare' and 'Music Takes You'. 1992 was, after all, what Simon Reynolds' termed rave's annus mirabilis, the year that it peaked in commercial popularity, and the year when the all-time classics came flying thick and fast.
So how could I skip it?
Um, two reasons:
I don't actually have that many Moving Shadow releases from 1992 on vinyl (maybe five?), and it would be very expensive to fill in the gaps for the sake of one mix!
I actually prefer the later stuff! (Call me weird)
Therefore, for me, the obvious choice was to start with 1993, which I have always thought of as rave music's most amazing year. I've written about 1993 before as an inflection point, a transition from one unified rave scene to the many splinters that were coming, where the euphoria of 1992 took a detour somewhere darker before hardcore rave split into the competing streams of happy hardcore and jungle.
I've covered this journey before, for example in my promo mix for Amen, but I think listening just to this mix you can really hear what a musically diverse year 1993 was – all of the tracks featured here were released on one label in one year, yet the sounds vary tremendously, from straight-up 'nutty raver' madness to early jungle to tracks that clearly anticipated the rolling drum n' bass that would take over the scene several years later. Rolling all of these tracks into one mix makes for a fascinating historical document, and it will be even more interesting (I think!) when you get a chance to listen to the following volumes – the evolution of Moving Shadow in just five years is quite a remarkable thing.
Enjoy the mix and see you in one week's time for 1994.
5 key tracks from this mix:
You Got Me Burnin' Up (AAS Mix): Gavin Cheung (aka Nookie and Cloud 9) has been responsible for some of the greatest moments in UK breakbeat history, and this, for me, is one of his career highlights. Originally made in 1992 but released in 1993, this one is a guaranteed floor-destroyer. Combine a thumpin' 4/4 kick with tearing breakbeats, a thundering bassline, euphoric synths and that legendary vocal lick and you have a rave anthem for all eternity. Even after 30 years this one will still do the damage if you play it on a big soundsystem. Want to watch middle-aged men go radio rental? Play this one.
Open Your Mind (Tango Remix): If 1993 is famous for anything, it's for the signature sound known as either jungle techno or darkcore that briefly dominated the rave scene, and Midlands producer Tango (RIP) was one of the key figures who really drove that sound forward. This remix is one of his most famous productions, one that really encapsulates that 1993 vibe – pummeling breaks layered with all kinds of dark stabs and strings.
Finest Illusion (Legal Mix): Maybe the most famous release in Moving Shadow's history, this is one of the all-time biggest rave anthems. This version was a slightly remade one as there were sample clearance issues with a vocal sample used on the initial release, but fundamentally this is the same track. This is pretty much the platonic ideal of what early 90's UK rave music aspired to be. Timeless.
The Helicopter Tune: This track was insanely ahead of its time, and was massively influential. At a time when most producers were trying to cram dozens of ideas into five minute tracks, Deep Blue pioneered a brand new style: stripping everything back to drums and bass and just letting it rolllllllll out. No breakdowns with exploding riffs, no sudden switch-ups and headfakes, no breakbeat shrapnel exploding everywhere, just a relentless, bass-heavy groove, with austere pads swooshing in and out. This style would, of course, become the dominant style in the scene, but it would take literally years for that to happen. It's hard to imagine how fresh this must have sounded when it was first created. A seminal track.
Thunder Grip: If 'The Helicopter Tune' is all about proto-drum n' bass minimalism, then 'Thunder Grip' is hardcore maximalism at its most delirious and psychedelic. If you've ever wondered what would happen if you fed a sampler a large dosage of LSD then, well, here's your answer. I've put this at the end, because how can you follow on from this? I've always been in awe of the sheer deranged majesty of this track, and it's even more impressive that the equipment available to them at the time was so laughably primitive compared to what modern electronic music producers have available. A fitting finish to the mix!