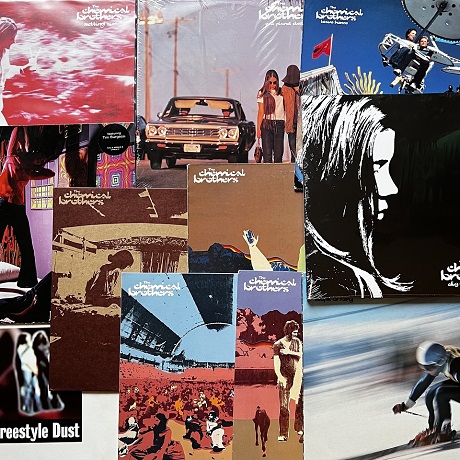 right-click, save as to download
Mixed in Berlin, January 2023
100% Vinyl!
(85:34, 196 MB, 320 KBPS MP3)
Direct link to the file:
http://sonicrampage.org/mixes/90s_chems/Pearsall-The90'sSessionsVol2-ChemicalBrothersSpecial.mp3
Tracklisting:
So what can you say about The Chemical Brothers?
I've done many tribute mixes, but these guys are certainly the biggest names I've ever covered, even bigger than the mighty Armand van Helden.
Honestly, they are an iconic duo; Ed Simons and Tom Rowlands are the men behind some of the most powerful and influential electronic music of the last several decades. They've scaled the charts, blown up innumerable festivals, and really cemented themselves as one of the world's premiere electronic music acts.
And they've kept that up for 30 plus years … I can't imagine it's been easy!
Their longevity is remarkable – still working together, still making music, still touring. It's quite something, especially when you consider that they've always kept their music credible but accessible. Once they had achieved some initial success, it would have been very easy to just take the cash, choose the path of least resistance, and switch to making absolute cheese for the pop charts, but they've managed to keep going and evolving, while still staying true to their original ethos.
My own personal history with the Chems goes way back to 1995, when their debut album Exit Planet Dust became one of the very first electronic albums I purchased at the tender age of 15. I'd been a precocious kid, into heavy metal and punk rock, and I'd loudly hated electronic music because it wasn't 'real'. I still don't remember exactly how it happened, but something just clicked. I found myself listening to drum n' bass on pirate radio, I started picking up dance magazines, I was listening to Kiss 100 FM in the evenings … it was like a switch had been flipped in my mind, and what had previously made no sense to me was suddenly uncovered in its full glory.
No vocals? Great, who cares about vocals.
Bass more important than treble? That's fine, I'll take any and all low frequencies.
Weird sounds? The more the better.
Repetitive beats? Repeat them until the end of time as far as I'm concerned.
That first album made a huge impact on me, and it still stands up today. It has straight-up dancefloor bangers and contemplative downtempo stuff; Saturday night and Sunday morning. What a listen!
I think what made The Chemical Brothers particularly potent as a gateway drug for would-be electronic music fans was that their stuff was easy to 'get'. You could listen to the album and it made sense to a non-afficionado; even the instrumental dance tracks were somewhat rock-like in their structure, with intro, 'chorus', main section, 'chorus', outro. They were among the key pioneers of the sound that came to be known as 'Big Beat', a raucous, breakbeat-led midtempo mashup of dance sounds with soul, funk, hip-hop and rock influences and samples, a sound they helped define through both their productions and through their dj sets on Sunday nights at the Heavenly Social party in a pub on Great Portland Street. Big Beat was a sound that was very much of the 90's zeitgeist, the dance bridge to the Britpop sound that defined UK Rock in that decade. This was the era of the New Lad, of Loaded magazine (and its derivatives), of the Gallagher brothers swaggering across the UK cultural landscape, an optimistic period where the Cold War was over and it was time to party, with a focus on unashamedly boozy, druggy hedonism.
And, sure, some Big Beat was horrendous, but the Chemical Brothers managed to thread the needle carefully, spinning up a sound that was both accessible but credible, one that could work in the clubs as well as student discos and on the festival circuit. Another way in which they helped to function as a crossover dance act for rock fans was that although they were highly proficient dj's, they were a pioneering live dance act, going further and doing more with their live show than was typical at the time. You have to remember that in the early 90's a typical dance 'live' performance was someone jumping around behind an unplugged keyboard while a DAT machine played the set … so The Chemical Brothers live show, which combined music, sound, video, and lights to devastating effect, was really a big deal at the time!
I still remember going to see them at The Brixton Academy in (I think?) 1998 and being blown away by their performance, by the way they took the crowd on a special journey, culminating in the thrilling, euphoric explosion of 'Private Psychedelic Reel'. It wasn't exactly a rave, and it wasn't exactly a rock concert, but instead a spectacular combination of the two. Really fun!
This mix, therefore, is a total nostalgia trip for me. And to make that even more pronounced, I've chosen to focus only on their music from the 1990s, which is a decision that, admittedly, means that I'm leaving out tons of amazing stuff from their back catalogue. I know that! This also means that I could use this mix to create a second volume in my series The 90's Sessions, only ten years after I did the first one …
Having said that, it's not like limiting myself to their 90's output means I was struggling to find good tunes; if anything I had the opposite problem! There's plenty of stuff I could have included but just didn't have the space for.
As this was the start of their career, through the tracks on this mix we can trace the early evolution of their sound, from their beginnings in the early 90's as The Dust Brothers (a name they stole from the New York-based production duo who worked with The Beastie Boys on iconic projects like Paul's Boutique) through to their name change to The Chemical Brothers after success made their first alias legally untenable and on through their first three albums:
1995: Exit Planet Dust
1997: Dig Your Own Hole
1999: Surrender
In the mix I've tried to keep an interesting balance; I've included a number of tracks from each of the first three albums, some of their most famous singles (although I did exclude their Oasis collaborations Setting Sun and Let Forever Be, probably controversially!), various b-sides, and a bunch of their remixes from the era, both from when they were the Dust Brothers, as well as after they changed their name. I think this mix really shows how diverse their output was, and how much it crossed over with various genres. On the rock tip, the mix features their remixes of the bands St. Etienne, The Charlatans, and Primal Scream, as well as tracks featuring rock vocalists Tim Burgess from The Charlatans (on Life is Sweet), and Bernard Sumner from New Order (on Out of Control), whilst in other directions I've included remixes of Method Man from the Wu-Tang Clan and dance superstars The Prodigy and Leftfield, as well as more underground artists Dave Clarke, The Sabres of Paradise (an Andrew Wetherall project), Lionrock (a project from legendary Manchester dj Justin Robertson), and Republica, who I know, uh, little about.
I think it's a pretty interesting selection and I'm quite proud of it. Honestly, I think it's cool. And I hope that you find it enjoyable to listen to!
To round things off and to learn more about The Chemical Brothers, I recommend reading a couple of interviews with them.
First up is this very early interview from 1995 in the once-crucial Muzik Magazine, now reprinted in The Guardian:
"We were very conscious of making the album work together as a whole … The first half an hour consists of solid beats, but it also has other stuff on there because people will hear it at home, not in a club."

With this in mind, two of the tracks, the ghostly Alive Alone and the prickly Life Is Sweet, feature vocals. Beth Orton, who has previously worked with William Orbit and Red Snapper, and Tim Burgess of the Charlatans take the respective credits.

"We had a good session with Tim," says Ed. "He basically sank four cans of lager, scribbled a few lyrics, and went for it. We first met him when we did a Charlatans remix, after which he regularly came down the Sunday Social and danced around with his Adidas top zipped right up to his nose. We had a wild time messing about with his vocals. But then music should be an adventure, shouldn't it? Not just going over the same idea again and again."

"You need different sounds to fit different moods," says Tom. "We're both into lots of types of music and I don't see why we should have to deny that. I can't believe that even the most dedicated techno buff would want to stick on a Basic Channel tune when they woke up on a summery Sunday morning. I bet they all have a secret stash of Simon and Garfunkel under their beds."

Imagine Maurizio and the Basic Channel crew flicking through the Sunday Sport with Bridge Over Troubled Water playing in the background. What a genius thought.
Second up is this 2019 interview, looking back at their career and covering where they are at these days; I particularly liked this anecdote of their early Ibiza misadventures:
In fairness, the Sunday Social was very much the kind of club night where the resident DJs' records might get trampled on. It was open for only a few weeks in the autumn of 1994, but quickly gained a reputation as a bastion of unruly hedonism in an era when British clubbing was becoming ever-more polished and professional. That was the year that Ministry of Sound and Cream began turning themselves into "superclubs"/lifestyle brands that went on to flog everything from clothing lines to fitness videos and hi-fi equipment. By contrast, the Sunday Social felt like chaos, a club where Tricky turned up to play a set that seemed to primarily consist of heavy metal records at the wrong speed, and a significant proportion of the clientele looked like they hadn't slept all weekend.

It looms large in Chemical Brothers folklore. When the club opened, the pair had already made a handful of acclaimed singles under the name the Dust Brothers, a pseudonym they had pinched from a production duo who worked with the Beastie Boys (working on the principle that they were never going to become successful enough for their US counterparts to notice). By the time it closed, they were something of a cause celebre, largely as a result of the music they played, which seemed to break every rule of an increasingly regimented, genre-specific dance scene. Hip-hop was juxtaposed with the Beatles, the intense acid techno of Emmanuel Top's Lobotomie was played alongside the lush 70s soul of Love Unlimited and the night would invariably end with the Specials' You're Wondering Now.

"We were putting together something that, in London, was quite new at the time," remembers Simons. "A lot of records we'd been playing in Manchester when we were students – you know, the second instrumental track on the B-side of a hip-hop single, mixed in with techno. Then, at the same time, we were making our own music, we were in the studio recording our debut album, we were pretty much doing a remix every week. It felt like a bit of an onslaught. It's quite emotional to revisit it."

The Sunday Social's distance from the clubbing mainstream was demonstrated when the duo attempted to take the sound to Ibiza. "It was on the terrace at Space at 9am in the morning, and the crowd were like: 'Please make this go away.' We were asked to leave after about half an hour of … dope beats," Simons says, smiling.

"We'd spent ages working it out," says Rowlands. "'This will be amazing, playing Barry White and stuff at 9 o'clock on a Sunday morning, outdoors' – and people were crying, literally crying because they hated it so much. I remember one girl, just in tears, going and getting the manager, and him saying: 'You have to stop now.'"
Enjoy the mix!