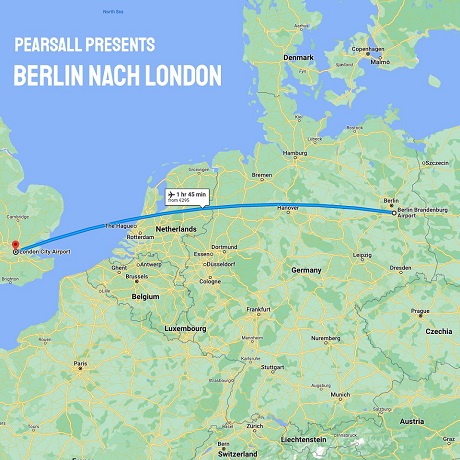 right-click, save as to download
Mixed in Berlin, March 2023
100% Vinyl!
(59:31, 143 MB, 320 KBPS MP3)
Direct link to the file:
http://sonicrampage.org/mixes/b2l/Pearsall-BerlinNachLondon.mp3
Tracklisting:
I recently started a new job working remotely for a London-based company, so two weeks ago I flew to London to visit the head office and meet my team for the first time in person. It was fun!
To have something to listen to on the trip, two days before I left I made this little mix, and to make it very 'London' I decided to do a mix of classic jump-up drum n' bass, a sound that I will always associate with my teenage years in London. Obviously this isn't the London sound any more, but there was a point in time when it was absolutely ubiquitous in the city. You'd hear it flicking through the FM dial as you went through all the pirate radio stations, you'd hear it blasting out out of cars zooming past. The sound heard pumping through innumerable record shops across London on a Saturday, with hordes of teens crowded around the counter hoping to get the latest white labels. Music screeching out of tinny speakers at cassette stalls in Camden Market, Cockney geezers shifting the latest tape packs. The sound of huge raves like Roast or One Nation or World Dance or Telepathy. The sound of Notting Hill Carnival in the mid-90's, heaving crowds going berserk to furious basslines. The polar opposite of the trendy sound of 'intelligent drum n' bass' in terms of critical appreciation, an unashamedly working-class, multicultural, inner-city dance music sound.
What was jump-up? It was where rave music had evolved to by 1996: rolling breakbeats, hip-hop samples, street attitude, wobbly basslines. Music for intense dancing, but a step away from the loved-up euphoria of the early 90's hardcore scene it evolved away from. Weed and alcohol not ecstasy.
Damn I know I sound like a middle-aged man (I guess because I am?) but this sound will always have a place in my heart, not just for nostalgiac reasons … but also because it's just so much fun!
Often when I make a mix, I'm carefully planning things out, thinking through the order of the tracks, pondering the transitions.
This didn't happen here.
I just straight up took out half a shelf of records from the jump-up section of my collection, did some rough sorting, and then hit record and improvised the whole thing. The nice thing about these tunes is that they are super-easy to mix, and so it's quite straight forward to throw together a mix on the fly. Plus it's an unashamed party mix, so there's no need to worry about making a proper 'journey', I just had fun with it.
And I hope you will have fun with it, too!
Here's a little more about five of the key tracks from the mix:
The Terrorist – The Chopper (Shy FX Ebony Remix)
This is maybe the ultimate jump-up tune. It kicks off with a helicopter noise and a woman's voice saying "can I have your attention?", before dropping into a gigantic cartoon bassline. Is it cheesy? Sure. Is it effective? My God, yes. This track has destroyed so many dancefloors it isn't even vaguely funny. I guess I would say it's a guilty pleasure, but I feel precisely zero guilt about loving this.
DJ Rap – Fury
I've been a big DJ Rap fan for a long time, but I never owned this track until recently, when I finally picked it up on the Breakbeat Science 2 compilation. Breakbeat Science was a short-lived sublabel of Deviant Records, best known for their 'Trance Europe Express' and 'Trance America Express' compilation series. They put out two Breakbeat Science compilations that contained all exclusive drum n' bass artists from across the spectrum, from light and mellow to jump-up to techstep to experimental. Quite cool compilations to get, if you come across them! This track is just a classic bit of DJ Rap jump-up, not an anthem, but a quality rolling tune with a nice bassline.
DJ Hype – Peace, Love & Unity ft MC Fats
If you've been following my mixes for a while, you won't need any introduction to DJ Hype, one of the genre's key figures as both a dj and as a producer, so instead I will write about MC Fats, who features on two tracks on the mix, this one and 'Jack to a King'. Fats was a legendary figure in the scene, known for his skills as an mc and as a singer. He was also, by all accounts, a very nice man with a great sense of humor. He sadly passed away recently, so I thought it would be appropriate to honor him in a small way by including two of his collaborations with Hype in this mix. RIP Wildale Spencer!
DJ Sappo – Ding Dong Bass Remix
This is one of the ultimate jump-up tunes for me. A man yelling 'listen up … DING DONG BASS!" over and over on top of rough breaks and a gigantic twisting bassline? Come on, it doesn't get better than that … Funnily enough, this tune is from Manchester, not London, and it always reminds me of this great documentary about the Manchester scene in 1996:
The Baby Namboos – Ancoats 2 Zambia (Dillinja Remix)
The Baby Namboos were a trip-hop group from Manchester (I think) that was founded by the cousin of Bristol trip-hop legend Tricky, and this was their first single, which includes this incredible Dillinja remix. Weirdly, this was only released on vinyl in the US, and even then on a fairly poor pressing (I really had to turn up the levels on this one), which is a shame, because it's an insane banger. This is one of the best examples of Dillinja's late 90's sound, when he changed his style to be more explicitly dancefloor-oriented (I guess this is when he was starting to dj more himself, instead of just producing?). Anyways, whatever, this is a crazy tune, one of my favorite Dillinja remixes of them all, and a perfect tune to end with – I love the contrast between the sweet female vocals and the abrasive bassline and the crashing drums. Tune!