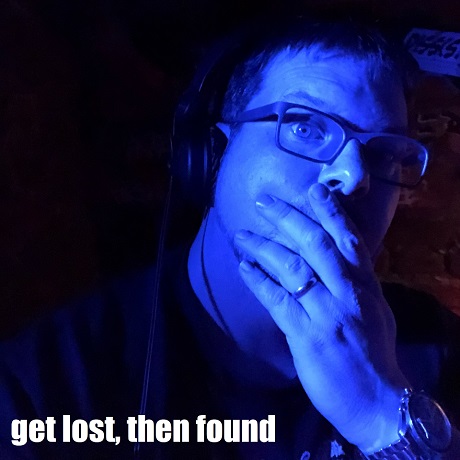 right-click, save as to download this free mp3 mix
Mixed in Berlin, July 2019
100% Vinyl
(50:19, 115 MB, 320 KBPS MP3)
Direct link to the mix:
http://sonicrampage.org/mixes/getit9/Pearsall-GetIt009-GetLostThenFound.mp3
Tracklisting:
Something that has delighted me in recent years has been the amazing revival of jungle music from producers new and old; personally, I think that we have been living through a second golden age of jungle (with the first being from roughly 1993 to 1996). Over the last several years I have been participating in this myself, buying records, supporting the labels, and, of course, chopping these new tunes together in mixes for Sonicrampage and Soundcloud. If you missed out, these are the ones that I have done so far:
If you check out the posts above you will see that I've already written pretty extensively about this revival, but one thing that I have not discussed so much is something that has been happening in connection to this explosion of new music, which is a surge in the number of old dubplates that have finally been released.
For those of you who are unfamiliar, one of the ways in which jungle / drum n' bass was influenced by Jamaican sound system culture was through the use of dubplates – one-off pressings of tracks on acetate (not vinyl) that were available only to select dj's. If you wanted to cut a dubplate you had to go to a cutting studio like the infamous Music House or Transition – these weren't cheap to do, so cutting dubplates was always a real test of a dj's dedication to the music.
Sometimes dubplates functioned as a means for producers to road test new productions – getting a trusted dj like Grooverider or Randall to play it out and report back on the crowd's reaction. At other times dubplates were unique versions of tracks that were literally created as secret weapons for big name dj's, for example a special remix that only that one dj might have.
Hard as it is to imagine today, back in the 90's there was so much mystery around this music – you would go to a rave or a club night and hear track after track after track that were simply not available to buy, and might not be available for months or even years. In this situation, if you heard something that blew your mind and wanted to hear it again, often your only option was to go see that dj again and hope they played it, or buy the tape pack from the event.
Dubplate culture was one of the key elements behind the incredible speed at which rave music evolved from through the 1990's (see the essay for Darkside Generation, where I explored this question in greater detail). The dj's and producers were constantly trying to upstage each other, and dubplates allowed new music to be played to ravers within days or even hours of being finished – no need to wait for labels or pressing plants or distributors or shops. Finish the track, get the DAT to a dj, they take it to Music House and have it cut, and it can go on the decks at a gig that night.
One of the side effects of this dubplate culture was, however, the fact that a lot of amazing tunes simply never came out. They were stuck on dubplate for many reasons – couldn't fit into release schedules, artists and labels couldn't reach a financial agreement, or the label owner(s) decided that the sound had simply moved on. Sometimes it was as simple as the original DAT being lost and no copies existing!
So for jungle fanatics, the years since 94/95 have been marked by the knowledge that there was a huge secondary catalogue of music that was only available to the public via low-quality recordings from raves and pirate radio. The advent of p2p file-sharing services and, especially, platforms like YouTube, Soundcloud, and Mixcloud meant that these missing tunes were more available than ever, but, tantalizingly, not in a format that you could mix with.
There have been some solutions to this – one has been the popularity of 'remakes', where producers try to remake tunes that can currently only be heard on pirate radio or rave recordings – above I've embedded a remake by DJ Nee of a DJ Ratty tune that was played in a 1993 rave and captured on a tape pack.
The more common response to the phenomenon of music 'missing' on dubplate has been to license it from the original producers and give it the full release treatment. To start with, this was somewhat ad hoc, with releases trickling out over the years, with particular credit to Will Irvine from Sublogic / Keeping Vinyl Alive, who started releasing previously unreleased tunes back in the mid-2000's. Mike Paradinas also released an album of Remarc dubs on his Planet Mu label in 2004, which is a pretty amazing album if you can get your hands on it.
However, what was a trickle has become a flood in recent years, with a slew of labels old and new now taking on the job of re-releasing old tunes. I guess part of this is down to the fact that the original jungle audience is getting older (like myself!) and we have more disposable income to devote to collecting these tunes, and we are of course also nostalgiac for those days.
Some of these labels are new, like Pete Devnull's 8205 Recordings or Vali NME Click's Parallax Recordings, whereas others are new projects from old skool artists, like DJ Stretch's AKO Arcade and DJ Harmony's revived Deep Jungle Records.
For more insight into this trend, I highly recommend this interview with J Majik and DJ Harmony about what they're doing with Deep Jungle, and what they have planned for the future:
J, I read about your fabled silver briefcase full of dubs. Lee, how did you acquire your 'lost' DATs?
Harmony: We've all got silver briefcases mate! The trick is we looked at all the unreleased plates we had together and made a list of people we knew who would have DATS and would want to be involved. Then we rang them and asked for access to their lofts and draws they hadn't looked in for 20 years. And we've been blessed that a lot of them have just gone 'yeah here you go boys' and given us boxes of them.
Wow. Christmas time!
J Majik: Exactly. I have to say, this is a proper passion project too. Lee and I go way back as mates but we've never worked on anything business wise until Deep Jungle and it was the love of the music and dubplate culture that this whole project is founded on.
Something Dom & Roland said to me when I covered his Dubs From The Dungeons series was how he really enjoyed taking a cheque around to Dillinja for music he'd made 20 years ago.
Harmony: Yeah that is a really nice feeling. Anyone who's been in this game for all this time will have experienced the shittier end of the industry at one point. So to be able to say 'yo, here's money for this' is rewarding. We pay up front, too. There's no point waiting for the money after sales to split it and watch it disappear after all the hard work we've put into it.
J Majik: We're being transparent. These artists know us for 25 years and we tell them exactly how many we press and how much we're making. Oh, and we'll never repress. We won't do a remasters collection in 2031. This is about integrity and celebrating the culture.
Harmony: I've got to be honest, we are building a brand here, too. I want people see the name Deep Jungle and they know what they're getting whether that's a takeover at a night or festival or a new release or merch. We are building something here, but that progression is much more natural and organic.
J Majik: You should see some of the plates we've locked in the future. We're scheduled up to 024/025 now and some of the names on there are just savage.
If you're a jungle nerd like me, you can see why it's been such an exciting time period, and why I am so excited for the future!
So for this, the ninth edition of my Get It series of mixes of recent(ish) vinyl releases, I decided to pay tribute to this trend by pulling together 15 tracks that were until recently only on dubplate or on extremely limited and rare pressings. This mix covers everything from mellow rollers to aquatic tearouts LTJ Bukem-style to full-fledged ragga mayhem and dark steppers. Enjoy!