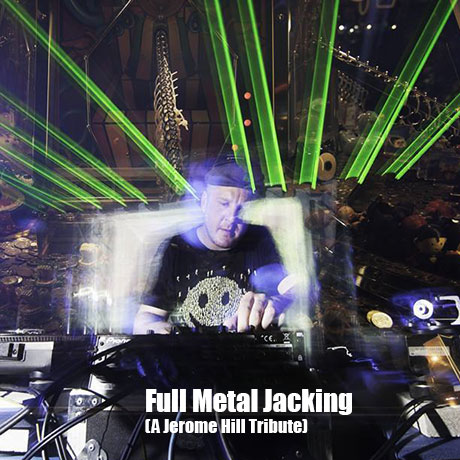 right-click, save as to download this free mp3 mix
Mixed in Berlin, July 2018
100% Vinyl
(71:36, 168 MB, 320 kbps MP3)
Style: A tribute to London techno renegade Jerome Hill
Direct link to the mix:
http://sonicrampage.org/mixes/jerome_hill/Pearsall-FullMetalJacking(JeromeHillTribute).mp3
Tracklisting:
Tracklisting:
01. Jerome Hill – Close Encounters (Super Rhythm Trax)
02. Jerome Hill – Egg Roll (Don't)
03. Jerome Hill – Def Jamming (Super Rhythm Trax)
04. Dancer – Boom Boom (Jerome Hill's Super Dance Edit) (Super Rhythm Trax)
05. Frankie Castle & DJ Ford Foster – Bounce That (Jerome Hill Remix) (Bleeper)
06. Jerome Hill – Consumed (I Love Acid)
07. Jerome Hill – Memory Machine (Killekill)
08. Jerome Hill – Hit Record (Don't)
09. Jerome Hill – Rel und Pol (Don't)
10. Jerome Hill – Mr. Worm (Don't)
11. Jerome Hill – Skaliwag (Don't)
12. Jerome Hill – Bully Beef (Super Rhythm Trax)
13. Jerome Hill – Rave Turkey (Don't)
14. Jerome Hill – Touchdown (Hornsey Hardcore)
15. Jerome Hill – West Street Mobbin (Nasty Colour)
16. Jerome Hill & Lusinda – Mushy Peaz (Nasty Colour)
17. Jerome Hill – The Bogey Track (Pie Factory)
18. D.A.V.E. The Drummer & Jerome – Steamliner (Yolk)
19. Rob Stow & DJ Jerome – Bbbbanging (Hydraulix)
20. Jerome Hill – Rump (Riot Radio)
21. Jerome Hill – Drumwar (Swords)
22. Jerome Hill – Control (Hornsey Hardcore)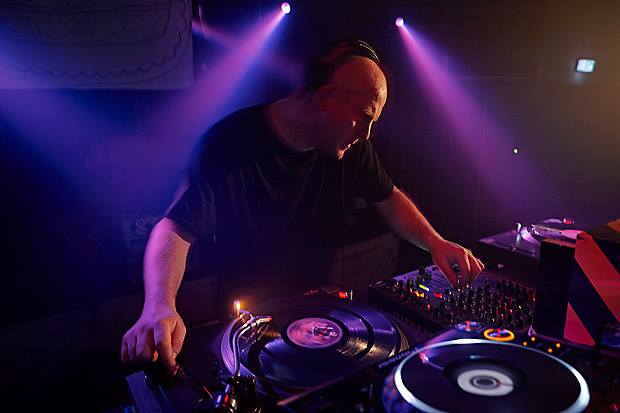 Wahey! I am very excited to present a new tribute mix, this time to one of my favorite techno producers – Jerome Hill! I first encountered Jerome Hill many years ago when he worked at Dragon Discs in Camden and I was a reasonably regular customer (more on that below). At the time he was also a regular dj at the London squat parties that my friends and I frequently hit up. Since then he has gone on to found a number of labels while playing all over the world and producing and remixing a whole stack of tracks. He is well known for his style of 'wonky techno' – off-kilter, percussive, and stamped with his trademark sense of humor, but he makes, plays and releases a much wider range of music than just techno – everything from acid house to old skool hardcore, crunchy electro and hip-hop and funk. His labels include the techno flagship Don't, Fat Hop (for hip-hop), and Super Rhythm Trax.
And with this mix, I've tried to cover the range of his dance output, featuring over twenty different vinyl releases, from both his own labels as well as his appearances on other labels. Most of the tracks are from this decade but I have also dug back to some of his earliest releases, for example the two tracks towards the end that appeared on Yolk and Hydraulix. Expect everything from jacking ghetto house to bass-heavy techno, old skool rave mania, acid house madness, and more. I hope you enjoy listening to this mix as much as I enjoying putting it together.
Oh yeah, and if you want to buy music direct from the man, check out his site at Swerving the Community.
Finally, the man himself agreed to be interview; many thanks to him for taking the time to answer my questions.
Early Days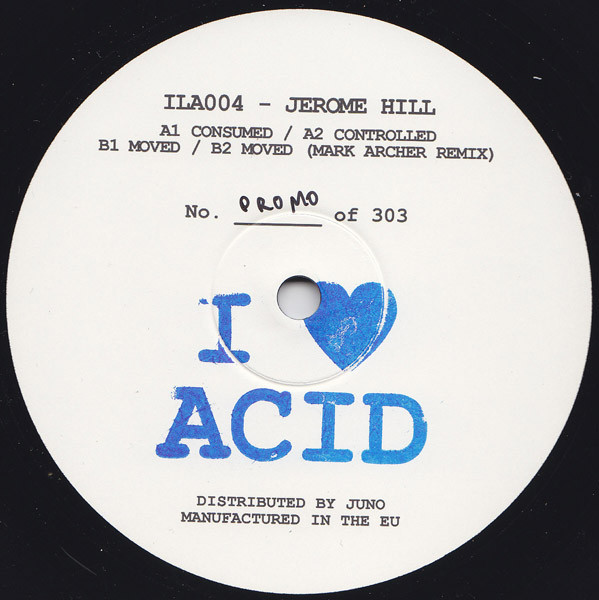 Pearsall: How did you get into music? When did you start dj-ing?
Jerome Hill: I started in 1990, from hearing music on Pirate Radio in London.
Did you start with hip-hop or start with dance music?
A mixture of both, as there was a lot less segregation and a lot more cross-pollination back then. But it was mainly all about the Bleeps and the hip-hop inspired breakbeats of people such as Shut Up & Dance.
Record Shops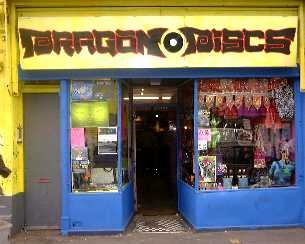 The first time I met you was when you were working behind the counter at Dragon Discs in Camden – I used to go in as a teenager and buy the most banging acid techno to be had! How did you end up working there and what was it like?
My friend Mara (DJ Bruiser) was working in there and I worked in another smaller shop, more of a record stall around the corner in Inverness Street. We played all the same parties and a job came up and she put me forward for it.
They were great times, I was there from about 1997 and there was constantly techno coming out that was really exciting to me. I remember being pretty obsessed with Cari Lekebusch and his early releases on H Production and his James Barth stuff on Svek, as well as flying the flag for the wonkier Techno from the likes of Neil Landstrumm, Tobias Schmidt, Si Begg, Justin Berkovi, Cristian Vogel, Subhead etc etc.
Being right by Camden Town tube station in the late 90's / early 2000's you must have encountered some real characters! What was the weirdest / most hilarious experience from working there?
There was a guy who used to come in every month and ask if we had any Conway Twitty LPs. I'd explain each time that we didn't sell that type of music, but it didn't stop him trying like clockwork. Respect to that man! Plenty of other characters were constantly passing through being slap bang in the middle of Camden. I met many of my friends now through working behind that counter, and plenty of them are both weird and hilarious.
What led to the move from Dragon Discs to the other one further up the road (was it Trakheadz? That was after I left London the first time)
London Underground were planning (at the time) to expand the tube station, which was next door to us, so as far as I remember we had to move somewhere, a shop became available up the road so off we went!
Labels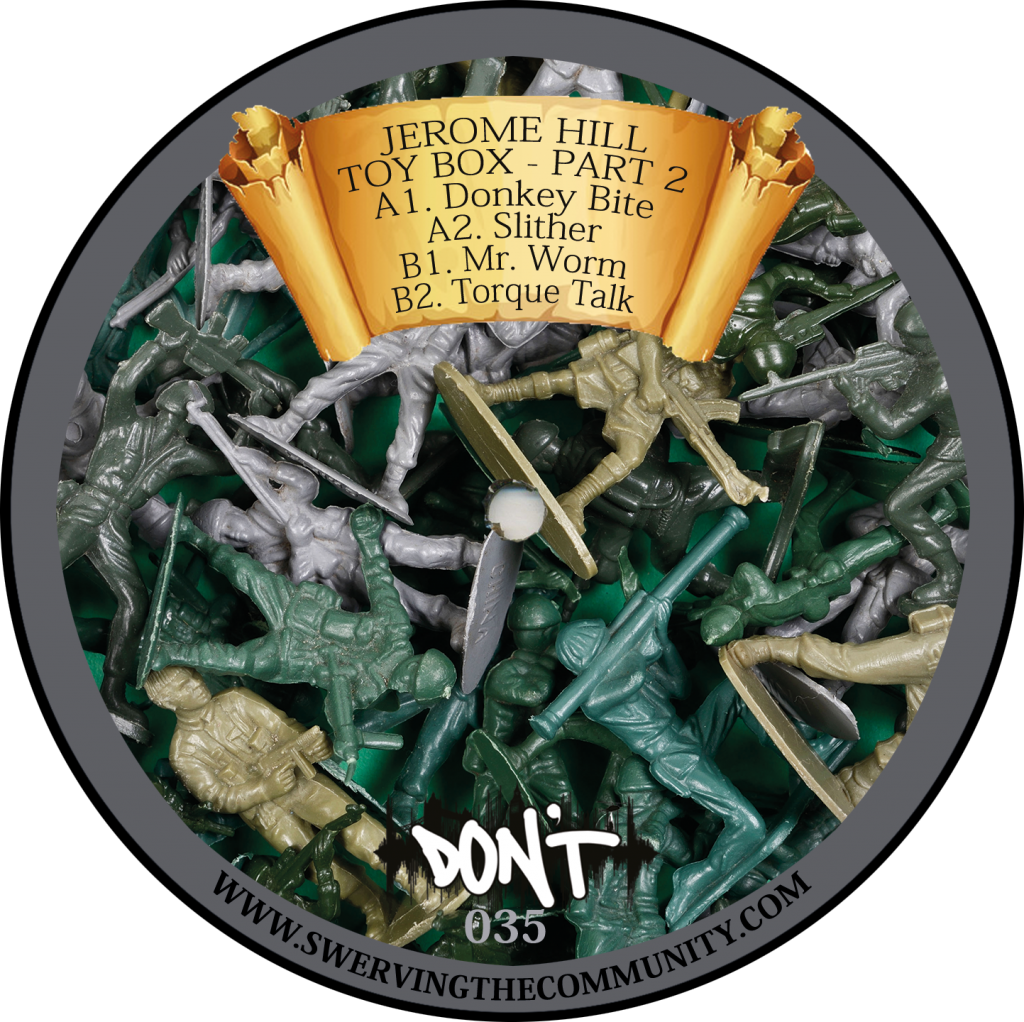 What was the genesis of Don't and then what led to you establishing your other labels?
Don't was originally an outlet to release the tracks I'd been doing with Rob Stow (as Groove Asylum) but it soon became an excuse to put out music by other friends and producers I admired.
Fat Hop began in around 2009 (I think) and that was just to house the hip-hop/b-boy end of the stuff I was making, then expanded to release some 'actual' hip-hop/Britcore records.
I'm a huge fan of Super Rhythm Trax in particular, what led you to start this label?
Thank you! I guess Don't is pretty crazy and quite pummeling, so Super Rhythm Trax was founded to get back to my original inspirations, the more morosely bleepy and post-acid house era sounds of the pirate radio stations I grew up on. That whole 1989/1990 thing!
What's the release that you are most proud of?
Of my own stuff? I'm proud of my Cley Hill Transmissions EP, and also was a real honour to release Zsa Zsa La Boum 'Something Scary', a track that will always hold dear memories for me from when I first heard it.
What's the biggest hassle of running a label that the fans might not know/understand?
The amount of 'platforms' that you have to cover and having to promote releases yourself by making Facebook posts saying 'buy this … it's great!' Well, they're the things I like least anyways.
Who would you most like to release, given the chance?
I'd love to ask Matthew Herbert to release a really murky RadioBoy style thing that will sound exactly like it does in my head whenever I fantasise about it.
Will there be more Hornsey Hardcore releases? (Please say yes)
Yes! There's one that's just come out last week actually, it's the third one, called 'Third Strike' and this time is on the Sneaker Social Club label. There's also a track I did called 'The End (Stuck in '91)', which came out on Yellow Machines a while back and which should really have been under the Hornsey Hardcore name.
Production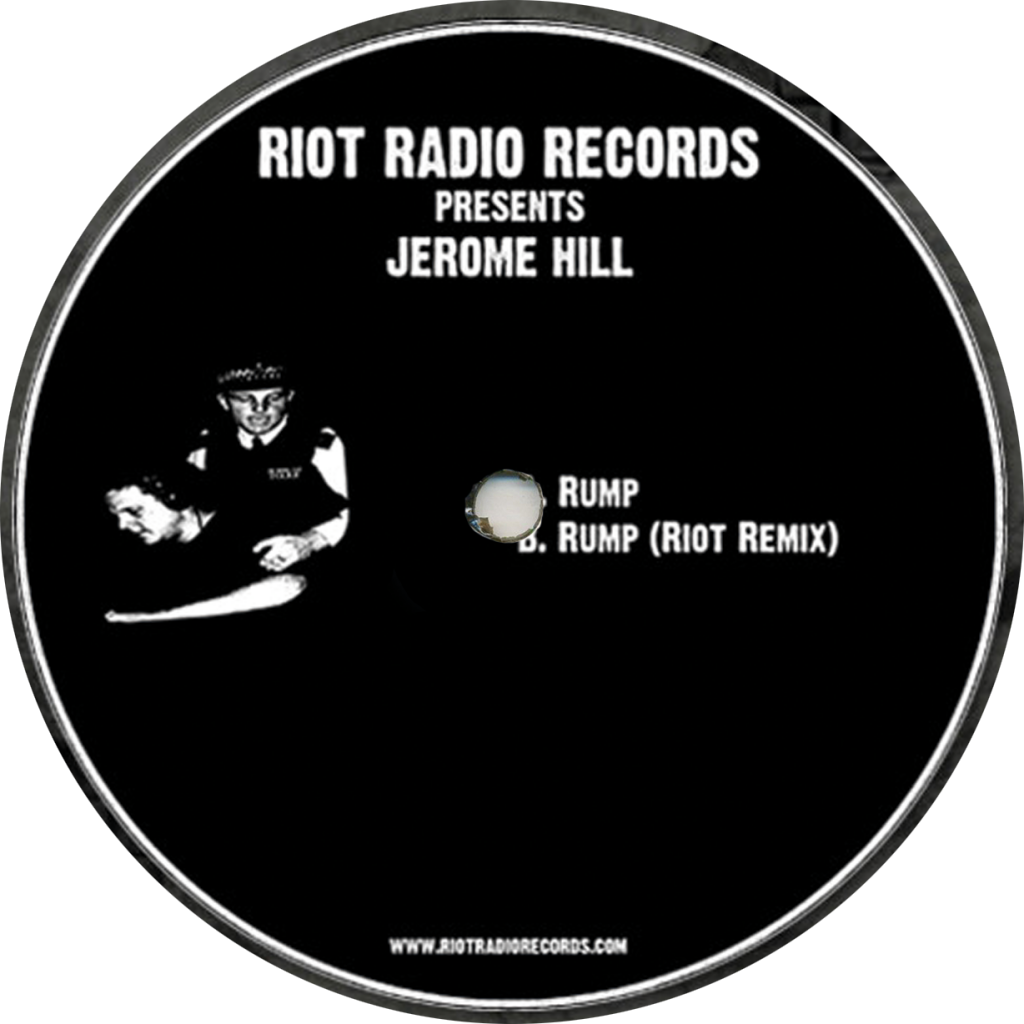 Over the years you have produced a lot of different styles – has that been a conscious decision to keep things diverse or do you feel that there is a common thread running through all of your productions?
I don't know .. it's not a conscious decision, no. It's just that I have various itches that need scratching, so to speak. And it's nice when I've been making one thing, to be able to then forget about it and do something totally different.
To what extent would you say your musical ethos is influenced by London?
I wouldn't know, but I guess quite a lot seeing as that's where I was born and have lived for most of my life. London is so diverse culturally and musically that it's hard not to end up with a melting pot of different influences.
What's your process for making tunes? Do you work solo or with an engineer?
I always work solo although I have collabbed in the past.
What's your dream tune to remix?
Not sure, although I've heavily sampled a few favourites on the Fat Hop label – if that counts.
Besides your own labels you have also released tracks and remixes on many others – anything particularly exciting coming up?
As I said earlier, there's a new Hornsey Hardcore that's just out. Also a track of mine on Sunil Sharpe's Earwiggle label, plus a couple of remixes coming soon. I'm building up an arsenal of unreleased stuff and will be getting them out in 2019, plus there's the 40th Don't release which will be a special double pack from some of the usual suspects and a couple of new faces too!
Raving and Mixing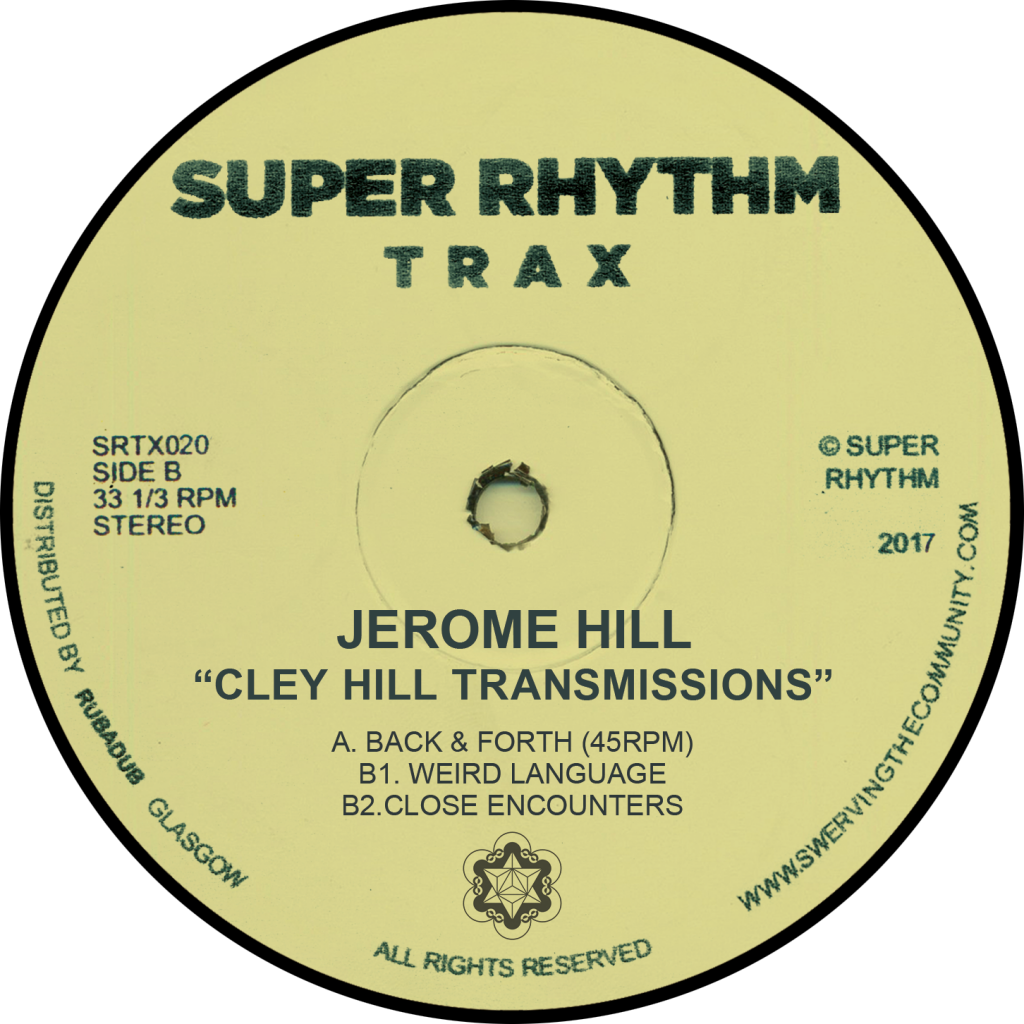 The first sets I heard from you back in the day were at squat parties in London – do you still play on that scene or have you moved on? Any favorite memories from that world? (I have plenty but also to be fair it could be very grim at times!)
If I have a weekend off and there happens to be a good one going on, then yes, I'll sometimes show up with my records. It's few and far between these days, though – I actually went to play at one a few weeks back but when I arrived outside it had just been shut down by the police so had to drive home again.
But looking back there are too many memories: cinemas, bingo halls, swimming pools, job centres, universities, quarries – you name it, we played techno loudly inside it! But the main thing was the positive feelings of everyone being like a family and just showing up any Sunday morning and the family would all be there. *sighs wistfully*
How has the London scene changed since the start of your career? Is it much harder to put events on now than it was?
In terms of squatted venues, yes. It's much harder to get away with stuff now!
Do you still use vinyl when you play out? If so, do you find it easy / difficult to get access to decent quality setups (I sometimes find decks to be somewhat … sketchy)
Yes I use half vinyl and half USB. And yes, decks are often sketchy as fuck, which is why sometimes the USBs are a saviour!
How has your dj style evolved over the years?
Not sure. It depends what mood I'm in as to how I play I guess. Sometimes I'm in a deep mix and blend mode, and other times in a scratch the fuck out of it and throw stuff around mode. I still love playing music people wouldn't expect, like rock n' roll or hardcore hip-hop in a techno set.
How do crowds in Berlin compare to other places you have played?
I love playing in Berlin. They do clubs so well there, and the crowds are great. They kind of have it good there and are seasoned pros who are used to the best and loudest sound systems and ridiculous amounts of dry ice … just how I love it. And I love the fact that in most of the places I play, photographs are banned. Really makes for a better atmosphere on the dancefloor.
Thanks so much, Jerome!