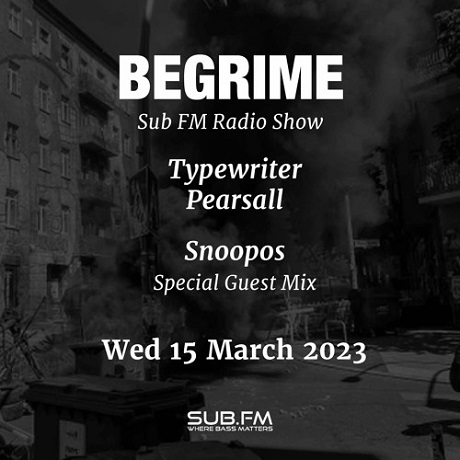 right-click, save as to download
Mixed in Berlin, March 2023
100% Vinyl!
(32:36, 74.6 MB, 320 KBPS MP3)
Direct link to the file:
http://sonicrampage.org/mixes/begrime/Pearsall-RandomOrderSelection4.mp3
Tracklisting:
Random Order Selection is a series I've been doing for a little while of grime mixes for Begrime on Sub FM.
The theme is super simple: I get out a big stack of grime records from the last ten years or so, hit record, and just improvise a selection.
Nothing too serious, just a little fun. It's funny in a way, because years ago I was totally obsessed with making each mix 'perfect' that I used to practice them over and over, as well as record them over and over, and now I'm happy to just wing it and see how it turns out.
I guess getting a little mellower about these things is a benefit of ageing!
This mix aired back in mid-March, so it's a little late for me to release it here on the blog; oh well …
Nothing much more to say about this mix, beyond the fact that I quite like it! It turned out really nicely – plenty of cool tunes, and it flows together surprisingly well for a totally improvised selection.
Let's wrap things up with a few words about some of the tunes I've featured:
Rolling ft Emz – Sir Hiss is a Bristol-based producer who has blown up a lot in recent years for his cheeky and creative melding of dubstep and grime. This specific track appeared on the ever excellent White Peach label, and has a wobbly bass in the style of UK drill music, albeit with a more grime flavor to the synths. It also features a rap by Emz. Who is Emz? I don't know! Still, great tune.
Assault – Another White Peach release, this is a rare track from Neffa-T, who is much better known as an insanely skilled technical dj. Watch that video of him at Keep Hush above. Come on! This dude blows me out of the fucking water.
Hyperpass – The oldest tune on the mix (I think?), this is a grime tune from Bok Bok of Night Slugs, one of the leading figures of the somewhat short lasting UK Bass movement of the early 2010's, that mashed up a variety of global influences into a minimal, bass-heavy party sound. Their sound was some kind of combo of grime, house, Baltimore club, Chicago footwork, electro, trap, rnb, UK rave and more. A very unique and interesting sound! He didn't make many full grime tunes as far as I know, so that makes this one quite special in my opinion.
Cookie Monster – Spooky is one of the most prolific of the second generation of grime producers. He's put out tons of stuff! This is nowhere near his most famous tune, it's just something that he put out on a white label, but I decided to play it about 20 seconds before I mixed it in, and I'm glad I did. A very nice tune that came out on vinyl as part of the 4 pack release for Logan Sama's Fabriclive 83 mix. What a hero Spooky is.
Berlin – Flava D is much better known for her UK Garage work both as a solo artist as well as part of tqd with Royal T and DJ Q, as well as her more recent forays into drum n' bass, but she's also extremely capable of making great grime beats such as this one, the title track on her Berlin EP, which came out on white label a few years back. A very talented producer! I've also added a video of the inimitable D Double E rhyming over the top of this track, because, come on, what a combination.