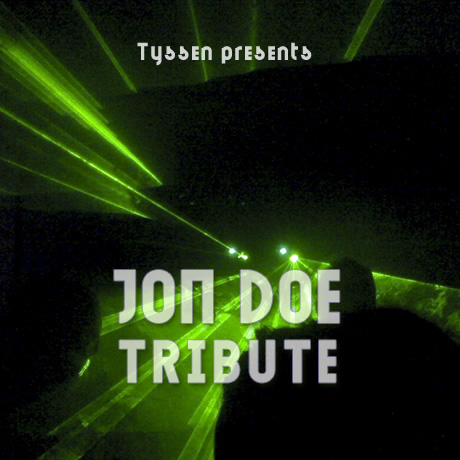 right-click on the title and save as to download
Mixed in Brisbane, December 2010
(84:49, 198.7 MB, 320 KBPS MP3)
Zip pack (cut into individual tracks)
Cue file
Style: A tribute to UK Hard Dance legend Jon Doe
Direct link to the mix:
http://sonicrampage.org/guestmixes/tyssen/Tyssen_-_Jon_Doe_Tribute.mp3
Tracklisting:
01. Lepore – Trust Me (Jon Doe Remix) (Nebula)
02. Jon Doe – NRG (Honey Pot)
03. Chris C & Jon Doe – Mitsubishi Baby (Endeavour)
04. Jon Doe – D4A (D)
05. The Montini Experience – Rock Your Body (Jon Doe Remix) (Honey Pot)
06. Jon Doe – D2A (D)
07. Alliance – Kinesis (Toast)
08. Jon Doe – D5A (D)
09. Jon Doe – Future (Honey Pot Hard)
10. Jon Doe – D4B (D)
11. Billy 'Daniel' Bunter & Jon Doe – Long Way (UK Hard)
12. Billy 'Daniel' Bunter & Jon Doe – Slammin (UK Hard)
13. Jon Doe – D6 (D)
14. Jon Doe – D3A (D)
15. Jon Doe – Warehouse (Honey Pot)
16. Billy 'Daniel' Bunter & Jon Doe – Under My Control (UK Hard)
17. Vinylgroover & The Red Hed – Don't Hold Back the Music (Jon Doe Remix) (Nukleuz)
18. DJ Igor & Jon Doe – Get Up And Rock feat Bello B (Jon's Mad Acid Remix) (D)
Enjoy this mix? Click here to leave a comment
Sorry for the delay in new mixes! As I mentioned a few days ago, the last couple months' combination of new baby girl, new (and very serious) job, moving back to London, and getting our new flat set up properly has given me very little time to put up other peoples' mixes, let alone record new mixes of my own.
Which sucks!
Fortunately, it looks like I will now have some more time to devote to Sonicrampage (although those might be famous last words), and so I've got some very tasty stuff to come, with two very different, but equally excellent, guest mixes dropping this week, along with hopefully some new stuff from me in a few weeks' time.
First up is another great hard house/hard trance tribute from my old friend Tyssen to follow on from his superb tributes to Pendragon and Nick Sentience. This time around Jon has put together a tribute to Jon Doe, the multi-talented producer from Bath who has been responsible for tons of great hard dance music since the late 90′s, covering hardcore, freeform, hard trance, hard house, and more. In more recent years Jon has been focused on his CLSM hardcore project, but this mix covers Jon's earlier hard trance/hard house output.
I, too, have always been a big fan of Jon's, so I am very pleased to feature this mix … I just wish I had gotten around to posting it sooner!
Anyways, enough waffle from me, here's Tyssen to explain the mix:
Like Nick Sentience, the subject of my last tribute mix, most people who have an interest in hard house, hard trance, hardcore or freeform from the 90s and 00s would know about Jon Doe. In fact, if you were a regular reader of Banging Tunes at the start of the century, it's quite possible you would've come across his zany, off-the-wall posts too, often featuring stories or pictures of his monkey, Cuthbert, who was a permanent fixture in his studio.

Jon Doe is right at the top of the list with Nick Sentience of producers whose tunes I have the most of. And his D series was held in such high regard and so frequently talked about on Banging Tunes, that I made sure to collect the whole series (up to the point I was still buying vinyl anyway, D6 – The Pill), and they were well worth the effort.

At the time I was collecting vinyl in the early 00s, Jon was mainly producing hard trance. Towards the end of that period he started putting out more stuff at the freeform end of the spectrum (on a label dedicated to this sound, CLSM) which I guess was going back to where started off, producing hardcore. I was never that much of a fan of his CLSM stuff, but his hard trance tunes make up some of my personal highlights of the UK hard trance sound. Jon had a knack of producing euphoric and melodic hard trance that never strayed into cheesy territory and always had a real solid, meaty edge to it. A lot of his tunes also had quite long, almost techno-ey intros which were great for doing long mixes with.

Jon didn't DJ out in clubs much and I only saw him play once, at a Fevah at Heaven under the Arches at Charing Cross in London, and it was the first time I heard Warehouse, and it sounded amazing!

For most Jon Doe fans, there's probably one glaring omission from this mix, his remix of Lord of the Universe, by David Craig. And I had fully intended on including it, even though I'd already it on the Pendragon tribute I'd done previously. But in a moment of complete carelessness (which I still can't specifically remember doing), I actually managed to delete all the digital files I'd made from ripping the vinyl I used for that mix and so didn't have a digital copy anymore. I could've got the decks and mixer out and re-ripped it for this mix, but decided to let it slide as I'd already included it on the Pendragon mix.
Enjoy!
Leave a Reply