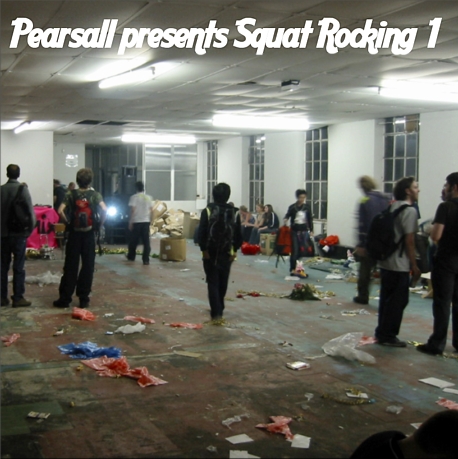 right-click, save as to download
Mixed in London, November 2005
(72:56, 124.8 MB, V0 VBR MP3)
Zip pack (cut into individual tracks)
Cue file
Style: acid techno-trance and hard house
direct link to the mix:
http://www.sonicrampage.org/mixes/Pearsall-SquatRocking1.mp3
Tracklisting:
01. Diplomat – Tantalum Cones (Deathchant)
02. Megamind – Taub (Picotto Mix) (Nukleuz)
03. Kai Tracid – Destiny's Path (Warmduscher Remix) (Tracid Traxx)
04. Lectrolux – Baloney (Baby Doc's Supernatural Remix) (TeC)
05. Ironik – Slave (TeC)
06. Immersion – Squat Rock Part II (Smitten)
07. Trash Compactor – Interstitial (No Entry)
08. Medicine Man & Switch – Vitamins from the Pharmacy (One Inch)
09. Rim n' Chop – The Italian Job (Karim Remix) (DP)
10. The Captain, Superfast Oz & Kristian – Let's Go (Tinrib)
11. The Hellfire Club – Voodoo Magic (React)
12. K90 – Bomb Jack (Chris Liberator Remix) (Telica)
13. DJ Choci & The Geezer – Silver Box (VCF)
14. DJ Riddler – Riddle Me This (Public House)
15. Greenforce – Afro Acid (Back To The Roots Mix) (Acid Test)
16. Cortex – Cuba (xy²)
17. Bang The Future – Atomik Lullaby (GBT)
18. Propulsion – Without Fear (Mesh)
Cover image used with the kind permission of flickr user edvvc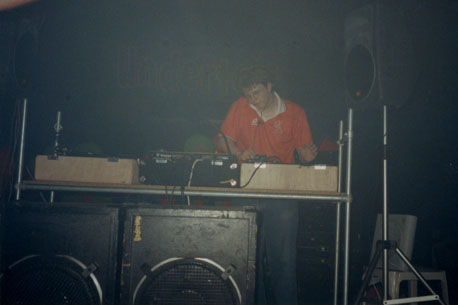 me playing for Undertow at The Drome, London Bridge, August 2000
The Squat Rocking series of mixes aims to document the kind of music that I played when I was about 17-20 and going out on the London squat party scene. The first parties I ever played at to people besides my friends were squat parties in the summer of 1999, and the sound I was into is what is represented in these mixes – no messing acid techno-trance.
In fact, the first time I played to total strangers was at a squat party in Waterden Road, Hackney, in July 1999. I was only 18 at the time, but I had been dj-ing for about two and a half years at that point, and I had finally gotten to the point where I was confident enough to play out.
Some people think they are DJ gods within a couple of months … I was not one of them!
Happily enough, by the summer of 1999 I was feeling much more confident about playing out to people and so, one weekend, while I was out with some friends at a squat party on Waterden Road, I got talking to to the people behind the Undertow sound system, since they were playing the kind of hard-charging acid trance that I really enjoyed. Anyways, a scribbled address later, the next day I hit the decks to record a demo tape, which I then popped in the post early in the week. I didn't hear anything back until I got a call from Stelvio on the Saturday saying it was alright if I came down and that they would put me on at some point. Who can argue with that!
So, I rounded up my cousin Ben, who was visiting, and my friends Dan and Marc, and we made our way off to deepest, darkest Hackney Wick. The party was in an old warehouse , with a range of sound systems across the different levels, playing hardcore techno, acid, drum n' bass, and weird unclassifiable stuff. The Undertow rig was in the first room, right as people walked in from the outside, playing hard and uplifting acid trance.
For me, walking into a squat party was always like walking into another universe, a sort of skewed angle on my otherwise pretty strait-laced middle-class youth. A club is one thing, but the squat party is something else entirely, something wilder and more untamed, something freer.
Of course, part of the problem with freedom is that many people can't handle it; they abuse it. In my attendance at squat parties there was often a dark edge, and from what I heard things got worse after I stopped going in 2000. Occassionally you would see or hear about stuff that was really off-key, but I suppose that unpredictability was part of the excitement. Fortunately, the Waterden Road parties didn't have that dodgy element, at least as far as I could tell. The Undertow crew was mostly Italian, and this was always something I found interesting about squat parties – that there would always be loads and loads of Italians, often up to a quarter or a third of the people would be Italian. Possibly this is no longer the case (in fact I'd imagine that there would be loads of Eastern Europeans now), but I always found it interesting that there would be so many Italians alongside the English ravers.
Anyways, so we got to the party and did the usual wandering around, checking out the various soundsystems, poking around the rooms (there was one room where there were families living, with little kids running around, which was a bit grim), and then we headed back to the Undertow room to dance and wait my turn. It was the best anyways, being the most colourful, with the best sound, music and vibe. This night was actually the start of several years of association with them (I went on to play for them a few more times, and bug the shit out of them more times that I can imagine … if any of you stumble on this page, I apologize for annoying you, which I'm sure I did!).
Finally, just before 7 AM, Stelvio says, "You're on at seven." Oh shit! The dancefloor was still heaving, loads of people having turned up after the clubs had finished, and it was my responsibility to keep them there.
I was so nervous that my hands were shaking like crazy as I dropped the needle onto my first record (which was, I think, the BK & dBm remix of '9 Bar' by OD404). Even today I get nervous playing in front of other people, but this being the first time I was truly terrified! Fortunately I managed to get through the mix smoothly (helped by the fact that the soundsystem was crystal clear) and then I was off! What an exhilirating feeling it was! The crowd was right with me as I upped the tempo to well over 160 bpm and I finished off at nine AM with 'Reformation II' by Lab 4. In fact this was probably one of the better, or at least more memorable, sets that I ever played. When it was all over we hung around the party for another hour or so before heading off on the long walk back to Stratford tube station.
Good times.