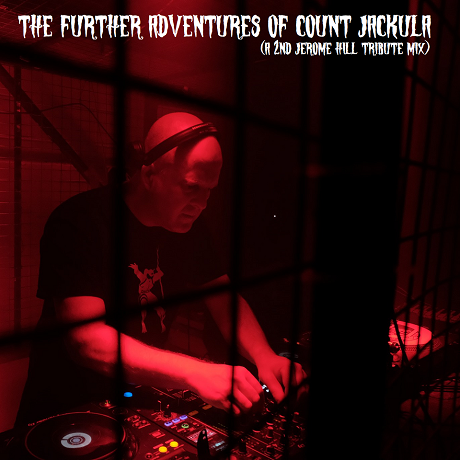 right-click, save as to download this free mp3 mix
Mixed in Berlin, September 2021
100% Vinyl
(77:28, 177 MB, 320 kbps mp3)
Direct link to the mix:
http://sonicrampage.org/mixes/jerome_hill/Pearsall-TheFurtherAdventuresOfCountJackula(A2ndJeromeHillTributeMix).mp3
Tracklisting:
One of my favorite dj/producers of all times is, no question, London techno hero Jerome Hill.
I made a first tribute mix to him a few years ago, Full Metal Jacking.
Last year I did a mix of tunes from his Super Rhythm Trax label called Super Rhythmic Facts.
And now I've done a second tribute mix, which is this one.
Suffice to say I'm a pretty big fan!
I did get in touch with the man himself to see if he wanted to do a follow up interview, but he (very politely!) declined, which is fine.

So in the absence of an interview (easy solution!), I've been struggling about what to write to accompany the mix. I already have written fairly extensively about what I like about Jerome's music (pounding machine funk! An actual sense of humor! A diverse range of sounds! Lots of old skool flourishes!), and I feel like there isn't too much more I can say on the topic that wouldn't just be very repetitive.
This mix features a bunch of his tunes and remixes from different points in his production career, from the mid-00's right through to now. It also traces a bit of an arc through his sound, starting with the kind of rumbling jacking house stuff that his Super Rhythm Trax label has become known for, before working its way through some of the off-kilter techno sounds that his label Don't has championed, before heading towards some more straight-up techno bangers at the finish.
In the absence of having really clear ideas about what to include in this blog post, I'm going to just throw in some stuff I enjoy.
First up, here's a great livestream set he did last year for Fold London:
Secondly, here's the awesome cover for the Super Rhythm Trax compilation album:
Next, a great mix he did for Dame Music:
A little snip from my interview with him:
The first sets I heard from you back in the day were at squat parties in London – do you still play on that scene or have you moved on? Any favorite memories from that world? (I have plenty but also to be fair it could be very grim at times!)
If I have a weekend off and there happens to be a good one going on, then yes, I'll sometimes show up with my records. It's few and far between these days, though – I actually went to play at one a few weeks back but when I arrived outside it had just been shut down by the police so had to drive home again.
But looking back there are too many memories: cinemas, bingo halls, swimming pools, job centres, universities, quarries – you name it, we played techno loudly inside it! But the main thing was the positive feelings of everyone being like a family and just showing up any Sunday morning and the family would all be there. *sighs wistfully*
How has the London scene changed since the start of your career? Is it much harder to put events on now than it was?
In terms of squatted venues, yes. It's much harder to get away with stuff now!
Do you still use vinyl when you play out? If so, do you find it easy / difficult to get access to decent quality setups (I sometimes find decks to be somewhat … sketchy)
Yes I use half vinyl and half USB. And yes, decks are often sketchy as fuck, which is why sometimes the USBs are a saviour!
How has your dj style evolved over the years?
Not sure. It depends what mood I'm in as to how I play I guess. Sometimes I'm in a deep mix and blend mode, and other times in a scratch the fuck out of it and throw stuff around mode. I still love playing music people wouldn't expect, like rock n' roll or hardcore hip-hop in a techno set.
How do crowds in Berlin compare to other places you have played?
I love playing in Berlin. They do clubs so well there, and the crowds are great. They kind of have it good there and are seasoned pros who are used to the best and loudest sound systems and ridiculous amounts of dry ice … just how I love it. And I love the fact that in most of the places I play, photographs are banned. Really makes for a better atmosphere on the dancefloor.
Lastly, check out this interview with him at the 909 Originals site.
Ah, finally, here's the cover art for the Don't compilation Songs that Changed the World, really like the art for this as well.