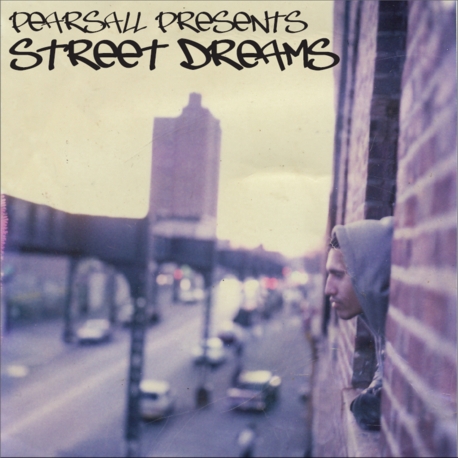 right-click on the title and save as to download
Mixed in Edinburgh, March 2010
(76:55, 135.6 MB, V0 VBR MP3)
Zip pack (cut into individual tracks)
Big cover
Cue file
Style: classic jungle
Direct link to the mix:
http://sonicrampage.org/mixes/sd/Pearsall-StreetDreams.mp3
Tracklisting:
01. Sound Of The Future – The Lighter (Formation)
02. DJ Krust – Set Speed (V Recordings)
03. Back 2 Basics – Horns 4 '94 (Back 2 Basics)
04. Firefox & 4-Tree – Warning (Powder Mix) (Philly Blunt)
05. In Between The Lines – We're Rollin' (Formation)
06. Rude Bwoy Monty – Steppa's Anthem (Frontline)
07. Gang Related, Mask & Bigger Star – Ready Or Not (Dope Dragon)
08. Dillinja – Believe The Bass (Conqueror)
09. Krome & Time – Ganja Man (DJ Hype Remix) (Tearin Vinyl)
10. DJ Taktix – The VIP (Final Chapter) (Back 2 Basics)
11. DJ Phantasy – .44 Mag (Easy)
12. DMS & The Boneman X – Sweet Vibrations (FX Recordings)
13. DJ Nut Nut – Special Dedication (Ladies Mix) (Hard Step)
14. Trinity – Gangsta (Philly Blunt)
15. Undercover Agent – Oh Gosh! (Juice)
16. Urban Shakedown – Some Justice '95 (Urban Shakedown)
17. Danny Breaks – Volume 1 (DJ Zinc Remix) (Droppin' Science)
18. Fallen Angels – Hello Lover (DJ Hype Remix) (IQ Records)
19. Amazon II – Booyaa! (Open Your Mind) (Aphrodite Recordings)
20. Adam F – Lighter Style (Section 5)
21. Skeng Gee – Connections (Marvellous Cain Remix) (Suburban Base)
22. Capone – Massive (Hard Leaders)
23. Cutty Ranks – Limb By Limb (DJ SS Remix) (Suburban Base)
24. Babylon Timewarp – Green (Sublogic)
25. Krome & Time – The License (Tearin Vinyl)
26. DJ SS – Rollidge (Formation)
27. Remarc – RIP (Suburban Base)
28. Omni Trio – Renegade Snares (Foul Play VIP Mix) (Moving Shadow)
Cover image courtesy of Dominick de Filippo
Street Dreams (Classic Jungle) by Pearsall on Mixcloud
Enjoy this mix? Click here to leave a comment
What do you need?
Many things, probably, but I'd bet that one of the things that you need is more classic jungle in your life … even if you don't know it.
And I'm happy to provide it!
This mix, which was recorded early last month, is like the rougher, more street-oriented brother to my ambient jungle mix That Dream Is Over. To put it in simple terms: more ragga babbling, less ambient swooshiness.
Which is hardly a bad thing!
This mix is unambiguously a classics set – pretty much all of the tunes featured are stone cold anthems from jungle's golden years of 1994/1995. There's always a risk when using a lot of well-known stuff that people will have heard it all before and won't be interested, which is why I have spent a lot of time thinking through the progression of the mix to keep interest levels high, building in peaks and troughs, rollers and Amen tearouts, light and dark, before concluding with Foul Play's euphoric VIP mix of 'Renegade Snares'. Hopefully I have succeeded! I suppose I could have spent some time (and money … ) assembling a set of more obscure stuff, but sometimes the obvious route is the best one to take.
And what a route it is!
I mean, really, just listen to this mix. These tunes are totally incredible. Monster after monster after monster.
As I mentioned before, I started buying records in the spring of 1996, so the tunes featured on this mix were a little before my time, and therefore don't hold the same nostalgia value for me as, say, early Renegade Hardware or No U-Turn stuff. Even so, over time I have come to realize that 1994/95 (the years from which all of these tunes were taken), were bar none the best ever for jungle. Maybe when I was younger (and more enamoured of the darkside sound of the mid-late 90's) I would have thought that a heretical opinion, but to be honest as I my classic jungle collection has grown over the last couple of years the truth of it has become clearer and clearer to me.
It's hard to put in words quite why this is the case. These tunes have a very special vibe to them, a unique power and force that is missing, in my opinion, from modern drum n' bass. Maybe the secret was in the way the music managed to be simultaneously simple (in the focus on drums and bass) and richly complex (just listen to the incredible rhythmic detail of Remarc's 'RIP'). Or maybe it was in the relatively restrained speed – as time went on drum n' bass got faster and faster, removing the space for the beats to breathe. Another possibility lies in the fact that this was when producers were still experimenting with dynamics, so the structures of the individual tracks were not yet as formulaic as they were to become.
Or maybe there isn't any one factor that makes these tracks stand out so much, but a combination of a number of different things happening all at once.
Sometimes you can't put a feeling into words.
It was an interesting process putting this mix together. I've actually been sitting on the final version of this mix for nearly two months now (having recorded the version posted here a couple of weeks before Too Fat For Skinny Jeans), but I began the process of planning this mix back in December. The original version of this mix was done as a Christmas present for my sister's boyfriend Dom (the dude on the cover), because he too was a junglist in his youth. Having recorded and listened to that version, I thought that it would be a good idea to create a similar mix for posting on the blog.
Thus began a rather long period of somewhat frustrating experimentation, as different records were pondered, discarded, returned, discarded again, all in the name of creating the perfect encapsulation of the golden era of jungle. Not an easy task!
One of the interesting things that I have noticed as I have collected this stuff is how much less dj-friendly these early jungle tunes were compared to the jump-up tunes from 96/97 that I cut my dj teeth on. Some of these tunes are fucking hard to mix! It took me a while to finalize this mix, because some of the tunes that I wanted to feature are incredibly hard to mix out of, due to their utterly crazed beat structure. For instance, I tried out four different tracks to follow on from 'Some Justice 95' before I finally settled on the DJ Zinc remix of 'Droppin' Science Volume 1′.
I'm very pleased with the final result, and hope you enjoy it too!
Finally, since I didn't have any direct experience of this era as either a record buyer or a raver, I'd like to leave you with the following, highly recommended documentary on the early London jungle scene, with lots of good info on the parties, the dj's, the producers, and the strength it had on the streets back then: