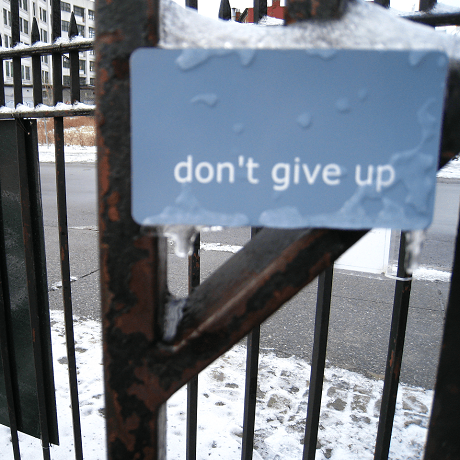 right-click, save as to download this free mp3 mix
Mixed in Berlin, April 2021
100% Vinyl
(93:08, 213 MB, 320 kbps mp3)
Direct link to the mix:
https://sonicrampage.org/mixes/giveup/Pearsall-Don'tGiveUp.mp3
Tracklisting:
Alright, here's a new mix!
This one is a little bit of a follow-up to Get It 003: Get Broken from two years ago, which was a mix that I really really liked, and that also got a lot of positive feedback, so I figured it was time for another mix in a similar vein.
If you're not familiar with that mix, no worries, basically this means that I have pulled out some of my favorite breakbeat acquisitions from the last few years and chopped them together into this mix. I've always loved breaks, so the fact that there's been a bit of a revival in this style recently has been, well, a very welcome musical development. It's been very interesting hearing a new generation of producers put their own spin on breakbeats in the 130-140 bpm range. Many of the producers that I've featured in this mix are now or have been in the past better known for producing techno, electro, drum n' bass, or house, and you can hear all of those kinds of influences percolating through the mix.
One difference, perhaps, this time around is that a lot of this new breakbeat stuff is quite slick and linear – which is perhaps the influence of modern techno. It's not as messy, rude or silly as the kind of stuff that was known as 'nu skool breakz' twenty years ago, and it sounds much crisper and better produced than the acid breaks that were so popular in America in the 90's.
In any case, the ulterior motive behind this mix is one that was very similar to my motive for making my December 2020 electro mix Electro Beats for Murky Streets – basically, I wanted to listen to these tunes! Sometimes that's all I need as a motivation to make a specific mix – I have some records, I like them, and I want to listen to them all mixed together. Not too complex!
Unlike that mix, which was totally unplanned and where my only goal was 'slam together some fast electro', with this one I wanted to put together a bit more of a progression through the mix, starting with some funkier stuff at the beginning and moving into darker territory as the mix progresses. Yeah, obviously the early part is quite heavy on tracks from Luca Lozano's Klasse Wrecks label, but those tunes are all really good, so I feel no shame in leaning so heavily on it!
Besides relying so closely on Klasse Wrecks for the first part of the mix, for the rest of the mix I wanted to feature a range of artists and sounds, including some people who are reasonably big names (like Mella Dee and Special Request) as well as some newer artists who are maybe not so well known, like Borai, Mani Festo, and Denham Audio.
Maybe my favorite moment in the mix is dropping FFF's 'Forever' at 33 rpm and +7, which transforms it from a chimpunky breakbeat hardcore track to a simply stunning 140 bpm breakbeat anthem – all screaming diva vocals, thunderous bass, ricocheting pianos and skyscraping rave chords. A stunner!
This year has been very challenging in terms of finding time to do mixes, and then putting in time to write blog posts about them – I've even done a few mixes which I've not even put on the blog yet! With this mix I recorded it like three weeks ago, put it on Soundcloud a week ago and I'm only now getting it up on here. Between work and family life I just never seem to get around to doing music stuff, which sucks, because music is like the great escape, something that brings me a lot of pleasure and is my one main creative outlet.
I'm hoping to be a bit more productive over the next few months – we will see how it goes!
One last thing – the title of the mix comes from a sticker I took a photo of in Williamsburg, Brooklyn in January 2009. We were visiting the city for my old friend Ian's wedding and staying with my sister at her place near the BQE. As a little bonus, here are some photos from our walk around a very frigid Williamsburg, one that was not quite as gentrified as it is today.