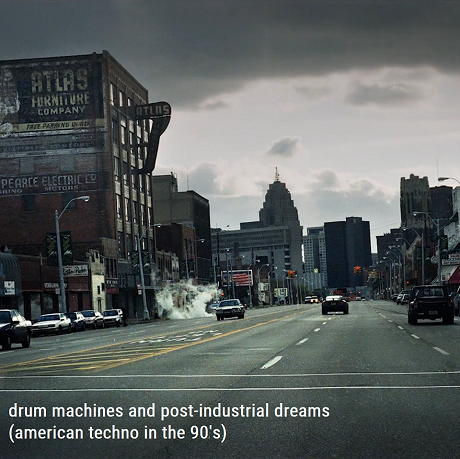 right-click, save as to download this free mp3 mix
Mixed in Berlin, May 2021
100% Vinyl
(113:41, 260 MB, 320 kbps mp3)
Direct link to the mix:
http://sonicrampage.org/mixes/usatechno/Pearsall-DrumMachinesAndPostIndustrialDreams.mp3
Tracklisting:
My latest mix (this one!) is an exploration and celebration of 90's American techno.
Not a small topic, right?
The idea originally came about when the team from Charivari Detroit Radio got in touch to ask if I would be willing to do a guest mix for their Mixcloud page.
I said sure but then immediately faced the question that I always ask myself in these sorts of situations: ok, what kind of mix should I make?
Given who asked, at least it was narrowed down to techno, but given that I own a few hundred techno records, just saying 'oh I guess I can do a techno mix' doesn't help narrow things down much.
In one sense you could say that the easiest approach would be to just randomly throw together a mix from the collection, ignoring eras and styles and whatnot, but as those of you who have followed my stuff over the years know, that's never exactly been my approach.
So this was a little tricky to figure out!
As far as I could see, I had a number of options:
Do a modern techno mix, like a shorter version of last year's Fake Berghain in My Spare Room
Do a mix of acid techno, like, well, take your pick
Come up with something entirely different
In the end, I decided to go with option 3.
I guess having made that decision was helpful, sort of, but I was still faced with the question of if it's something different, what should it be?
Luckily, after letting the question marinate at the back of my mind for a few days, I had a stroke of inspiration: let's do a mix of only American techno! And to make it even more specific, how about I limit myself to only records from the 90's?
This was suddenly a very exciting idea – the roots of techno are unquestionably American, but in recent years techno has become associated with black-clad Berlin hipsters with questionable haircuts, when the reality is that the roots of techno are much more like this:
I should note here that this is not meant to be like a nationalistic project – obviously I'm American, but I haven't even lived there for 15 years so being some kind of exaggerated super-patriot is absurd in my case. I mean, it's absurd in any case, but in my specific scenario it's even less tenable. I'm not trying to say "only Americans make real techno", which is ridiculous, I just wanted to have some fun with the idea. 😀
So I had my concept: let's mix up some American techno, from the 90's, and it will be fun!
Then the cold sweat realization set in: do I even have the records to make this work?
Obviously I have a ridiculous record collection, but about 15 years ago I (foolishly!) sold off a lot of the 90's techno records that I first bought as a teenager, especially a lot of vintage Detroit stuff. Honestly, the thought makes me depressed, especially since I used the money to buy a bunch of terribly screechy mid-range dubstep that I never listen to now!
Fuck, was that dumb.
Anyways, I digress. Those records are long gone!
So the next step was to hit the shelves and start pulling out anything that I thought might vaguely fit my criteria. And here, actually, I probably need to explain just how I was defining 'American' for the sake of the mix. Basically the idea I had, was that 'American' meant American artists only. So, Joey Beltram from Queens releasing on the Sheffield label Warp? Totally fine. But a European guy releasing on an American label?Not on this mix. However, I have always seen the 'American' identity as pretty elastic (it's certainly a lot more flexible than, say, being 'Japanese'), so there were some more marginal cases, like Tim Taylor and Dan Zamani who are Brits (I checked Discogs!), but who spent the 90's living and producing in New York City. I figured that they almost certainly had eaten a New York slice over a garbage can late at night so the grease didn't drip on their clothes, hence close enough for me!
Having pulled out a big stack of tunes that I was guessing fit the concept, I then had the challenge of figuring out which ones actually did match my (totally arbitrary!) criteria and then putting them into a reasonably coherent mix. This meant a certain amount of Discogs research to figure out exactly when stuff was released, or if the artist actually was American or instead German or British or Dutch or whatever. I mean, my memory is quite good but it's not that good!
Having gone through the research and sifting, I then had a stack of about 50-60 records that fit my criteria, and I thought hey, my work is done, let's just hit record and improvise something.
I did!
But it sucked.
Most of these records I haven't listened to for some time, so I was just wildly guessing about what would work well together. The result was a pretty disjointed mess, with some notably poor mixes sprinkled throughout. I listened to it for a few days and just grimaced … no my finest hour by a long shot!
So I went back to the drawing board; this time I was actually going to plan something coherent, a proper musical journey, you know the drill. I made a spreadsheet (lol) where I patiently listed all of the tracks that I thought I might want to use, including by bpm, and then I separated the records into four stacks, roughly by bpm and vibe, to make it easier to build mini-sections of the mix which could then be merged together into something that would be overall more coherent.
The end result of this process is this mix that you are listening to now (at least I hope you are listening to it!). It fulfills all of the criteria I set forth – all American artists (I'm pretty sure!), and all 90's releases.
And I think it's a pretty cool overview!
Obviously I'm not claiming that this is a definitive overview of American techno in the 90's – that would be insane, since there are literally of thousands of records that fit my criteria. And it's not supposed to be an overview of the key tracks of the era – probably only a few of the tracks featured would be considered major anthems. And did I also miss many of the most important American techno artists? Undoubtedly. No Claude Young, no Carl Craig, no Kenny Larkin, no Juan Atkins, no Kevin Saunderson, and you know what, I could just keep going and going. So many tracks that could be included, so many artists who could be featured. I get it!
Having said that, there's a nice geographical spread of artists in this mix, mostly from the North-East and Mid-West, the two main techno heartlands in America – I think it's not a coincidence that this music emerged from America's industrial heartland right as so much of that blue collar industrial way of life was collapsing. Just off the top of my head, this mix features artists from Detroit, New York City, Chicago, Minneapolis, Philadelphia, and, erm, Kalamazoo, Michigan.
So this isn't the mix of American 90's techno, it's just a mix of 90's American techno. But I think it's a good one, and I hope you enjoy listening to it as much as I have enjoyed making it!