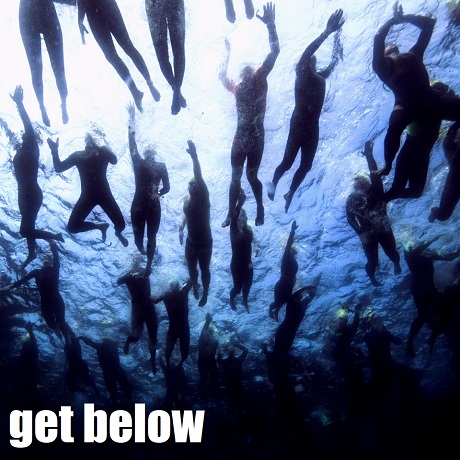 right-click, save as to download this free mp3 mix
Mixed in Berlin, June 2019
100% Vinyl
(40:00, 96.3 MB, 320 KBPS MP3)
Direct link to the mix:
http://www.sonicrampage.org/mixes/getit8/Pearsall-GetIt008-GetBelow.mp3
Tracklisting:
That was fast! I only started the Get It series last November with Get Rugged, my selection of rugged house tracks, and eight months later I have already recorded eight editions, covering styles such as electro, jungle, breakbeat hardcore, grime, and breaks.
(Quick note: the next mix will be jungle, with a special theme, and then the 10th mix will be a very special anniversary edition)
So what's happening in Get It 008? This mix is the first episode in the series devoted to dubstep; in fact it's my first dubstep mix since 2016's 10 Steps: A Sarantis Tribute. Three years is quite a while! I've had various ideas for dubstep mixes in the time since (another Mala tribute, or a third Matty G tribute, for example), but have just not got around to it yet, so really this one is quite overdue.
So my relationship with dubstep is kind of an interesting thing; there was a period of a couple years from probably around 2007 to about 2012 where dubstep was the genre that I listened to most often, both my own mixes and those of other people, where I was buying vinyl regularly. I wasn't actually going out to listen to it in clubs that often, because I had sort of lost the taste for clubbing, but on my headphones or at home? All the time.
However, that passion just sort of … dissolved, not in the way that I started hating the music or anything like that, but more that just slowly it shifted away from being my go-to music. Ever since then I've sort of dipped my toes in and out of the music – I still listen to the mixes I did in the past fairly regularly, I check out new tunes and mixes on Soundcloud, and I still buy the odd vinyl release – but to be honest I kind of lost track of the minutiae of the scene. Who's doing what, what are the big releases, what's changing, what's staying the same – that kind of stuff. Honestly, no clue about any of that.
Which, if I think about it, is probably an advantage when it came to doing this mix – I'm not bound by needing to play the most upfront stuff or avoid playing things that are quote-unquote 'rinsed', so I could just put together a selection of tunes that I've enjoyed enough to buy over the last four or so years.
Another thing that has happened over time is that my taste in dubstep has become more specific; or you could even say more refined. I really don't listen to the kind of music I featured on the Wobble City mixes – that mid-range blaring, super heavy aggressive stuff just doesn't do it for me now in the same way it used to.
The dubstep that I still do like is the music that lives up to the promise of the genre's name – bass-heavy, deep and mysterious, like being wrapped in a low-end cocoon. That was pretty much what I wanted to achieve with this mix; to me the deeper side of dubstep has always been excellent music for summer walks; headphones on, bass up, eyes alert.
40 minutes is not much time for a mix, but what I wanted to achieve in this time frame was to show off the musical diversity of real dubstep – so this mix starts with Om Unit's spaced-out 'Dark Vistas' before moving through several tracks of crunchy bass before veering off into the cosmic storm of Kromestar's 'Davinchi Kode' which leads immediately into the dubstep / jungle / acid crossover from King Kutlass on Bristol's excellent Western Lore label. From there it's into a section of bass-heavy Jamaican-influenced steppas from V.I.V.E.K, J:Kenzo, Moresounds, and Compa, climaxing with TMSV's murderous Mad Cobra sampling 'Funeral Bill'; then it's off in another direction entirely with the explosive synths of Joker's 'Mad Night', before settling down again with the powerfully melancholic sounds of Eva808 and Headland.
Enjoy!