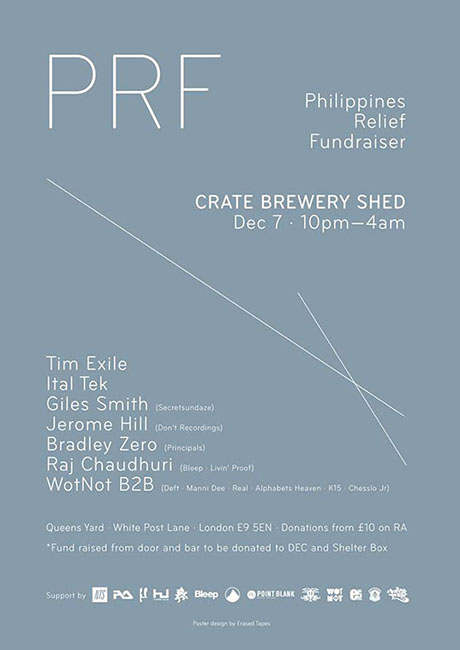 Assuming you haven't been living under a rock, you will know that a few weeks ago the Philippines was devastated by Super Typhoon Haiyan, which caused massive destruction across the archipelago nation as well as thousands upon thousands of deaths.
You don't need to come to Sonicrampage to know what a terrible tragedy this is, and how important it is to help, even if all you can do from thousands of miles of away is make a donation to one of the organizations that is on the ground assisting the Filipino people.
Which is why I would like to alert you to a fundraising party/raffle that my good friend Man Hon Luk (a.k.a. The Vinyl Pimp) is organizing. All ticket holders to the party are automatically entered into the raffle, and even if you aren't attending the party, you can still buy raffle tickets. I've made a donation via buying a bunch of tickets, and I hope you will too!
The party is at the Crate Brewery in Hackney next Saturday, the 7th of December, and all raffle ticket holders will have the chance to win prizes donated by a variety of local businesses and record labels.
To buy tickets, click here to visit Resident Advisor.
What you really want is to know what tunes are up for grabs, right? So here's a little rundown on some of the goodies that record labels like Deep Medi Musik, Hemlock Recordings, Swamp 81, Ninja Tune/Big Dada, Civil Music and Planet Mu are giving away (I will update this list as more stuff is added):
Warp Records
Bleep.com
Ninja Tune/Big Dada
Civil Music
Deep Medi Musik
Swamp 81
Planet Mu
Hemlock Recordings