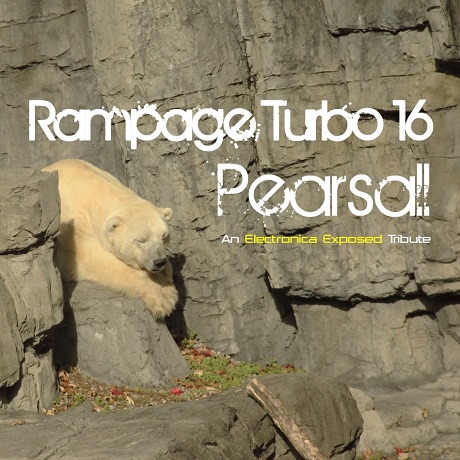 right-click on the title and save as to download
Mixed in London in March 2013, using 100% vinyl on two Technics 1210's and a Pioneer DJM600 mixer
(62:47, 144 MB, 320 KBPS MP3)
Large cover
Cue file
Zip pack (split into separate tracks)
Style: Freeform Hardcore (A tribute to Electronica Exposed)
Direct link to the mix: http://sonicrampage.org/mixes/rt16/Pearsall-RampageTurbo16(ElectronicaExposedTribute).mp3
Tracklisting:
01. Sonic – Inside The Ride (Electronic)
02. Carbon Based & E-NRG – Jerk Awake (Electrolysis)
03. Dodgee & UFO – Timespan (Digital Beatz)
04. Shanty & DOK – London Town (Electronic)
05. Tracid – Horatsu (Electroplates)
06. Alek Szahala – Tlaloc (Electronic)
07. Pain On Creation & Fea – Unconsciousness (Electroplates)
08. Oli G & Gammer – Photex (Digital Beatz)
09. Shanty – Time's Trouble (Electronic)
10. Tazz & Element – Enslave The People (Digital Beats)
11. AC Slater – Informavore (Electronic)
12. Menace II Society – Cougars Bass (Blizzard Boys Remix) (Electronic)
13. Tazz & Narcotic – Cut No Slack feat MC Cooper (Electronic)
14. Tazz – Take It All Back (Electronic)
15. Tazz & Concept – Elm Street (Digital Beatz)
16. DSU – Interference (Digital Beats)
Cover: A polar bear at New York's Central Park Zoo, taken November 2012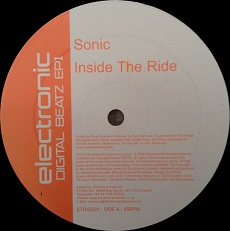 For my latest Freeformaniacs mix, I have decided to do a tribute to Electronica Exposed, the group of record labels run by Richard 'Shanty' Andrews. In my eyes, Shanty is a bit of an unsung hero of the freeform scene, both as a producer and as the owner of labels like Digital Beats/Beatz, Electronic, Electrolysis, and Electroplates, and the more recent Electrode, all of which have been responsible for some of the finest moments in freeform history. Since I've always been a big fan and supporter of Electronica Exposed, digging into my collection in order to string together a proper tribute seemed like an excellent way to follow on from the epic Rampage Turbo 15.
Of course, this is not quite the definitive tribute – given how much good music that Shanty has released, that would be a basically impossible task!
Given Electronica Exposed's vast and varied output, boiling it down to an hour was a bit like hiring someone – you start off with rules to enable you to quickly eliminate people (sorry job-seekers, but that's how things work in the real world). So, just as someone with spelling or grammar errors in their CV is binned immediately, I decided to start with a simple rule and go vinyl only (even though I still have the borrowed CD decks so I could do a vinyl/digital combination if I wanted), enabling me to straight away eliminate anything that hadn't come out on vinyl. Going vinyl only (besides being more comfortable for me technically) helped reduce the possibilities to a more manageable level. Even so, EE's vinyl catalogue is still very deep, so a further edit was needed, which is why I also decided to exclude the EE tunes that appeared on my Finrg tribute, Rampage Turbo 10, something that immediately made the task of picking out an hour's worth of stuff that much easier.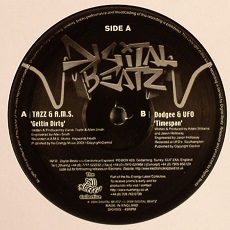 For those who are not familiar with Electronica Exposed and its various sub-labels, I am actually in the process of collaborating with Shanty on an epic interview – we're aiming to create the definitive freeform interview … but that isn't quite ready yet, so here's a little potted history of Electronica Exposed instead …
Basically, Shanty's first label was Digital Beats, which started off releasing trancecore back in 1998 through the distributor Alphamagic. After eleven (excellent) releases, Digital Beats shut down, followed by a several year gap where Richard produced and released hard trance/nu-nrg before Electronica Exposed was established in 2002 as an umbrella company for Shanty's various freeform labels: Electronic (for freeform), Digital Beatz (for the rougher, ravier side of freeform), and Electrolysis (for crossover hard trance/freeform tracks). That was the beginning of a period of massive creativity, both from UK-based artists like DOK, Tazz, Impact, Concept, and, of course, Shanty himself, as well as from the creme de la creme of the emerging Finnish scene, such as Carbon Based, Alek Szahala, Re-Form, and Pain On Creation, all of whom were first signed and championed in the UK by Electronic. I remember being absolutely blown away by the standard of tracks like 'Cyclone', 'Superstition', and 'Ultimate Protection', and Shanty signed all of them!
As time went on and the freeform scene went increasingly digital, so did EE, which switched from releasing vinyl to releasing cd compilations featuring an ever wider range of freeform artists from across the world, such as Nightforce, Twisted Freq, Lost Soul, and many (many) more. More recently, Shanty has switched directions again, releasing the purely digital Freeform Exposed compilations on a requested donation basis (btw, DONATE TO ELECTRONICA EXPOSED).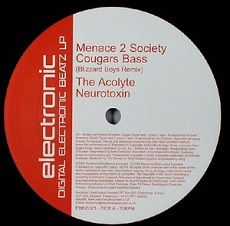 Over the years, EE has released a massively diverse range of hardcore dance music, from big kick party tracks to dark and twisted Finnish tunes to acid-fried trancecore and beyond, a variety that I really wanted to represent in this mix, which is why I have selected tracks from all of Shanty's main hardcore labels. The mix kicks off with some slightly slower, trancier tracks before the intensity level is gradually driven upwards through the appearance of vintage Finrg from Alek Szahala and Pain On Creation & Fea and classic freeform from Shanty, Tazz and Element before reaching the final third, which is a celebration of the simple pleasures of the big, bouncy kickdrum, including several tracks from Tazz, the undisputed master of party freeform. The mix concludes with DSU's Interference, which has perhaps the most unhinged acid line in the history of hardcore. A thing of hair-raising beauty.
So, that's it from me. I hope you enjoy the mix, as well as the other mixes that are on the way.
Have a wonderful weekend.
Enjoy this mix? Please consider making a donation to help support Sonicrampage