right-click on the title and save as to download
Mixed in London in December 2012, using 100% vinyl on two Technics 1210's and a Pioneer DJM600 mixer
(61:21, 140 MB, 320 KBPS MP3)
Large cover
Cue file
Zip pack (split into separate tracks)
Style: Classic freeform hardcore from the legendary Nu Energy Recordings … with a twist! This mix features nothing but b-sides.
Direct link to the mix: http://sonicrampage.org/mixes/rt14/Pearsall-RampageTurbo14(NuEnergyB-Sides).mp3
Tracklisting:
01. K Komplex feat DJ Energy – Mindwinder (Nu Energy 012)
02. DJ Energy – Distant Minds (Nu Energy 004)
03. DJ Energy – Hustler (Nu Energy 002)
04. Lost Soul – Love Can Destroy (Nu Energy)
05. K Komplex – Adagio (Acid Mix) (Nu Energy 044)
06. Vinal & Dan Devotion – Say It Again (Nu Energy 025)
07. DJ Energy & S4 – Evil Returns (Pulsating Mix) (Nu Energy 020)
08. Kevin Energy & DJ S4 – Be Alive (Nu Energy 026)
09. Super-X, Persuasion & K Komplex – Bass Oddity (Nu Energy 022)
10. Matt Style & Andy Vinal – Losing Control (Freeform Edit) (Nu Energy 041)
11. Gammer – Unforgettable Hope (Nu Energy 055)
12. Kevin Energy – Crescendos Of Ecstacy (Eryk Orpheus Remix) (Nu Energy 057)
13. Nomic – Holocaust (Nu Energy LTD 008)
14. Kevin Energy & DJ Proteus – London Helsinki Underground (K Complex Remix) (Nu Energy 042)
15. Kevin Energy – Chemical Terror (Rave Mix) (Nu Energy 050 Disc 1)
16. Sharkey & Eclipse – The Warning (Nu Energy 006)
17. Marc Smith – Nothing More (Nu Energy 003)
18. DJ Eclipse – Stairway To Brooklyn (Nu Energy 005)
Enjoy this mix? Please consider making a donation to help support Sonicrampage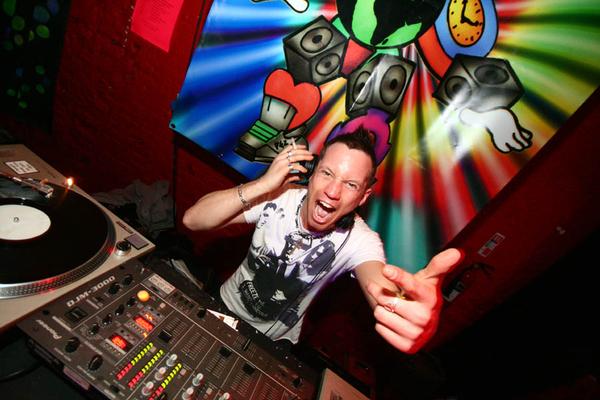 Kevin Energy, the man behind the music
Sorry for the radio silence over the last few weeks – I've been super busy at work, so haven't really had time for the blog.
That will now change, though, and boy do I have a lot of goodies for you over Christmas: this mix from myself, another mix from myself (maybe) as well as not less than three guest mixes! Hard trance from Flip and drum n' bass from both Vetoe and Thumpa. Sonicrampage donors can also look forward to an exclusive mix from me as a Christmas present …
So, clearly, the rest of December will be very exciting!
First up is this mix, my most recent effort for the Freeformaniacs show. Originally I wanted to do a mix of all new stuff using my buddy Jamie's cd decks, but since I didn't get around to meeting up with him to borrow them in time (something I have still failed to do two weeks later!), I ended up deciding to go with a plan b. In this case, that meant doing a long-mooted tribute to Kevin Energy's Nu Energy Recordings, which I would say was the single most important label in the history of freeform hardcore.
If you are unfamiliar with Nu Energy, here's a very brief potted history. Established in 1998 by Croydon's Kevin Thorpe (aka DJ Energy at first, before later changing his alias to Kevin Energy), Nu Energy ran for thirteen years until Kevin retired from music in 2011. Over those years, Nu Energy grew from a single label to a fully-fledged label collective, with Nu Energy Collective labels like Relentless, Dynamix, Bonkerz, Blizzard Tracks, and more putting out everything from freeform to UK hardcore to hard dance/hard trance. Still, though, the flagship label remained Nu Energy, and over the years that it was in operation it was pretty much the most important single label in freeform, playing a crucial role in defining the sound as it emerged from happy hardcore as a genre in its own right. It also helped that Nu Energy put out so many wonderful tunes – enough that you could easily repeat the same exercise as me several times over without replicating a single track.
If you're any kind of a fan of freeform, you will be intimately acquainted with Nu Energy's numerous classics, which is why, as you can see from the cover, I wanted to take a slightly different tack by using only b-sides. Of course, some of Nu Energy's biggest tunes were b-sides, so it's not like this is a mix of pure underground super obscure shizzle, but by using only b-sides I think I have come up with a nice combination of big tunes and less obvious but still awesome tracks.
In the grand scheme of things freeform is a pretty damn obscure genre, so I recognize that I am going into angels-on-the-head-of-pins territory by worrying about how underground my track selection is for this mix. Sure, Nu Energy may have been the biggest fish in the freeform pond … but it's not a big pond, and it never has been.
But you gotta keep things interesting, right?
After all, these mixes are just for fun – I'm not using them to try to resuscitate my comatose dj career. It's just a little hobby of mine, something that gives me a lot of enjoyment.
In terms of this specific mix what I was trying to achieve was to showcase Nu Energy's musical diversity. The prototypical Nu Energy release was a souped-up high speed version of the late 90's/early 00's UK hard trance sound, as played by people like Phil Reynolds – big trance riffs over solid rhythms, music that was rushing and melodic without being too cheesy. Some of the best moments of my clubbing career were spent waving my hands in the air at Camden Palace as Phil boshed out yet another euphoric breakdown, so obviously I also loved Nu Energy's even faster and more mental take. Kev put out a ton of tunes that were variations on that theme, and this mix features some of the best of them, from the acid mix of 'Adagio' to the 'Crescendos of Ecstasy' remix by Eryk Orpheus. Yet that was not the full extent of their output, which is what I have tried to capture over this hour of tunes by moving from light to dark, from stripped-down dancefloor tunes to monstrously big kicks, all generously seasoned with gigantic melodies and twisted 303's.
As ever with my hard dance mixes, the internal logic of the mix is to build incessantly to a euphoric finale, which is why the mix closes off with DJ Eclipse's epic 'Stairway to Brooklyn', which is, for my money, the single best tune Nu Energy ever put out, and one of the top couple freeform tunes ever made. It has pretty much everything you could want from a hardcore tune: a massive meaty kick, tearing breaks, and outstanding riffs, from both the euphoric and rave-mental schools of riffology. It's like a sumptuous multi-course meal of all that is good about rave music in just a couple minutes of fist-pumping madness.
It's just that good. And it's the perfect way to finish off the mix.
As ever, I hope you enjoy this mix, and if you do, please share it with your friends.