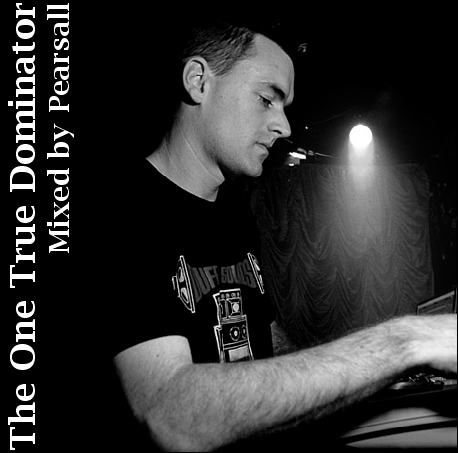 right-click on the title and save as to download
Mixed in London, January 2009
(75:08, 129 MB, V0 VBR MP3)
Zip pack (cut into individual tracks)
Cue file
Style: hard house (a tribute to Dom Sweeten)
direct link to the mix:
http://www.sonicrampage.org/mixes/ds/Pearsall-TheOneTrueDominator.mp3
Tracklisting:
01. Dom Sweeten – Filterworks EP (Side B) (Battle Trax)
02. OD404 – Don't Stop (Don't Stop Dub) (Kaktai)
03. 99th Floor Elevators – Hooked (OD404 Mix) (Tripoli Trax)
04. OD404 – You Ain't Winnin' (Galactic Battle Mix) (Cut n' Dry)
05. OD404 – Fireball (Fully Equipped Mix) (Kaktai)
06. OD404 – High Volume (Maximum Mix) (Mohawk)
07. Base Graffiti – Won't Stop Rockin (Original Mix) (Kaktai)
08. Defective Audio – Skyline (Tidy Trax)
09. Baby Doc & The Dentist – Mantra To The Buddha (OD404 Remix) (TeC)
10. Code 21 – Wanna Play House (OD404 Remix) (DP Recordings)
11. The Project – Meltdown (OD404 Mix) (Chug n' Bump)
12. Phenomania – Who Is Elvis (OD404 Mix) (Tripoli Trax)
13. Defective Audio – Intoxicating (Vicious Circle)
14. Defective Audio – Check This Out (Wasa-B)
15. OD404 – Block Party (G-Shock Mix) (Tripoli Trax)
16. Base Graffiti – Base EP (Part 1) (Vicious Circle)
17. Base Graffiti – The Hulk (Short Circuit)
18. James Nardi & Julian Dwyer – Evil Genius (Base Graffiti Remix) (Short Circuit)
This mix is the second in my series of mixes devoted to heroes of hard house/nu-nrg. The first was a tribute to Karim and can be downloaded here. I am doing these mixes because I am in the process of selling off (almost all) of my collection of hard house records and so I thought that it would be nice to do some mixes with the records before they disappear into other people's hands.
This mix is a tribute to Brighton's Dom Sweeten. For years Dom was the anonymous studio wizard who was known (if at all), as one-half of legendary hard house crew OD404, alongside well-respected dj Superfast Oz. Slowly, from about 2001 onwards Dom started to emerge as a solo artist in his own right, primarily under the aliases Defective Audio and Base Graffiti. Today he is without doubt one of the biggest names in the scene. I've always been a big fan of his intricate, bass-heavy productions, and so with this mix I've tried to cover a variety of his work, from chunky hard house right through to fierce hoovertastic NRG.
Since I stopped buying hard house vinyl several years ago, these are all from 2004 or before (except for the 'Evil Genius' remix, which was done in 2005), so none of his more recent stuff is on here. I make no claims that this is a definitive 'best of' mix, since it mixes up some of the big anthems along with some lesser-known tunes that I've always been fond of. In any case, I've always preferred mixes that work as a coherent whole, where the timing and programming have been carefully considered, to mixes that are nothing more than a string of big anthems. Dom himself has released his own mix of his classic productions, but there is sufficient difference between his selection and mine for this to be a good companion piece.
For more reading, check out his both of his interviews (1,2) at Harderfaster.net.