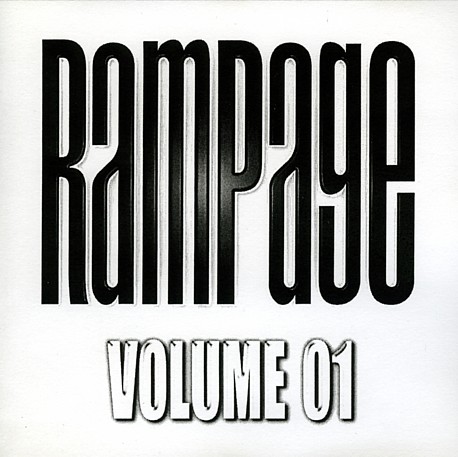 right-click, save as to download
Mixed back-to-back in Edinburgh, January 2001
(144.77 MB, 74:19, APX VBR MP3)
Style: hard house and acid techno/trance
direct link to the mix:
http://www.sonicrampage.org/mixes/Audio/Pearsall&PhilZero-RampageVolume1.mp3
Tracklisting:
01. Cores – Iowa (Noom)
02. Pablo Gargano – Trance In Saigon (Chris Hampshire & John Weatherley Remix) (Recover)
03. Kay D. Smith – World FX (Construct Rhythm)
04. Zicky – She Wanna (Giullare Mix) (Nukleuz)
05. David Craig – The Imagination Runs Wild (Telica)
06. Nick Sentience & Harry Diamond – Trippy (Nukleuz)
07. Eufex – Dynamite (Aztec)
08. The Hellfire Club – Bitch (React)
09. Perpetual Motion – Spinning 1 (White Label)
10. Gridlock 3000 – Fantastic Thing (UK Gold Remix) (Overdose Records)
11. Karim – Wet n' Wild (Do Not Bend)
12. The Weathermen – Don't Stop (Boscaland)
13. Mark Tyler – London, Let's Ave Yer! (OD404 Remix) (TeC)
14. RR Fierce & DMF – Bust Da Beat (Fierce Mix) (Fierce Technik)
15. Dogs On Rope – Buzz Saw (Organgrinder)
16. Pablo Gargano – Definition Of A Track (DBSK Remix) (Recover)
Key:
Selected by Pearsall
Selected by Phil Zero
Cover by Eyejack
This is a mix that Phil Zero and I did as a promo giveaway for the first Rampage event in February 2001. We recorded it one evening in Phil's flat a couple of weeks before the first party, which is why it is a bit wobbly at points!
Here's the flyer from that party: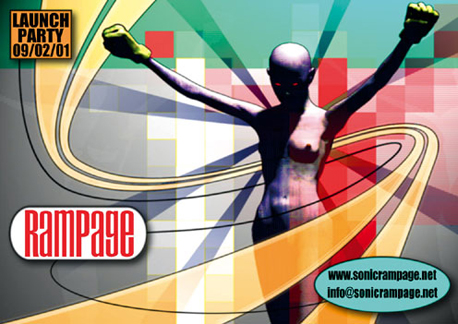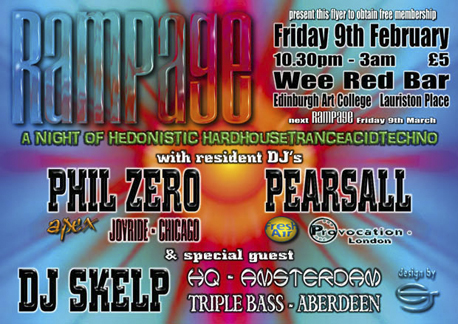 I will be writing a bit more about the Rampage experience when I post up Rampage Audio 2, although I am currently trying to find a decent copy of it (I have a CD with some weird sound problems, and a 128 kbps mp3, and I am trying to find something better, although I'll post the mp3 if I can't source something else).