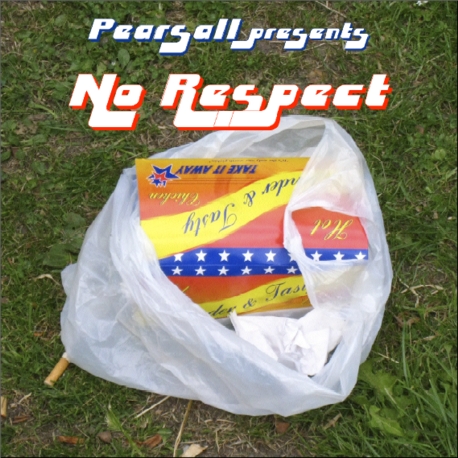 right-click, save as to download
Mixed in Edinburgh, April 2001
(73:06, 121.64 MB, APX VBR MP3)
Large version of the cover
Cue file
Style: drum n' bass
direct link to the mix:
http://www.sonicrampage.org/mixes/dnb/Pearsall-NoRespect.mp3
Tracklisting:
01. Teebee vs Brandy – You Don't Know (Vocal Mix) (White)
02. MJ Cole – Sincere (Marcus Intalex & S.T. Files Remix) (Talkin' Loud)
03. Digital – Spacefunk 2000 (Nasty Habits Remix) (Timeless)
04. Scorpio – AAA (Full Cycle)
05. Total Science – Get It On (31 Records)
06. London Elektricity – Round The Corner (Origin Unknown VIP Mix) (Hospital)
07. Ed Rush & Optical – Pacman (Virus)
08. Shimon & Andy C – Skirmish (Ram Records)
09. Total Science – Murder Thing (Reinforced)
10. Digital – Lockdown (Renegade Hardware)
11. Unknown – Unknown (Please help me identify this tune!)
12. Dillinja – Nasty Ways (Original Mix) (ffRR)
13. Wots My Code – Dubplate (Total Science Remix) (CIA)
14. Digital – Water House Dub (Function)
15. Capone – Rinsin' Sound (Valve Recordings)
16. Total Science – Street Level (Renegade Hardware)
17. JB – The Way 2K (Back 2 Basics)
18. Technical Itch – Rough n' Tough (Moving Shadow)
19. Digital & Spirit – Cool Out (Phantom Audio)
20. Digital – Deadline (31 Records)
21. Nasty Habits – Shadow Boxing (Remix) (31 Records)
This is a mix that I recorded to listen to on mini-disc back in 2001. It was never really a 'demo' proper, just something to amuse myself as I went about town. A mix that I was trying to score gigs with would feature a wider range of producers than this, where 9 of the 21 tracks involve Digital and Total Science, who were my favourite producers at the time. Also, I probably wouldn't send out a mix to promoters with a mix as dodgy as the one between the mystery tune at number 10 and 'Nasty Ways' (although then again since I've stopped chasing club gigs I've gotten a lot lazier in recent years about that kind of thing!). Although the rest of the mixing on here is nice and tight, so I can't complain tooooooo much.
One quick note: if anyone knows track number 10, can you tell me what it is? I have no idea what it is, and I've been spamming the hell out of various forums trying to find out, to no avail.
If you can help it would be greatly appreciated!