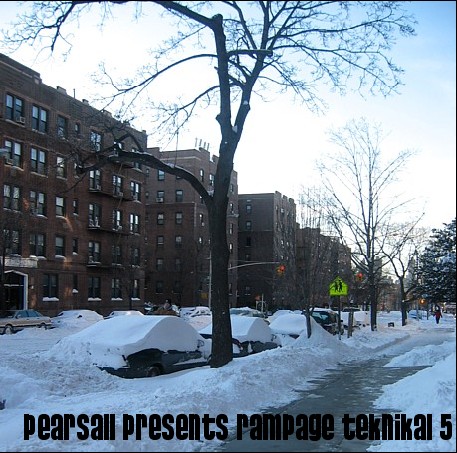 right-click, save as to download
Mixed in New York, December 2004
(78 minutes, 111 MB, 192 KBPS MP3)
Style: electro and techno
direct link to the mix:
http://www.mediafire.com/download/xe0stg16qsd94kt/Pearsall-RampageTeknikal5.mp3
Tracklisting:
01. Doc Scott – Honey (Metalheadz)
02. Technasia – Crosswalk (Technasia)
03. The Advent – Digitize You (Kombination Research)
04. Anthony Rother – Krieg (Psi49Net)
05. Subhead – Untitled (Michele Fasano Remix) (Subhead)
06. Lab Rat XL – Lab Rat 3 (Clone)
07. Chris McCormack – What Kind of Sound (Materials)
08. Ha-Lo – Jellyhead (Eukatech)
09. Manasyt – No 13th Floor (Touchin Bass)
10. D.A.V.E. The Drummer & Jerome – Jaws (Yolk)
11. The Hacker – The Last (Goodlife)
12. Pure Science – Rydym (Eukahouse)
13. Eric Borgo & Dani Konig – Vieille Ecole (Goodlife)
14. Clones – Clones 3 (Clones)
15. 2 Bald Men – Acid Phonk (Experience 2000)
16. Dirty Blonde & D.A.V.E. The Drummer – Bitch Rock (Havok)
17. Paul Birken – Krosskut (Don't)
18. DJ Preach – Under Pressure (Zync)
19. Sons of Piru – Goathead EP B1 (Native Diffusion)
20. Slut Peddlers – Funk Me Right (Punish)
21. Wilko – Pimp Free Flow (Pimp)
22. Headroom – Right the Fuck Up (Patterns)
23. Astro – Breath of Rainbow (Elephanthaus)
24. Redhead – I Love Techno (Lupp)
25. Heckmann & Henze – Attack (Federation of Drums)
26. Hertz – Recreate (Concept)
27. Aftermath – Body Rock (Ant Remix) (NineNineNine)
28. Mauro Picotto – Verdi (BXR)
The following is an adaptation of an old blog post:
This mix, recorded December 2004, starts off with a bit of electro and then goes into 'proper' (heh) techno. In my mixes, and especially in my techno mixes, I always try to touch on a wide range of sounds within the genre (I've never been a fan of ultra-eclectic mixes where all kinds of stuff get thrown in) while still maintaining a certain theme, a certain vibe. With this mix I chucked in some old stuff, some new stuff, some electro, some techno, some acidy stuff, some crunchy percussive bits, the odd spacey pad, lots of bass, the occassional bongo, and so on. I was aiming at a dark, sleek, electronic sort of vibe, and I'm quite pleased with how it turned out, personally.
Techno has long been a passion of mine. It is, I'll admit, quite an acquired taste. One of the things that friends and family members who aren't into it always ask me is "how can you listen to it at home when there are no lyrics and there is that constant doof-doof-doof? It's so repetitive, I don't see how you can listen to that stuff."
The answer is that I don't listen to techno (or other forms of instrumental dance music in general) in the same way that I listen to vocal-led styles of music like rock or hip-hop. Dance music generally, and techno especially, is about tracks, not songs. A track may or may not work on its own like a song, but most work much better within the context of the ebb and flow of a dj mix.
What I like about techno is the fact that it contains so much variety within an often fairly strict structure. I like to listen to the evolution of themes within the structure of the tracks, the way new elements are introduced and others taken away. I think of listening to techno records as a bit like watching the clouds in the sky. I love to watch the clouds move across the sky. It seems repetitive yet it is constantly changing in subtle ways. And what changes! I love the sounds that computers make, because from as long back as I can remember I've always loved the texture of sound. This is perhaps why I ended up becoming so bored with rock music when I was younger (after a long time of utterly loathing it I now listen to it again) – texturally speaking the classic rock combination of drums-guitar-bass doesn't offer the enormous possibilities for sound variation that digital and analogue synthesizers do.
This is perhaps what I love the most about techno in its track form, the way in which it melds such an expansive palette of sound onto the simple, even banal, chassis of a straight-down-the-line four-to-the-floor kick drum. That is the element that more than anything else puts people off much dance music – that constant thump. A lot of people find it really alienating and boring, but I love it personally. To me it has always been like dancing to my own heartbeat, something so simple and so easy to understand, something I just instinctually get.
I also love to both listen to the ways in which other dj's manipulate the music and to muck about with it myself. Even more so than other forms of electronic dance, techno is utilitarian music – it only comes alive when there's a dj working the tracks. Whether it is chopping savagely between two tracks or slowly morphing one into the other, a great techno dj like Dave Clarke or Charles Siegling from Technasia is a kind of alchemist of dance. A great techno dj can take a record that might have only a kick drum, a bassline, some percussion, and a one-note synth sound, but by placing it correctly in the wider context of a dj set melt your mind.
Techno is all about building a vibe, and the form that it takes offers a lot of opportunity for a dj to vary their approach to playing the music, in a way that other, more structured, forms of dance music like drum n' bass or hard trance don't. A typical hard trance record has an opening kick drum and percussion set, then the bassline drops, and then certain elements are introduced slowly, leading up to a breakdown, where the main riff comes in, then the whole track, main riff and percussion and bass together, kicks back in and everyone goes wild and then slowly the main elements filter out until the bare bones of the rhythm structure that started the track return (of course, by this point the dj should be deep into the mix and the next track should be playing louder or at least be transparently obviously on its way). It's a ruthlessly scientific formula that has been around for over ten years and still works incredibly effectively on the dancefloor.
Techno tracks, although generally structured to be dj friendly, do not tend to have such a simple fool-proof formula, so when you are playing techno you really have to think about what you are doing, when to start mixing in. When I used to play hard trance I found that, on mixes, each track would play for roughly the same amount of time, whereas with techno sometimes I might let a track play for a couple minutes, or it might stay in for only a minute before I go on to something else.