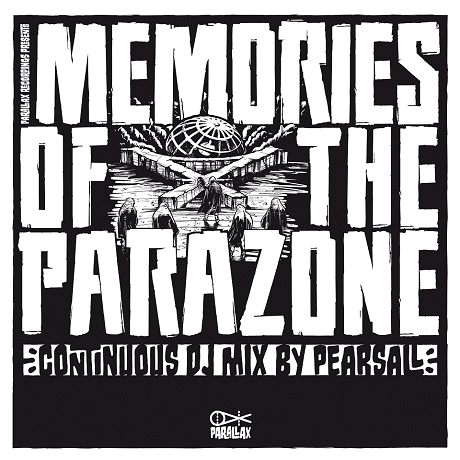 Pearsall presents Memories of the Parazone
No download on this one!
Mixed in Berlin, June 2021
100% Vinyl
(54:48, 125 MB, 320 kbps mp3)
Tracklisting:
Pearsall's note:
My good friend Vali NME Click is the man behind the essential Berlin-based hardcore and jungle label Parallax Recordings, which is just about to celebrate five years of releasing records with its biggest release yet: the incredible Message from the Parazone, a five (!) vinyl album featuring some of the absolute finest new skool darkside hardcore / jungle from some of the scene's finest figures. As a little promo for the release I've done this label tribute mix, pulled together from every release so far. Vali also kindly agreed to answer some questions, so please read on to find out more.
Also, duh, make sure you pre-order the album at either BigCartel or Bandcamp!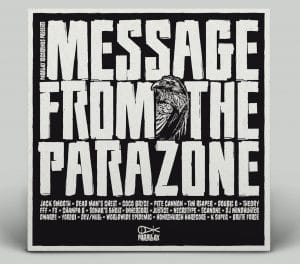 Vali's promo mix:
? – ? [forthcoming Parallax]
Jack Smooth – How We Do [PARA 10 – Message From The Parazone]
DJ Mindhunter – Bass Roll [PARA 11 – Body Journey]
InnerCore – Turbo Sound [2 copies of PARA 10S1 – Departure To The Parazone]
Pete Cannon – Dream Again [PARA 10 – Message From The Parazone]
DJ Mindhunter – Prisoners Of Xtasee [PARA 11 – Body Journey]
Brute Force – Secrets [PARA 10 – Message From The Parazone]
Worldwide Epidemic – Face Melt [PARA 10 – Message From The Parazone]
Theory – What's Going On [PARA 10 – Message From The Parazone]
Dwarde & Tim Reaper- London Stomp [PARA 10 – Message From The Parazone]
? – ? [forthcoming Parallax]
? – ? [forthcoming Parallax]
DJ Mindhunter – Mind Trip [PARA 11 – Body Journey]
FFF – Bandulu [PARA 10 – Message From The Parazone]
? – ? [forthcoming Parallax]
Coco Bryce – Pirates Of The Pancreas [PARA 10 – Message From The Parazone]
Ant To Be – So Strange [PARA 10 – Message From The Parazone]
Dev/Null – DarkPhase [PARA 10 – Message From The Parazone]
DJ Mindhunter – Mind Full Of Stars [PARA 10 – Message From The Parazone]
Justice & Necrotype – Refried [PARA 10 – Message From The Parazone]
Champa B – Let´s Go Message From The ParazoneMessage From The Parazone]
FX – Dark Shadows [PARA 10S1 – Departure To The Parazone]
Tim Reaper- Dead And Buried [FX Remix] [PARA 10 – Message From The Parazone]
? – ? [forthcoming Parallax]
? – ? [forthcoming Parallax]
? – ? [forthcoming Parallax]
DJ Mindhunter – Dreamin [PARA 11 – Body Journey]
Yorobi & Tim Reaper – Rhodiola [Dead Man's Chest Remix] [PARA 10S1 – Departure To The Parazone]
Sonar's Ghost – Future Shock [Double 0 VIP] [PARA 10 – Message From The Parazone]
ScanOne – Horizons [PARA 10S1 – Departure To The Parazone]
? – ? [forthcoming Parallax]
? – ? [forthcoming Parallax]
? – ? [forthcoming Parallax]
? – ? [forthcoming Parallax]
K Super – Being With You VIP [PARA 10 – Message From The Parazone]
Hornchurch Hardcore – Labyrinth [PARA 10 – Message From The Parazone]
? – ? [forthcoming Parallax]
? – ? [forthcoming Parallax]
For those who don't know you, who is Vali NME Click? 
I grew up in a musical household in Ulm, South-Germany. Both my parents are classical solo singers and multi-instrumentalists, so there has always been music and instruments around me, my father even self-built a Cembalo. I remember regularly falling asleep on the sofa to jam sessions that my parents and befriended musicians did in our place.
In 1994 together with my mate Önder I bought two crates of 92/93 Hardcore and Jungle from a local DJ and we started DJing and founded the NME Click. We went on and did radio, wrote for magazines, put on events (and even did live broadcasts from there), we even did an outdoor festival.
Things kicked off in 1997 really when Ikomowsa and MC Marvellous joined and completed the crew. We established a quite big scene in our little city and were on the road constantly every weekend for the best part of the next 10 years, also having residency clubs and radiostations in other cities and booked popular Drum and Bass artists from all over the world regularly, especially from the UK. We had records out on labels such as DSCI4, Basswerk, Blue Saphire, Shadybrain and played at stages all over Europe, such as Sun&Bass, Fields Of Joy, Lightbox, Fusion, Splash, SonneMondSterne, Kings Of The Jungle and Breakzone.
In around 1997 I started the side-project Studioline, which was a mix of the music we grew up with and were influenced by. Nowadays you would call it "Mash-Up", but we did it all on the fly, with records, playing all across the board, cutting and scratching and with that we attracted a wider audience and with those events financed the Drum and Bass parties in return. When I got tired of that around 2010 I re-found my love for the music that it all started with – Hardcore and Jungle. I always had a soft spot for the era and basically never stopped collecting tunes from the early 90ies.
So, while all this went on I didn't really do such a good job of making a career outside of the music thing for myself. I quit school at around the age of 16 without any degree, just hustling, doing graffiti jobs, djing and selling illegal substances. But I soon figured out I needed to do something. So I went back to school, did one degree after another, did an apprenticeship at the local music magazine – all to be able to study digital media, only to have arguments with the lecturers and drop out. So there I was in Hamburg in 2009, in a traineeship as part of my studies, with everything seemingly lost.
So I decided to play the wildcard and just apply for jobs at random agencies without any degree. Luckily I found a job as a web designer in Berlin. The agency itself was a bit grim, but I stayed there for 5 years and learned the trade and in 2015 I went freelance, specialising in web- and print-design and illustrations, with a focus on clients in the NGO field and more socially-oriented companies. Through my past in the music business I also did a lot of artwork for labels and artists such as Metalheadz, CIA, Dispatch, Basement/ Precious Materials, InnerCore, DJ Seduction, Total Science, FD and the likes.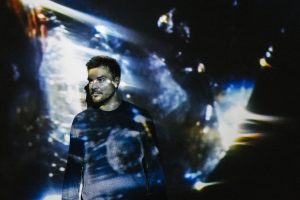 What's the story behind Parallax Recordings?
In Berlin I started putting on the 'Parallax' events in a small, illegal location around 2013, doing parties about once a year. I invited the people around Germany that had the same passion for Oldskool and a record collection. These events got a lot of love although I put little effort/ possibilities in promoting them. And they've been tons of fun!
Being an avid record collector I remember always hassling Dave Elusive from 92 Retro and Will Irvine from Sublogic/KVA to see if they could repress this or that and link them to the producers. One day Will said: 'You know what? You just did the hardest part – finding the producers. Let's do this together as a joint release' and asked what I would call my label. I didn't think too much and just took the name from my parties, thinking this would be a one-off experience. But so, Parallax Recordings was born. Soon after I found the guys from Technosaurus and decided to put their 'Best Of Invention' out on my own, just to see if I could do it all alone (though Will helped me heaps and forwarded me all his contacts, so thanks again, Will!).
My girlfriend was pregnant with my now 3-year old daughter and I somehow thought I had to do this "before it's all over" and I'm a dad. Well, I did and caught the bug, and fast forward, here I am releasing the 5-piece album 'Message From The Parazone'.
What's the process behind re-releasing old tunes? How do you find the artists and get the rights? Some of the stuff has been extremely rare!
The process of finding the artists is always the hardest. Sometimes it takes me years and I always keep my cards close, especially now that repressing is a thing and so many others do it.
I also fell out of love with it a bit. Personally, I think it got too much and too much average stuff has been put out and I sometimes miss the love and the attention to detail.
But it also has to be said that there are some people in the 'business' that do an absolutely tremendous job and do everything right and I also feel the most important things got reissues in the last few years.
So it has become harder and harder to find something that's worth it. My ethos has always been to only re-release music that's not just expensive, but hard to get hold of. The tunes that never come up, even if you are dedicated and look for months. I don't see much sense in re-releasing something that is widely available on the second hand market, even if a bit pricier. If you really want a tune and are dedicated to get it, you will pay a bit above the average to get it.
It's a choice how you live your life and how you put your priorities. People often state that a remaster will sound better. But if a tune never sounded bad in comparison to others from the time I don't see the need for that either. I still buy a lot of the represses myself, even if I have the originals. For one, to support other labels in the same field (although I don't see many other label owners doing that .. ), and of course to have a mint copy for a tenner myself haha.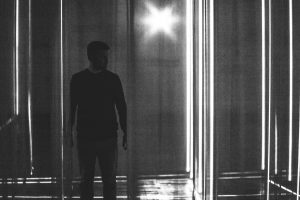 Are there any tracks that you've really wanted to release that you haven't been able to secure the rights to?
Of course! The Intense and Skanna releases on Will's Sublogic were the stuff dreams are made of! I would've LOVED to put out the Liquid Crystal stuff by NRG (big ups Luna C and the Knite Force crew), also Chalke – Resurrection, X-Plode – First Of Many, Phantasy – The Atmosphere and Silver Fox – Dread By Dawn (big ups Brent Aquasky @ Vinyl Fanatiks). Then there was this track by Redlight – "How Many" that I tried to get for Parallax. I got a reply from Smiley of Shut Up And Dance, he said I should wait as they will do it themselves. It ended up coming on another label but it got shelved at the Testpress stage and I didn't even get my hands on one of the few pressings boohoo.
Others than that I tried several times to get in touch with Ed Rush about his Selekta track (it came out on Jetstar, and since I already put out Total Dark's and Lewi's Jetstar stuff it would've made sense to have it on Parallax) and also tried to get Pascal to speak to me about his track 'The Process' that he wrote as "the Full S.P. I just love this tune, it only came out on the "Faces Of the Future" album alongside two other tracks on a side and I would love to do a 12" with it. No replies from either of them, though, sadly.
Another label is in touch with Pascal though, I hope it will happen through them. I tried to get DJ Hype to talk to me about his "Jungle Fever" dubplate from 1994, but again to no avail.
And I mention it here again: If somebody is in touch with DJ Mastersafe – I would love to talk to him. There are masters he thought were lost and we would love to put them out.
And if somebody has a dubplate of 'Defender – Workstation' – please reach out 🙂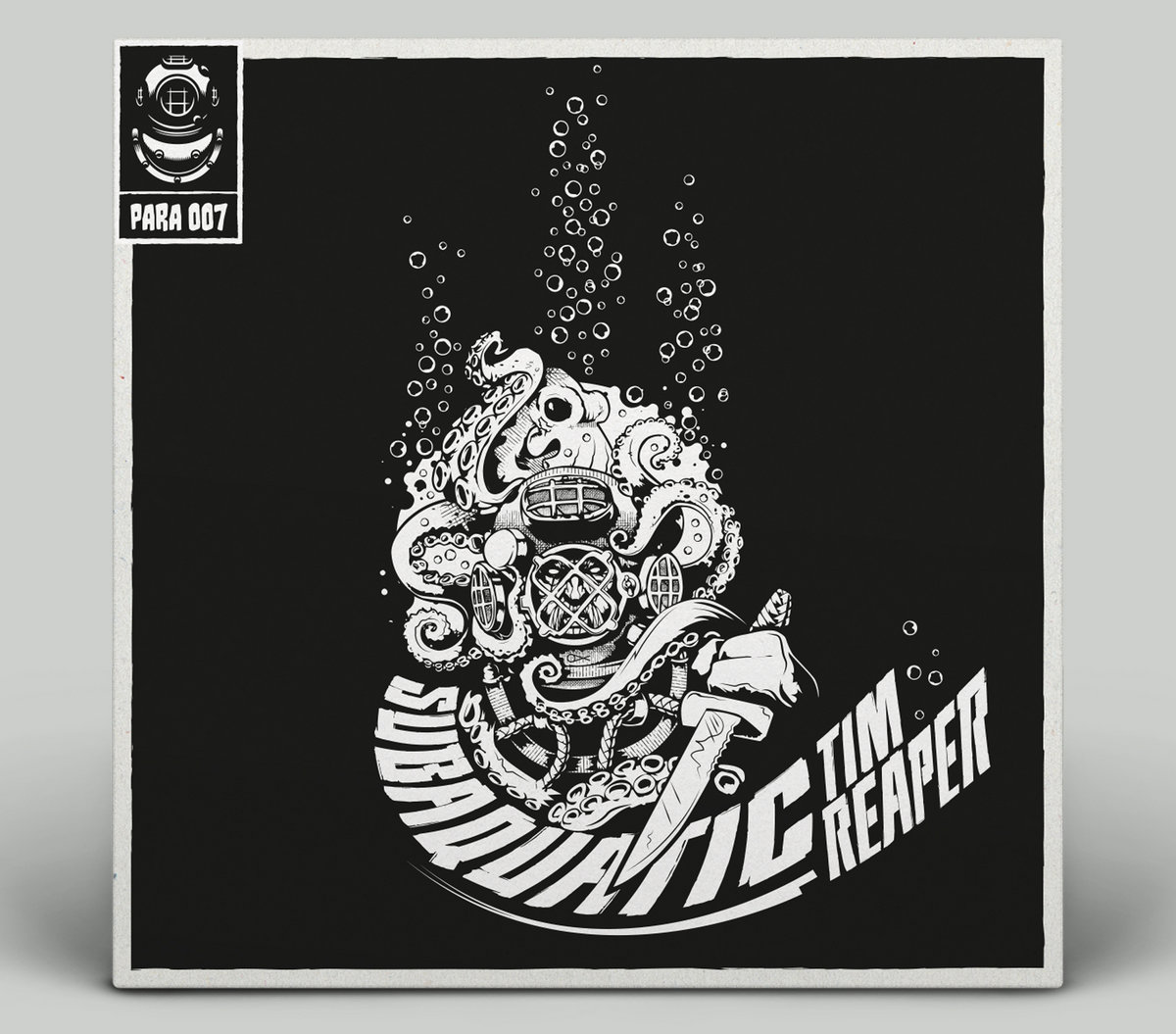 Over time you've gone from re-releasing old and obscure hardcore and jungle to also releasing new music from artists like Tim Reaper, Kid Lib, Innercore and more – what led to this decision?
As said, I fell a bit out of love with the repressing game. There are certain key players that started doing it that weren't around when I started. They are well connected and can make things happen that I simply can't. They have a name for themselves and the original artists know them from back then, trust them and therefore will prefer to work with them. Basically, 8 out of 10 times, my efforts lead to nothing. And artists can be slow, it's not seldom that a release takes two years in the making. I also had all sorts of drama: from artists that weren't happy about an etching that I put into a runout groove, so I had to scratch it out, to original graff artists that weren't happy with my new artwork and slagged me off online to lawyers of silent partners that came threatening me while deals were signed and records were at the pressing plant. 
I started to play more of the new stuff that I was buying regularly. I am quite communicative, so getting in touch with my favourite artists came natural to me. One thing led to another and I ended up signing the Dead & Buried EP by Tim Reaper. I am still extremely proud to have that on the label. Even going back to it now, it's 4 unreal tunes, each one could be the highlight of any EP. Ed is unreal too, he gave me around 20 tunes to choose from and all were great! Although I never met him in person he is a great guy, always ready to help, be it with optimising a mixdown or being of help with his knowledge, so big up Ed for always taking time out for me! I never really made a conscious decision to release new music, the next thing were the remixes to the Fine Feline EP, just to make it more than a straight repress. Key is that the music sounds authentic to what was made back then. I think what really led to Parallax releasing new music was the album that sort of formed itself and through that I found so much great music, the future for Parallax looks bright!
How important is art and design to the whole Parallax project?
A lot of effort goes into that! I do all the artwork myself.
I grew up drawing and bombing, even doing graffiti jobs as a youth. It took a few years until I started to get my head around graphic design programs like Photoshop and Illustrator, but when I did I started to do all the NME Click promotional stuff myself, from about the mid-2000s onward (although some of it is pretty cringeworthy when I look at it now). I always put a lot of effort in, sometimes I have worked on a flyer for two weeks (tbh I was still learning and was horribly slow, you couldn't tell if you look at the artwork now). But I was always disappointed that the artwork was dead and forgotten after the party was over. Nobody seemed to pay attention and as an artist, you naturally crave recognition. So having your artwork on a physical, timeless music release is pretty perfect, people go back to it from time to time and look at the cover and all the details while listening to it. Having your design on merchandise is even greater, there's nothing better than being at a club and somebody wears your artwork 🙂
But I also feel I owe it to the music. If an artist decides to trust me and put his music out, I want to do the best job I can. I sometimes spend weeks thinking of the right motive, trying out different stuff.
The look of Parallax came naturally, it now is basically three fonts I work with and a strict 1c attitude – black and white. No gimmicks, no sprinkled or coloured vinyl. Black is beautiful and if you can strip something down to the essence that's always best. No collector's edition, the products are all limited anyways.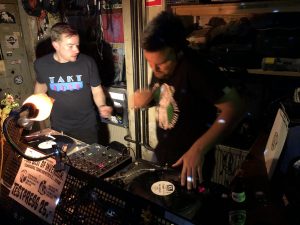 What's the story of the album?
I wish I could say that there was a big concept from the start, but there wasn't.
I think originally I wanted to do a 4-tracker with a mix of artists I adored at the time, this was around when I signed Dead & Buried.
I reached out to InnerCore and FX and they gave me the two tunes that were on the 'Departure' sampler. That was around January 2019.
As mentioned, I'm quite communicative, so one thing led to another and I collected more tracks. By then I wanted to do a 2×12", but it just went on and on, and by the time that I realized I had material for 5 records I thought nobody would buy that. That's when I decided to do at least the 12" advance sampler (Departure) so its at least only a 4×12".
All in all, it was a great experience and a great learning curve – getting in touch with the artists, collecting all the tracks, getting changes done to some of the arrangements or mixdowns, getting the masters (re-)done etc. It all took a lot of patience, a lot of sweat and a lot of time.
In the end I had the testpresses of the whole album done and held up the project myself, having sort of a writer's block with the artwork. The graffic in the gatefold sleeve took me forever, from finding the idea to getting it down. I literally forced myself to get it done just before I went on vacation in May, so the record was not held up any longer.
I am glad I did, because after that I went straight into knee surgery, I doubt I would've finished it by now if I hadn't done it then. The artwork itself was tons of work and to be honest I'm not fully happy with it. That said, I never did an illustration that big and it also was only the second time I worked with a pencil, drawing it in Procreate (the first time was the sampler), before that – believe it or not – I did everything by mouse. So it looks a bit grittier than the stuff I usually do, but I hope people still like it 🙂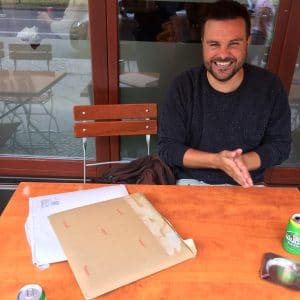 What have been your goals with this album?
First and foremost I hope this album gives an oversight about our small contemporary Hardcore/ Jungle scene, showing the great talent that is out there. And it also gives the DJs tons of great fodder to choose from.
Although unplanned, this has turned into a great concept that wasn't done before – a snapshot of who's current in our scene. There were some artists that I couldn't get aboard, maybe because they were working on albums and had no time to contribute, or for other reasons. So the picture will never be complete, but it's still a good summary I like to think.
It's also a good showcase for those who will be doing more on Parallax in the future hopefully, you can take it as the introduction of a roster. It's giving Parallax an identity and its own sound and hopefully putting it more on the map. I often have the feeling that people tend to oversee/ forget about the label. Be it due to not being based in the UK and only knowing everyone online, so being "out of the cloud" or due to it being just me, doing this on the side while having a job and family, so not having as much output as other labels. But I'd love to establish it as a label the DJs check for, being a regular in the DJ's playlists. 
What have been the biggest challenges that you have faced when putting this album together?
Getting the artists to trust me and giving me good tunes in the first place, communicating to artists why it takes so long and keeping everyone happy, getting tunes to sound right, demanding changes on some tunes, coming up with the right concept how to promote it, having names or titles misspelled, using the wrong ink on the testpresses (don't put them near water!), deciding when a master is good, it never ends. There was so much going on behind the scenes, but everyone involved was great and patient with me.
Also Brexit. It keeps on giving me headaches and I have to get my head around things I'm not really inspired to learn. The crappy side of the business. Unnecessary costs in production. Unhappy customers due to records sitting in customs, records arriving damaged or being lost. An absolute nightmare. 
And the pandemic. I can't do any release party or tour for the album, which would've made total sense so I can meet the artists I work with in person. Also I was making some money through DJing and promoting, that's all missing now. Not just the money but I need DJing and promoting to function, it's in my DNA, so it's really been pressing on my mind. Besides that, the graphic design jobs slowed down a lot as well, which has left me in a bad financial state, forcing me to eventually reinvent myself if things don't brighten up, so that I can make enough money to live off of. Right now I'm on crutches, when I'm back on my feet and the album is out that's when I need to take a step back and take a closer look at it all. 
How has Brexit affected the label?
I am still trying to find how to deal with certain things and have no solution. For the moment I work with a fulfilment partner in UK, solely for the UK and I still deal with the rest of the world. I thought about pressing in UK too, but I was always pretty happy with Optimal Media, which is where I press right now, and after calculating, it won't save me money or time really, altogether its just more expensive. Pressing costs rose, but they did everywhere. And to get the records into UK I have to pay taxes and customs, but also the carrier costs are more, as they drive with only my records and return empty. All in all, it's more expensive and less fun, I hope the underground can take it. It certainly won't stop the majors to block the pressing plants for their endless represses for Record Store Day. Personally, as a record buyer myself, I don't see how I will be able to afford buying vinyl from the UK from 1st July onwards when everything will be going through customs. When a record was around 25 Euros including shipping it now will be 30 Euros upwards, that's madness and out of balance!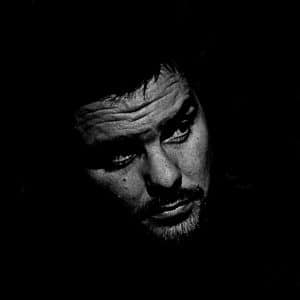 Where next for Parallax after this album drops?
There's more than the 'Message To The Parazone': I have nearly completed the collection of music for a sequel, another 4×12". I'm not sure if it will simply be Part 2 or two 2×12", sort of samplers that come after the album (hence the catalogue number PARA 10S1 on the Departure – "S1" standing for "Sampler 1", so there could be "Sampler 2", "..3" and so on). Those of you that followed the livestreams in the last months will have heard a lot of the tunes forthcoming on Parallax. 
Then there's the 'Body Journey EP' by DJ Mindhunter (an alias of a very well known face in the Jungle world, nuff said) coming later this year after the album. I've been playing these tunes everywhere (=in mixes and streams lol) and they are absolutely great, 4 bombs in the same vein as the Parazone tunes! 
There's also 3-5 other EPs in the works that aren't fully finished, so I won't talk about them yet.
And there are at least 1-2 represses, one pretty much secured, the other I'm still fighting for and hoping that the artists let me do it, that would make me very proud.
Also, keep checking for new merch. Besides the regular shirts I would love to get jackets and recordbags with embroideries done. There will also be new Hoodies for the winter hopefully and more caps. Watch this space!
Regarding the Parallax nights: Although I've been in touch with all the people in the UK and could've done crazy line-ups, sadly there never was a budget to get the artists over. I still struggle to find the right club with the right conditions to be honest, as there is only so much promotion you can do for a location that's illegal. I am in touch with a Munich based promoter and if the "pilot" goes well we might do regular Parallax nights there. The basement club is very well known and has an absolutely heavy PA. And I would be damned to get an artist flown into Germany and not get them to Berlin the day before or after to fill up the weekend, so it's only a case of finding the right location with a fair deal in Berlin. Oh yes, and a team to do the street promotion. No way I would find time anymore to do that myself.
But that's all in the future: enjoy the album when it drops!