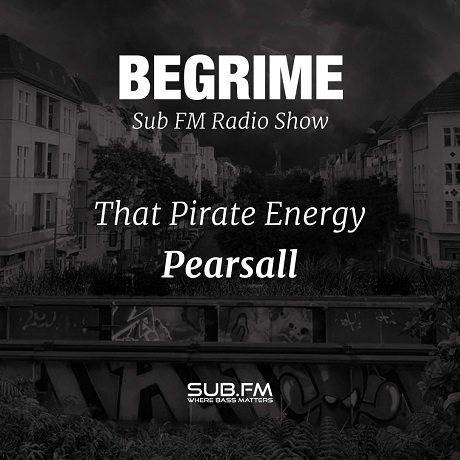 right-click, save as to download this free mp3 mix
Mixed in Berlin, September 2020
100% Vinyl
(62:13, 142 MB, 320 kbps mp3)
Direct link to the mix:
http://sonicrampage.org/mixes/begrime/Pearsall-ThatPirateEnergy(MixForBegrime).mp3
A bit of news:
I made this mix a few weeks back as a guest mix for the Begrime crew's radio show on Sub.fm, and they liked it so much they invited me to join the crew and contribute more regularly, so I said sure, why not.
If you're not familiar with Begrime, it's a Berlin-based collective founded by Scotland's DJ Typewriter, and it focuses more on a darker, more underground grime sound as played by Typewriter and the other residents; they have put on a series of parties at small venues around Berlin over the last two years as well as running a regular radio show on Sub.fm.
The exact details of what this will involve are still being hammered out, but basically it means that I will take responsibility for about three broadcasts per year (as the show is moving from biweekly to monthly), and I will be responsible for making a mix and booking a guest, as well as streaming the mix (I would definitely pre-record), plus I will probably also contribute some write-ups about each episode, and when parties start happening again I will play as well, or at least sometimes.
Should be fun!
I mean grime isn't my main thing at all, but I've always enjoyed it, so it will be nice to do a couple grime mixes per year and see where I can go with it.
As for this mix specifically, it's something I've wanted to do for a while but haven't got around to – a mix of early grime on vinyl. I have a fair amount of the stuff and really like it, but for various reasons I've never done it. In fact up to now the only mix I'd ever done in this style was Drop The Hammer 8, which I recorded in 2011. Nine years ago!
It was time for a new one, so when Typewriter asked me, I immediately thought of this idea which I had been kicking around for a while.
There were two specific inspirations for this mix: the first is the kind of crazy energy you would hear on old pirate radio sets (hence the title), and the second was my all-time favorite grime mix, the mix by Plastician (or Plasticman as he was called then), for the Rinsesessions compilation pack. If you've never heard it before, do yourselves the favor and check it out above … it's amazing! There's like over fifty tracks used, which is just bonkers.
One thing I've always loved about that mix is that despite there being tons of records used it never feels jarring or rushed, the transitions are quick but they make sense, and although it's mostly instrumental when vocals are dropped they make sense. It's just great!
So with my mix I tried to channel that approach and it was a fairly technical process – I had to take all the records out of their sleeves before hitting play so I wouldn't need to do that while in the mix, and then I was always quickly mixing in new tracks, adjusting the pitch on the fly as opposed to carefully matching the pitch before bringing in the new track. And then when the mix was done I was literally ripping the old record off the deck and tossing it to the little sofa that is behind my decks in my music room / home office (no records were damaged though!), so that I could focus on getting the next record in quickly.
It was an intense recording experience!
I'm very happy with the outcome – I really like the flow of the mix, the way that the energy builds over the course of the hour, from relatively sedate steppers to frantic skeletal beats, and then how it ends with two relatively obscure vocals from two of grime's biggest mc's.
The biggest question mark for me when putting together the mix was whether to include any tracks from Wiley, in light of his recent appalling anti-Semitic comments. Honestly this was a tough one, and I guess it's always a challenge to decide how to separate the art from the artist, when the artist says or does terrible things. In this case, I decided that since Wiley is clearly the single most important person in the history of the genre it would be unrealistic, if not bizarre, to make a mix of early grime and not include any of his tracks, also because the tracks featured here were made at least 15 years before his recent comments.
In my opinion you can't write him out of the history of grime, given how central he is to it, but this is not a simple topic, and I totally respect people who would come down on the other side of this issue.
Besides that, I hope you enjoy the mix – as I'm turning 40 soon (omg!) I have a bunch of music lined up for you over the next few weeks, culminating in a very epic mix to be released on my actual birthday – the longest single mix I've ever done, and one that I am super proud of.