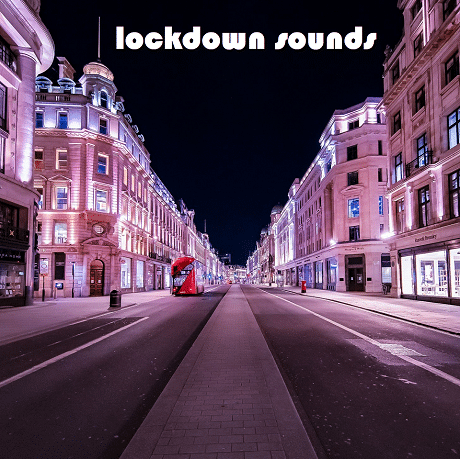 right-click, save as to download this free mp3 mix
Mixed in Berlin, May 2020
100% Vinyl
(56:14, 129 MB, 320 kbps mp3)
Direct link to the mix:
http://sonicrampage.org/mixes/lockdown/Pearsall-LockdownSounds.mp3
Tracklisting:
Cover image by Jan Enkelmann – found on Creativeboom
Well, we certainly are living in interesting times, huh?
Lots happening in the world, much of it bad. 2020 is quite the year! However, there are plenty of places besides Sonicrampage to get news and opinions, so this post is strictly personal / musical.
As discussed in my blog post for Super Rhythmic Facts, the plan for this year was to do only tribute mixes, however this one … is not a tribute mix.
Giving up so soon?
Well, yes, but not exactly.
The concept for the mix is pretty straightforward: I've spent the last two and a half months working from home (I've only been to the office twice since like March 8th) , and because my home office is in my mancave / spare room, along with my decks and records, I've been listening to a lot of records while I work. Which is nice! Specifically I'm often listening to some of the dubstep / grime records I've bought over the last few years, as it's a bit easier listening that 150 bpm acid or really tearing jungle. However, these tend to be relatively short so I often find myself getting pulled out of my work flow to change the record, or, alternatively, sitting in silence for a period while I try to finish something.
Hence this mix!
Here I've put together 23 tracks for my listening pleasure (yours too, ideally), and something that works well during my workday. It's also a perfect length for my normal after dinner walk, which generally takes up about 45 minutes of my time.
There's no specific theme here, really – it starts with dubstep and ends with grime, but it's just a collection of tracks I like, from the deep to the dark to the emotional and the aggressive. Last year I did one dubstep mix, Get It 008: Get Below, and one grime mix, Get It 006: Get Mucky, and honestly I thought they were both pretty great, even if the listening stats show that my audience couldn't have cared less (both have less 400 Soundcloud listens even after almost a year). So this is another mix that people probably won't be too interested in, but, I think it's pretty cool, and it's what I wanted to do, so there you go!
For a little preview of what's coming down the pipeline, these are the current project ideas for what I want to do next:
A live mix for my friend's 50th birthday celebrations – will be streamed on Twitch soon
Modern techno mix (think The Dream of the 90's is Alive in Kreuzberg but more ambitious)
1993 hardcore set (like Darkside Generation but but with a spicy theme!)
A modern jungle / dnb set for a very excellent podcast series
Two different dubstep tributes
An acid techno tribute, like the one I did for D.A.V.E. The Drummer, but for another key artist – can you guess who?