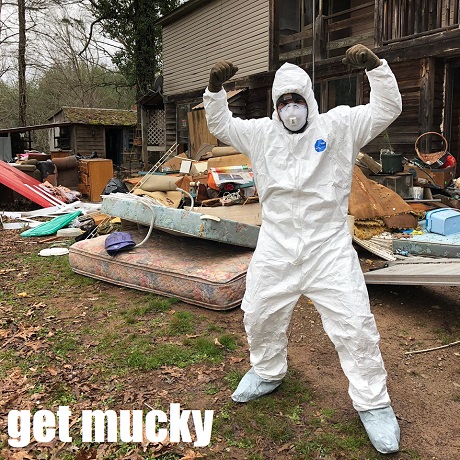 right-click, save as to download this free mp3 mix
Mixed in Berlin, April 2019
100% Vinyl
(34:27, 78.8 MB, 320 KBPS MP3)
Style: Grime
Direct link to the mix:
http://sonicrampage.org/mixes/getit6/Pearsall-GetIt006-GetMucky.mp3
Tracklisting:

Six already! This Get It series of mixes is growing fast …
And actually as I write this, I've already recorded 007 and am planning to record 008 this week. Lots to look forward to!
This edition is devoted to grime, which is for sure not my normal sound, but it's a type of music that I have liked for many, many years. No point in lying – this is far from an upfront set; really it's just a collection of tunes I've enjoyed and have picked up on vinyl over the last few years. I am not really expecting a huge amount of listens for this mix (the last one Tear It Down and Start Over certainly didn't!) , but in the end my mixes are mostly about my own entertainment so here we are …
This was a fun and challenging mix project for me. As mentioned before, grime is hardly my regular genre (to the extent that I could say I have a regular genre), so this one required a bit more thought, preparation and practice as compared to doing, say, an acid techno mix. As something to listen to, I think this is a pretty good mix, in that it covers a range of sonic territory. Although mostly instrumental, there are a couple of vocal tunes, and the sounds switch from the minimal and murky to the frenzied and energetic and to the upbeat and melodic. It's a nice little journey!
As I mentioned, my lack of practice with mixing this led to some challenges. Indeed, I ended up recording this three times before I was (more or less) happy with it – which is pretty rare these days! I usually don't have time to do multiple takes of mixes, generally it's one and done. In this case I made an exception, however, because when I recorded the first take I just wasn't properly prepared. Typically when I listen to these records it is in the context of working in my home office, with a stack of grime vinyl on one deck that I work my way through while tapping away.
So I am not all that used to mixing grime, and therefore the results of the first, totally off-the-cuff, recording were … not good.
What went wrong?
Well, one thing that I had forgotten is that this music is simply very different structurally from the sort of stuff I normally play, which would either be 90's stuff from the UK hardcore continuum or banging 4/4 stuff (whether new or old). The tracks overall are shorter, reflected in the fact that the intros can be really short, and the drop, when it comes, can be quite big and aggressive, as well as totally changing the sound of the track. To translate this into practical terms, this means that the kind of long mixing I often enjoy doing, where you roll the new track in, then switch the bass before rolling the old track out, often doesn't work.
Holding two grime tracks together for a long time can often lead to a very messy sound, even if they are technically still in time. Partly this can be down to too much happening at once, and partly this is also due to the often off-kilter rhythms that are used – rarely do you have a simple 4/4 thud to work with!
So this was the challenge I had to overcome – I had to rethink how I wanted to mix these tracks, and accept that sometimes the actual mix would be very short, maybe 32 bars, and that it is OK to simply switch over when the new track drops, that in fact it is actually better sometimes to switch the tracks quickly.
OK, this sounds obvious really, but most of the time I mix stuff where that is not the case, where a 15-20 second mix sounds totally weird and arbitrary.
In the end I am mostly happy with this mix – the tunes are good (I think) and the structure works well. I hope you enjoy it too!