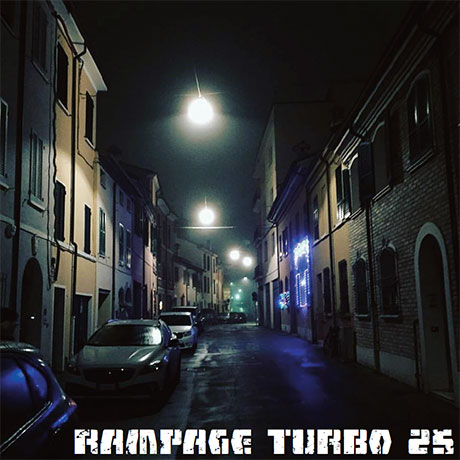 right-click, save as to download this free mp3 mix
Mixed in Berlin, January 2016
(71:44, 164 MB, 320 kbps MP3)
Style: Freeform Hardcore
Direct link to the mix:
http://sonicrampage.org/mixes/rt25/Pearsall-RampageTurbo25.mp3
Tracklisting:
01. Guld – Gestalzerfall (ReBuild Music)
02. Lost Soul – Crazy Light ft Vicious Precious (Watchtower)
03. Shox, Dani Delirio & Balu – Metavampiros (ReBuild Music)
04. Nomic – Human Race Pt. II (Smiling Corpse)
05. Substanced – Juggernaut (Stamina)
06. Epyx & Cyrez – Last Glimmer Of Hope (Watchtower)
07. Transcend – Oblivion (Stamina)
08. Wyrm – Tendrils Of Reality (Penguin Conspiracy Remix) (Smiling Corpse)
09. Penguin Conspiracy – 21st Century (Electrode)
10. Transcend – Eons (Substanced Remix) (Watchtower)
11. Rik Arkitech – Heartache To Heartache (Stamina)
12. A.B vs Two D Impact – Pingled (Stamina)
13. Pearsall – Dreaming Of Berlin (Le Dos-On Remix) (Freeformatted)
14. Substanced – Ghost Of The Future (Alchemiist Remix) (Watchtower)
15. Aryx – Morokai (Le Dos-On Remix) (Smiling Corpse)
16. Alabaster – Fairytale (ReBuild Music)
17. jD-KiD – Tsunami (ReBuild Music)
Keep up to date with The 780 Project
Cover image: Ravenna, Italy
Week five is here!
This time I am excited to present the 25th edition of my long-running Rampage Turbo series of freeform hardcore mixes. Insanely enough, I recorded the very first edition back in 2002. Pretty incredible when you think about it! That mix was recorded in my third year of university, in my bedroom in a shared flat on Bank Street, just off Edinburgh's Royal Mile, where I was living with my two flatmates (hi Gareth and Rob!). 14 years later, I recorded this mix you see before you in my spare room in a flat in West Berlin, where I am living with my wife Iwona and our little daughter.
So, that's 14 years, 25 mixes, 480 tracks, and almost 30 hours worth of music … which is a lot!
Looking back now, I have to say that I am quite proud of these 25 mixes as a coherent body of work. Without wanting to sound too arrogant, I would say that anyone who takes the time to work through these mixes will get a very comprehensive overview of this one small genre, and its progressions and changes ever since it first emerged in the late 1990s.
Along the way, I've done many themed mixes, introducing listeners to different crews (like Rampage Turbo 10 for Finrg, Rampage Turbo 13 for Stage One Music, Rampage Turbo 16 for Electronica Exposed, or Rampage Turbo 17 for Bonkerz), as well as highlighting specific artists (like Rampage Turbo 21 for Substanced, Rampage Turbo 22 for Qygen, or Rampage Turbo 24 for A.B), and zeroing in on specific time periods (like Rampage Turbo 15, Rampage Turbo 19, and Rampage Turbo 20), as well as exploring the roots of the sound (like on Rampage Turbo 23). Plus of course there's also been plenty of mixes that had no real theme, just great music (like Rampage Turbo 7). I've worked with both vinyl and cd, and sometimes used a mix of both. Stylistically, there have been smooth mixes, and chopped up mixes. There have been mixes that were intricately planned and practiced, and recorded over and over again until I was finally happy, and there have been mixes thrown together in literally one take before I went, "whatever dude, that's good enough".
Above all there has just been a lot of music!
25 mixes certainly sounds very consistent, but it's basically happened in two big bursts, the first running over the first seven volumes between 2002 and 2004, and the second running basically from 2011 (when I dropped volume eight) through to 2014. 8 was the big linchpin, as that led to me being invited to join the Freeformaniacs crew by Stray, who then passed the torch to me for 2012 and 2013, before my move to Berlin meant handing on management to DJ Hellfury (who is doing a great job, by the way).
So this is the first new edition of Rampage Turbo for over a year, which can be attributed to the fact that I kind of ran out of ideas for freeform mixes, as well as the fact that I wanted to work on other mix projects. In fact, in the whole of 2015 I only did one freeform mix, and that was a completely off-the-cuff mix for Freeformaniacs Round 20 that I decided to keep separate from the Rampage Turbo series.
But still … here we are. This mix focuses on (mostly) recent freeform, and the majority of these tracks were culled from a number of 2015's cd releases from labels like Stamina, ReBuild, Smiling Corpse and Watchtower. I've tried to keep things a bit varied, with music from British, Japanese, Finnish, and Spanish artists, and the styles range from the uplifting to the ravey to the flat out dark. Originally this was supposed to be a two-hour long mix, but in the end that hasn't happened, as I didn't have the time to do it, nor, really, the inclination. Even so, I think this is a worthy addition to the Rampage Turbo series. As the cliche goes, it's a journey …
Remember to support the labels who are bringing you the music; you can buy or donate to get the releases featured here from the following web stores:
As for the future, well, I'm still a little tapped-out for ideas, but I have started thinking of some more mixes I can do as part of The 780 Project, so expect more turbo-charged beats through 2016!