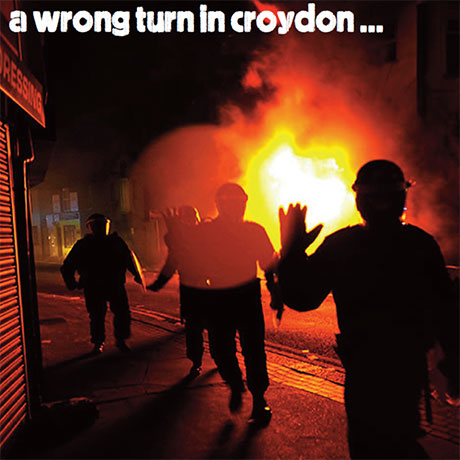 right-click, save as to download this free mp3 mix
Mixed in Berlin, January 2016
100% Vinyl
(33:07, 75.9 MB, 320 kbps MP3)
Style: Face-ripping, bowel-troubling dubstep from Coki (Digital Mystikz / DMZ)
Direct link to the mix:
http://sonicrampage.org/mixes/croydon/Pearsall-AWrongTurnInCroydon(ACokiTribute).mp3
Tracklisting:
01. Busy Signal – Badman Place ft Mavado (Coki Remix) (Greensleeves Dubstep)
02. Coki – Demonator (AWD)
03. Blacks – Hold On Wait (Don't Get It Twisted)
04. Coki – It (DMZ)
05. Vybz Kartel – Emergency (Coki Remix) (Greensleeves Dubstep)
06. Coki – The End (DMZ)
07. Coki – Tortured (Tempa)
08. Coki – Mood Dub (DMZ)
09. Coki – Dry Cry (AWD)
10. Coki – Intergalactic (DMZ)
11. Coki – Burnin' (White)
12. Coki – Triple Six (DMZ)
13. Coki – Voodoo Dolls (Don't Get It Twisted)
14. Coki – Bloodthirst (Sub Freq)
15. Flowdan – F About (Hyperdub)
Keep up to date with The 780 Project
For my second mix as part of The 780 Project, I am super excited to present this tribute to the man like Coki, one-half of Digital Mystikz, one-third of DMZ, and all-around dubstep legend. Also, he's from Croydon in South London, like so many other early dubstep heroes, hence the title.
Last year you might have heard my tribute to Mala, the other half of Digital Mystikz, so I thought it was only right to try to somewhat even things up by also busting out a little Coki tribute.
I make no specific claims for this mix – this is far from a definitive Coki mix, it's just 15 tunes jammed together. Lots of face-ripping mid-range action, as well as a whole bunch of dubwise sub-heavy stepping business. It's quite a different sound from Mala's – much more aggressive and intense, but what both producers share is a grounding in dub technique: echo, bass and space. Deployed to different ends, sure, but coming from a common foundation. Probably overall I prefer Mala's sound, but I also love the wild, unhinged nature of a good Coki tear-out tune. For this mix I've tried to use a range of tunes to give you an indication of his sound, from face-ripping mid-range mania to spectral dubwise steppers, as well as a couple of his great dancehall/reggae remixes.
As before, it's one take, all vinyl … not perfect, but fun!
Next week – drum n' bass …
Here's an interview with the man himself:
For all of the aggression of his sound, though, Coki is one of the nicest people you could hope to meet. There's something Zen about him, in fact. He is not a particularly verbal person, which is not uncommon for musicians – indeed for many the reason they get into music is to find expression for what they can't get out in words – but even so he's an extreme case, frequently lost for words or stumbling over common phrases. Yet conversation with him is paradoxically enjoyable and informative …

It's hard to explain the bass, but it's basically got LFO on it [low frequency oscillator – which places an undulating filter on a sound], with a midrange sound on top with another LFO which would start milliseconds before – so the two sounds follow each other in a cycle, but then there's other modulated sounds going through it that fill in the gaps, so I know exactly what she means by "scrambled eggs". There is actually a lot going on in there, in the bass area.

It sounds like you're making sculpture from these tones. Do you ever visualise tones like that in your head as you're making them?

Yeah I do. But it's got to make musical sense too. I could make anything from one certain sound, but it only lasts for a bar before it becomes uninteresting to the air. If you've got something that's the same continuous thing, the same continuous sound or tone for longer than eight bars, it doesn't really create a hook to the person that they'll catch on to and say "I like this, I feel this." Maybe if it was a really great sound and it's then panning left and right and there's filters working on it, the volume's moving in and out and all of that, then maybe you can get away with it.

Well any natural instrument – a piano, cello, trumpet, whatever – never repeats itself tonally. So you're trying to get away from the predictability of electronic tones straight from the box?

Yeah definitely. Exactly!

Now of course the irony is that people try and replicate sounds that you've created and think they can create a "Coki bass" and loop it.

To me it's an honour that people might listen to something I've done and think "I want to do that too." But then when I speak to some other people in the scene they're like "no, it shouldn't be like that! You should be the only person with that kind of sound and people shouldn't be trying to emulate you in any shape or form!" I think for music to grow you're always going to take influences of other people, but you will always add something of yourself too at some point. It's like a starting point, you learn how to make a particular beat, you've got to take an influence from someone simply to have structure and learn. OK, some people started from young and it comes naturally – they're a musician – they can know what they're doing and how it's going to sound and that it'll be what they want to hear. But for most new producers, who are 18 upwards, when they go out to a rave and hear a tune and go "Ahhh, I like this kind of tune, I want to do something like this!" they're naturally going to take the influence that they've heard.