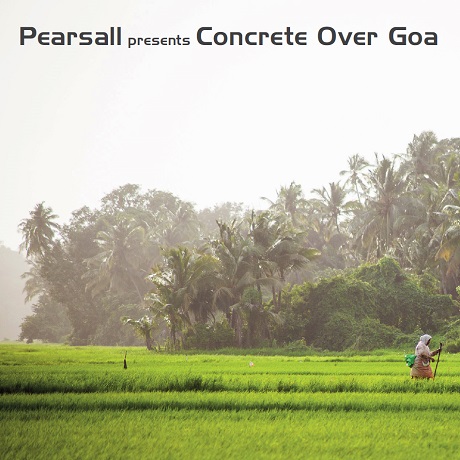 right-click, save as to download this free mp3 mix
100% Vinyl!
Mixed in Berlin, December 2014
(63:25, 145 MB, 320 kbps MP3)
Big cover
Cue file
Split MP3 version
Style: Vintage Goa Trance
Direct link to the mix:
http://sonicrampage.org/mixes/goa/Pearsall-ConcreteOverGoa.mp3
Tracklisting:
01. Man With No Name – Teleport (Perfecto)
02. Razor's Edge – Tribal Sunrise (Technossomy Beta Mix) (Metropolitan)
03. K.U.R.O. – Zoa (Remix) (Spirit Zone)
04. The Art Of Trance – Cambodia (Tunnel Vision Mix) (Platipus)
05. Ominus – Acid Tester (Koyote)
06. Green Nuns Of The Revolution – Optimum Creakage (Dragonfly)
07. Lunar Asylum – Bubble (Transient)
08. Doof – Let's Turn On (Tuned In Mix) (T.I.P.)
09. Kind Of Intelligence – Eurith (Trigger)
10. Man With No Name – Neuro Tunnel (Dragonfly)
11. Butler & Wilson – Deliverance (Transient)
12. Etnica – Starship 101 (Blue Room Released)
13. Doof – Double Dragons (Crystal Insurance Mix) (Dragonfly)
14. Cosmosis – Gift Of The Gods (Transient)
15. Astral Projection – Let There Be Light (T.I.P.)
16. Moonweed – Telepath (Remix) (Celtic)
17. Astral Projection – Power Gen (Byte)
This next mix was originally done as the contest winner for the little #sonicrampage30k contest that I put together late last year to celebrate getting 30,000 listens on Soundcloud (and in fact I now passed 60,000 listens as of two weeks ago). The idea was that whoever won got to get their own bespoke mix, and the winner was Martyn Amos, who asked for a proper old school Goa Trance mix.
And of course I had to oblige!
I'll be the first to admit that I have never been the world's biggest Goa head, so this was an interesting challenge for me to put together, both from a musical and a technical perspective.
Musically because, well, I just don't have a deep knowledge of the sub-genre, especially compared to other areas of hard dance music. I know the key artists and labels, and I even went to some of the famous parties like Return to the Source when I was a teenager, but I don't have that really really deep knowledge that you need to be able to dig into your crates and come up with interesting stuff that isn't completely over-played, which is always one of my missions when I am putting together a mix. Since I have only a small collection of Goa tunes (and since I didn't want to buy more than a handful of tunes for this mix), I was a little bit limited in what I could use.
But a little planning and patience can pay off, so that was the approach that I took.
On the technical side the challenge is that Goa Trance, as a genre, produced very few records that could be callled dj friendly. Weird structures, long intros, unexpected fills that throw your programming out the window, and of course layers and layers and layers of sounds to work through … a bit tricky, to say the least.
Having said that, the fact that this was a bit more of a challenge made it an interesting project – for example, I can pull out a stack of freeform records and bang something half-way decent together with no practice or planning (and in fact I did just that for the most recent Freeformaniacs show), but this mix required more thought. Just like when I put together Not The Future We Were Promised, I had to try out different combinations and build up a plan for the mix so that there was a coherent flow and so that none of the transitions were too weird or jarring. In the final analysis I think that I mostly succeeded, but the nature of these tunes is such that I don't think it is completely possible to build a perfectly smooth flowing mix out of them. The original Goa dj's themselves were in any case more about building a mood and a vibe instead of a technically perfect progression of tunes that were all mixed in key.
So that's my excuse and I am sticking to it!
Anyways, enjoy the music, and I still have two more published mixes to write about, plus two more mixes that are currently not online but that I have been enjoying listening to as I go about the daily grind (what can I say, it's been a prolific year).
As a bonus, here are some very funny excerpts from Jane Bussman's Once In A Lifetime about the 90's trance scene: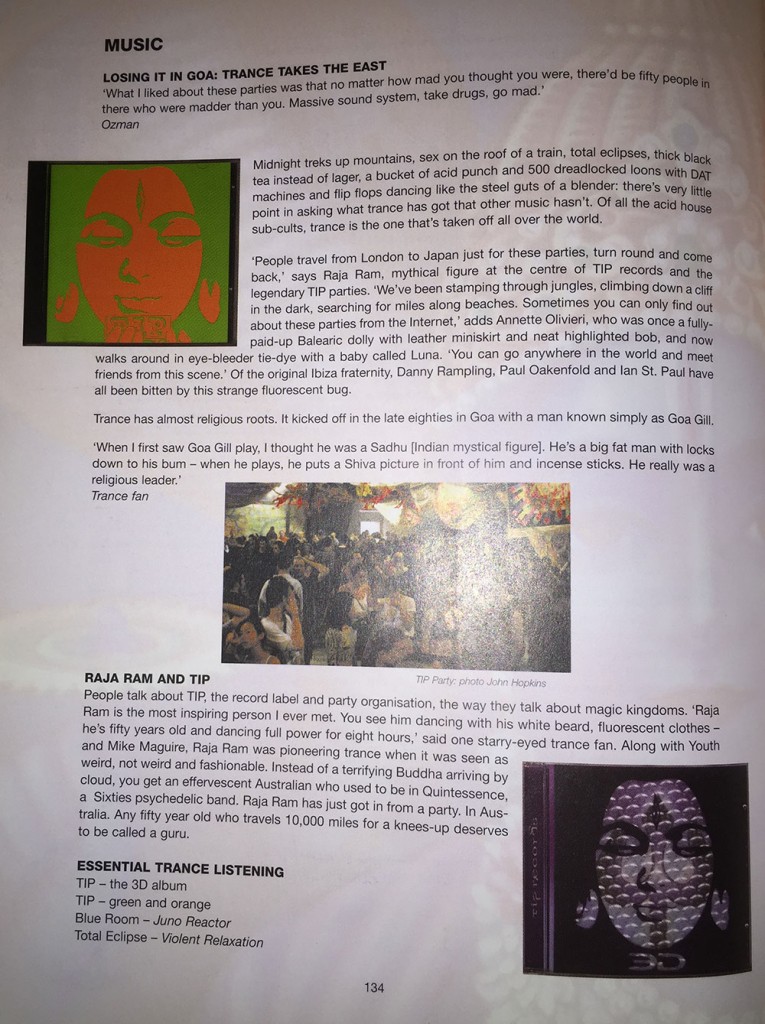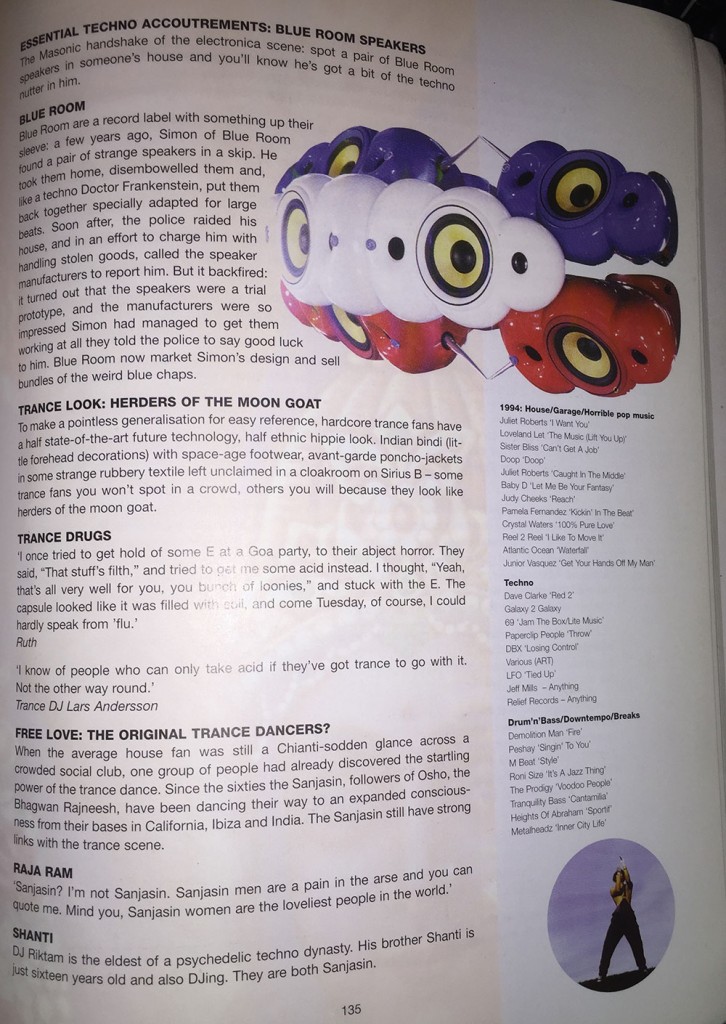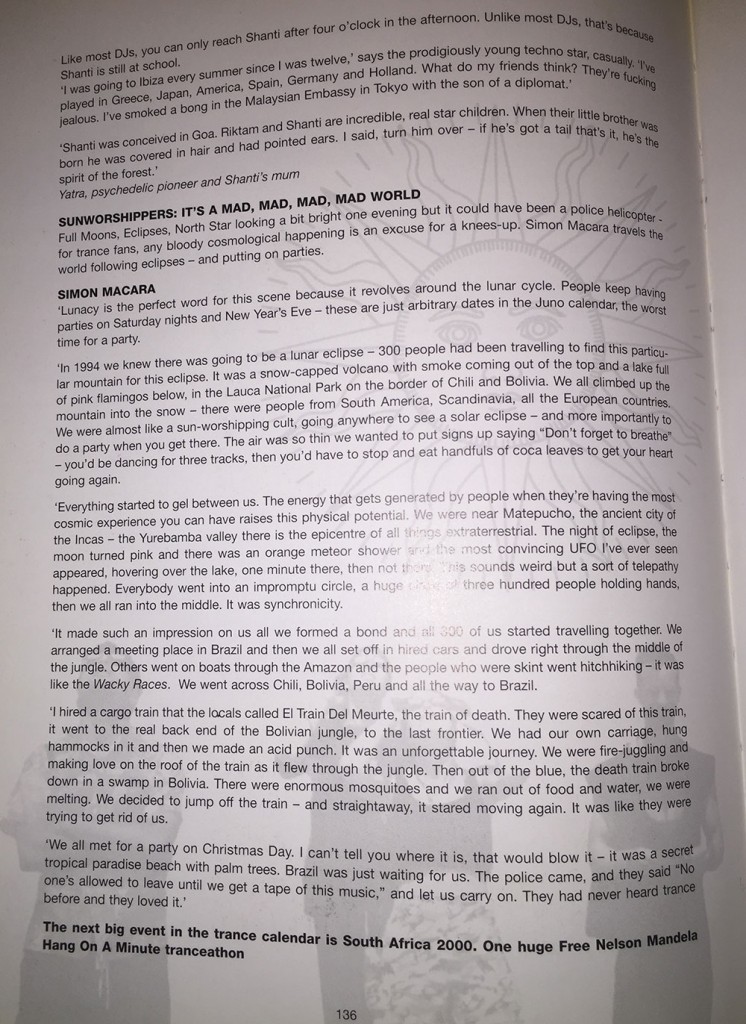 Forgive the quality, I took these pictures on my phone, so they are a little wonky. Highly entertaining, though!