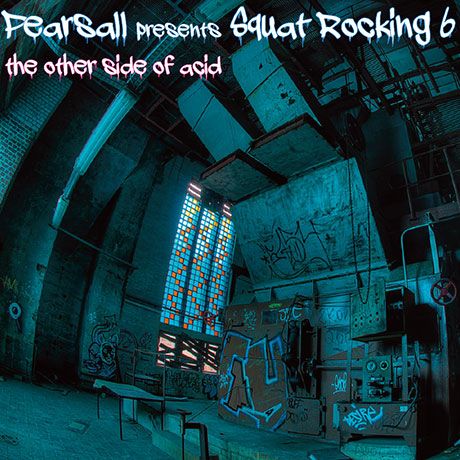 right-click, save as to download this free mp3 mix
Mixed in Berlin, February 2014
100% Vinyl!
(65:10, 149 MB, 320 kbps MP3)
Zip file (split into separate tracks)
Big cover
Cue file
Style: Proper London Acid Techno – All B-Sides: The Other Side of Acid!
Direct link to the mix:
http://sonicrampage.org/mixes/sqr6/Pearsall-SquatRocking6(TheOtherSideOfAcid).mp3
Tracklisting:
01. D.A.V.E. The Drummer – Pump Dept (Routemaster)
02. Immersion – Bum Tikkla (Routemaster)
03. Rebel Yelle – Fight Back (Stay Up Forever)
04. D.A.V.E. The Drummer – Rigged (Smitten)
05. Vibe Bar Rejects – 70 MPH (Smitten)
06. CFC-12 – Rest In Hell (Chris Liberator & D.A.V.E. The Drummer Remix) (Noom)
07. Weathermen – Pressure Cell (Boscaland)
08. Immersion – No Drama Queen (Stay Up Forever)
09. Baron Felch – Generation F (Smitten)
10. A&E Dept. – Hardcore With A K (Stay Up Forever)
11. Kektex – Impound The Police (Routemaster)
12. Time Stretch Armstrong – Firing Blanks (Stay Up Forever)
13. Rowland The Bastard – Overload The Circuit (Smitten)
14. DDR & The Geezer – The Moose (Hazchem)
15. Lochi – Colonel Mustard Rocks The Custard (Routemaster)
16. Geezer – Bubblerap (Smitten)
17. Solar Quest – Acid Air Raid (Choci & Geezer Remix) (Choci's Chewns)
I love acid techno.
And I love mixing.
But recently I haven't really had the time to write, which kind of sucks.
So here is a new(ish) mix from me, originally recorded back in February as part of my Squat Rocking series of tribute mixes to the London underground party scene of my youth.
My life might have changed a lot from those days, but I still love few things as much as the euphoric squeal of an acid line, so back in February I decided that it was time to put together another acid mix. Since I like a theme, however half-baked, this time around I went for nothing but b-sides, to showcase the other side of acid (if you will forgive the clunky pun). Unlike some mixes where I painstakingly plan the order and whatnot, this was very much a case of getting out a stack of vinyl, hitting record and banging it all together in a way that sounded nice.
Which it does!
I'm now a thirty-something father who is just as likely to be up at 7am on a Sunday morning as I was as a 18 year old raver, but the crucial difference is that I'm sitting in my living room with my daughter, not dancing in a filthy warehouse in front of a big speaker stack. Times change!
But whatever, right?
As you might have come to expect from me, this is an hour of uncompromising acid. Full power, no messing, wild 303 action, from some of the finest practitioners of 303 abuse ever. Going the b-side route was a fun extra angle, because it forced me to really dig deep into the crates – most of these tunes were hardly anthems back then, but nevertheless they are solid tunes.
Let's put it this way, in a dark room, with a big rig, and these tunes mixed in this order, you would dance.
You know you would.