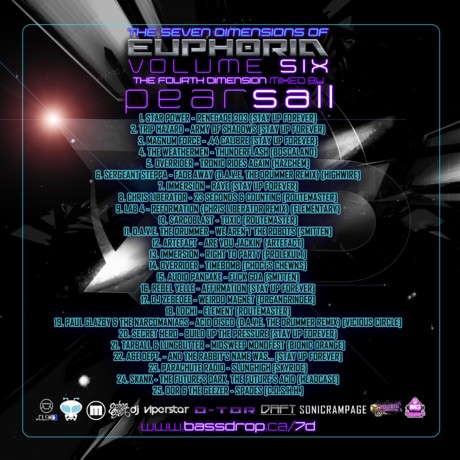 My old skool London acid techno mix for the sixth edition of 7D The Seven Dimensions of Euphoria is now available at the 7d site. Go get it!
7D The Seven Dimensions Of Euphoria 6
Direct link to single mp3 version
Direct link to split track version
I'm particularly pleased with this mix. It was recorded in one take using nothing but vinyl, and I really locked in to the vibe as I mixed and cut my way through 90 minutes of some of the finest 303 abuse ever committed to wax. There's something really hypnotic about this music, and I went deep into the zone as I did the mix, varying my mixing style from deep long mixes to quick mixes, moving through tracks seamlessly sometimes, whilst others working my way through with cuts and spinbacks, suddenly switching the basslines for maximum surprise. No simple segues for me! The mix itself slowly builds the intensity up from rolling acid to ravetastic warehouse stompers to fully-fledged squat-smashing mayhem, as the acid lines layer and layer and layer until you think your mind can't take any more, only to find that things have gotten even crazier, and you just can't get enough of it …
If you enjoyed previous London acid mixes from myself like Squat Rocking 2, Squat Rocking 3, and Pearsall's Acid Test, then you will love this!
Special shout to Steve from 7D for offering me the chance to do the mix!
If you'd like a preview, here's the first 30 minutes, as uploaded to Soundcloud:
Tracklisting: (titles in red are in the Soundcloud sampler)
01. Star Power – Renegade 303 (Stay Up Forever)
02. Trip Hazard – Army Of Shadows (Stay Up Forever)
03. Magnum Force – .44 Calibre (Stay Up Forever)
04. The Weathermen – Thunderflash (Boscaland)
05. Overrider – Tronic Rides Again (Hazchem)
06. Sergeant Steppa – Fade Away (D.A.V.E. The Drummer Remix) (Highwire)
07. Immersion – Rave (Stay Up Forever)
08. Chris Liberator – 23 Seconds & Counting (Routemaster)
09. Lab 4 – Reformation (Chris Liberator Remix) (Elementary)
10. Sarcoblast – Toxic (Routemaster)
11. D.A.V.E. The Drummer – We Aren't The Robots (Smitten)
12. Artefact – Are You Jackin' (Artefact)
13. Immersion – Right To Party (Prolekult)
14. Overrider – Timebomb (Choci's Chewns)
15. Audio Pancake – Fuck Goa (Smitten)
16. Rebel Yelle – Affirmation (Stay Up Forever)
17. DJ Zebedee – Weirdo Magnet (Organgrinder)
18. Lochi – Element (Routemaster)
19. Paul Glazby & The Narcomaniacs – Acid Disco (D.A.V.E. The Drummer Remix) (Vicious Circle)
20. Secret Hero – Build Up The Pressure (Stay Up Forever)
21. Tarball & Lungbutter – Mindsweep Monofest (Bionic Orange)
22. A&E Dept. – And The Rabbit's Name Was… (Stay Up Forever)
23. Parachute Radio – Slunghigh (Skyride)
24. Skank – The Future's Dark, The Future's Acid (Headcase)
25. DDR & The Geezer – Spades (C.O.S.H.H.)
Other dj's featured on this edition of 7D:
CLSM (Breakbeat Hardcore)
Sc@r (Hardcore)
Echo Swift (Drum n' Bass)
Wyrd The Cat (Electro Breaks)
DJ Mumbles (Uplifting Trance)
DJ Viperstar (Hardcore)
DJ Daft (Hardcore)
D-Tor (Hardcore)
Remember to like 7D on Facebook!