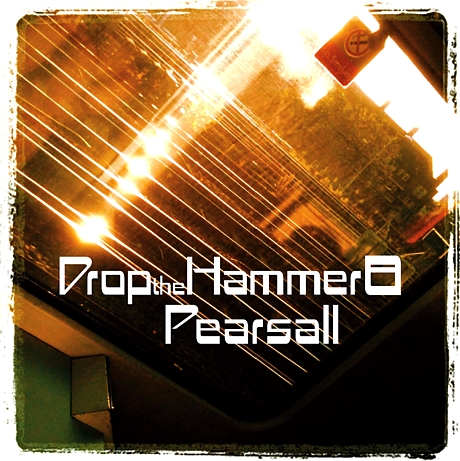 right-click on the title and save as to download
Mixed on two Technics 1210's and a Pioneer DJM-600 in London, November 2011
(45:50, 105 MB, 320 KBPS MP3)
Zip pack (cut into individual tracks)
Large cover
Cue file
Style: Old skool instrumental grime
Direct link to the mix:
http://sonicrampage.org/mixes/dth8/Pearsall-DropTheHammer8.mp3
Tracklisting:
01. Scratchy – Trim & Scratch (Related)
02. Wiley – Fire Hydrant (Eskiboy)
03. Wiley – Pussy (Shot City)
04. Top Dollar – Life (Slew Dem Productions)
05. Terror Danjah – Bruzin' (After Shock)
06. Ruff Sqwad – Laydown (White)
07. Wonder – Face (Dump Valve)
08. Geeneus – Darkboy (Soulja)
09. DJ Charmzy – Laugh (Black Ops)
10. Wizzbit – Emerald City (Slimzos)
11. Wiley – Carnival (Southside)
12. Slew Dem – Grime (Slew Dem Productions)
13. Mr. Slash – Concerto Riddim (A.R.M.Y.)
14. Ruff Sqwad – Night Ryder (Ruff Sqwad Recordings)
15. DPM – Level (DPM Recordings)
16. DJ Bossman – Bongo Eyes (Bossman Dubz)
17. DJ Mondie – Pull Up Dat (Dexplicit Remix Instrumental) (DXP Recordings)
18. Youngstar – Bongo (DDJS Recordings)
19. DJ Oddz – Strung Up VIP (Black Majik)
20. DJ Charmzy – Anthem (Black Ops)
21. Dexplicit – No (Lethal Bizzle Records)
22. Dexplicit – Forward Riddim (Lethal Bizzle Records)
23. Dexplicit – Change Formation (Hench 2) (DXP Recordings)
24. Wiley – Merkle (Wiley Kat)
25. Rapid – Underground (Ruff Sqwad Recordings)
26. DJ Dread D – Yo! (Black Ops)
27. Wiley – Ice Rink (Wiley Kat)
28. Low Deep – Jedi (Colourful State)
Enjoy this mix? Leave a comment!
Pearsall presents Drop The Hammer 8 by sonicrampage
Stream it if you like …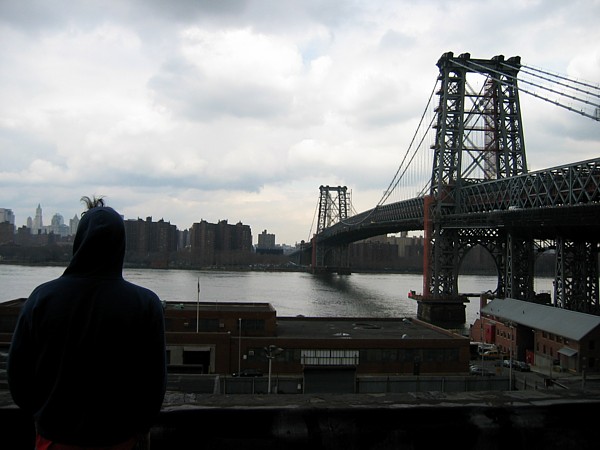 Looking out over the East River from by the Williamsburg Bridge … sadly I lost most of my Queens pictures in a hard drive crash
Whenever I think of grime music, I think of Queens, New York.
Yeah, I know that's weird – why would a form of music so clearly tied to (a part of) London life make me think of outer borough New York? Allow me to explain.
After graduating from the University of Edinburgh in 2003 I moved back to my parents' house in London where I proceeded to mess around for a few months until they lost their patience with me and basically kicked me out (no hard feelings on this point – I was being ridiculously lazy, and I don't blame them), so I ended up getting on a plane to head back to my native New York. As far as plans go, that was about it; I arrived in New York without any clear idea of what I wanted to do, beyond the fact that, hey, lots of stuff is going on in New York, so I'll figure something out, right? After drifting for a few months between spare rooms and sofas in Manhattan and Brooklyn (and no doubt thoroughly wearing out my welcome on the various friends and family I imposed myself on) I ended up renting a spare room in an apartment in Astoria, Queens in early 2004.
Along with a measure of stability, a friendly face in my roommate Amy, and an excellent nearby bar called The Crescent Lounge, my apartment had high-speed internet access. And the internet led me to grime …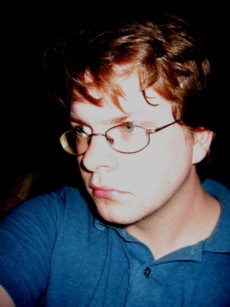 At this point I had been a vinyl junkie since I was 15 years old, a habit that had set in and had taken a deep hold. For a little while after I moved to New York I kept buying records from England, purely out of habit, until I realized that it was pretty crazy to still be buying vinyl considering it was (1) ridiculously expensive to get tunes shipped across the Atlantic, (2) I wasn't actually making enough money to justify such an expense, and, most absurdly, (3) I didn't actually have decks in New York. Why spend so much cash on records that I could only listen to in Amy's room on her old skool record player? God bless her, she didn't mind me going in her room to play tunes while she was out, but still.
Unsurprisingly, I stopped buying vinyl for a while. This didn't mean that I had lost my taste for music … far from it! Searching the internet for music I started paying a lot more attention to this relatively recent mutation of UK Garage that people were calling, variously, Sub-Low, Eski, and Grime. Although I had been vaguely aware of grime for some time, my long-term dislike of UK Garage (to put it mildly) meant that it took a little while for me to give it a proper chance.
Before I go on, I'm going to digress for a second. If you've been following my mixes and reading my essays for a while, you'll know that I was an absolutely gigantic fan of jungle/drum n' bass as a teenager in the mid-90's. I loved it loved it loved it with the intensity that only a teenage boy can muster for a musical niche. It was a deep, passionate love affair, but it didn't last. By about 1998 the intensity of my love for dnb had started to fade, as drum n' bass became monotonous darkside noise and the scene, in London at least, started dying out, with the pirate stations and the raves switching over to garage. Initially, I liked the speed garage sound (as it was known then) – I liked housey 4/4 beats and I liked big basslines, so I was pretty much predisposed to enjoying a combination of the two. Tunes like 'Gunman' and 'RIP Groove' were really really good, combining house vibes with jungle attitude and bass. Even so, I wasn't paying too much attention to the evolution of the sound, as by this point I was beginning to be a regular on the squat party circuit, which helped shift my musical interests much more forcefully in the direction of acid techno/trance.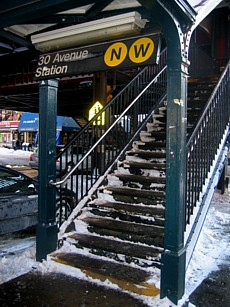 My interest in garage shrank even further when the beats moved away from four-to-the-floor to 2-step. Now, I'm a guy who likes electronic music. I like all kinds of electronic sounds, and basically I like most genres of music that are made with computers, as you can see from all the different genres of mixes I've done over the years. Many people will only like one end of dance music, whereas I like everything from electro to dubstep to drum n' bass to hard trance and acid; something that is not so common in my experience. Even so, there are some genres of dance music that, no matter how much I have tried, I have never really got. Progressive house is one (what's the point?), as is uplifting trance (why faff around with all that cheese when you could have some nice banging hard trance?). Similarly, 2-step Garage has never worked for me; since many people are passionate about it, I've tried to like it, to no avail.
I've never quite been able to work out why I dislike UK Garage so much – it's not the beat pattern per se, as I have greatly enjoyed many clipped 2-step drum n' bass tunes over the years, like, say, Doc Scott's 'Shadow Boxing Remix'. It's not the basslines – I love bass (duh). If forced to pin it on anything, I'd guess it's the whole package, the particular alchemy resulting from its combination of elements: the slinky beats, rnb stylings, and general cheesiness just rubs me wrong. To be fair, some garage was good, particularly the breakbeat garage that DJ Zinc made for his Bingo Beats label (check out Drop The Hammer 4 for more of that kind of stuff), but then again I like breaks, and those tunes were really different in flavor from a lot of the garridge dreck that was hitting the charts at the time. At the same time, some of the East London garage crews like Pay As U Go Cartel and East Connection were starting to do interesting things, taking garage in a darker direction, but they weren't quite there yet …
Having read all that, no doubt you can see why I would be a bit skeptical when I came across the first manifestations of grime. A few years previously, it would no doubt have been a very easy matter to stand by that early dismissal, yet a combination of technological change and (frankly) boredom meant that I had the time and means to properly explore and, ultimately, appreciate grime. In the late 1990's I would have been limited sonically to a fairly limited selection of imports in the New York record stores, and informationally I would only have been able to find out about the scene from whatever the domestic dance magazines covered, if they even covered it at all. By 2004/2005, however, I wasn't limited to what was available locally – I could read about grime on blogs like Silver Dollar Circle and Heronbone, download recordings of pirate radio sets by the likes of Roll Deep and Nasty Crew from Yousendit links, and carry it all around with me on my iPod. It's hard to overstate how exciting all of this was at the time – suddenly you could effectively plug your headphones into a massive hard drive in your pocket and listen to the rawest underground music from the depths of East London. Years later all of this is second nature, but it was simply magical when those forces first aligned. I downloaded a lot (I mean a lot) of grime from the internet, and even (foolishly!) started buying vinyl again, hence what's on this mix, but it was just so exciting. Here was this crazy, weird, angular electronic music, and I was able to keep tabs on it from thousands of miles away.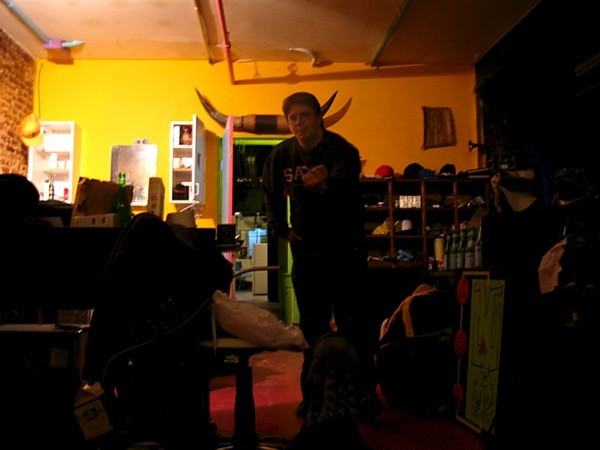 Me in my cousin Ben's art studio, Brooklyn, early 2004
When Steve Jobs died recently, there were all kinds of tributes paid to him and to what he achieved at Apple; for me, his crowning achievement was and is the iPod. It's hard for me to overstate how valuable the iPod has been to me. Having an iPod has allowed me to essentially cocoon myself in my own music; to give me permanent control over what I listen to. Before, when out and about I was limited by having to physically carry tapes, then cd's, then minidiscs. With an iPod, I could have dozens of albums worth of music in my pocket. A wonderful feeling, and a huge boost to a music lover's quality of life. The iPod has allowed me to sever my ties to the world of popular music without ceremony, to the extent that I've not listened to the radio for years.
I didn't properly realize how far I had drifted from the realms of popular music until earlier this year, when I started my current job. I'm in charge of social media at ITN Productions (a division of ITN), and one day I found myself running a competition to give away tickets for the Wireless Festival and I realized that I had no idea who a lot of the artists featured were. Like Bruno Mars. Who is Bruno Mars? I had no clue! Yet this guy had millions of fans on Facebook and Twitter. Even so, wrapped up in my Jobs-enabled sonic cocoon I had been cheerfully ignoring his existence for days, months, years.
The other part of the equation that the internet offered me in my pursuit of grime was community – not only was I able to listen to the radio shows and read passionate blogular discourse, but I was also able to talk about the music with like-minded souls, both in North America and in Britain. That's not something to be sniffed at, since my real world friends in New York City (with the always honorable exception of Ian C, of course), by and large looked at me like I was crazy when I put grime on. I mean, they were polite, right, but you could see the perplexation in their eyes … what is this weird shit that sounds kind of like rap with incomprehensible accent, lots of shouting and these strange, angular beats? Fortunately, through the internet I was able to find other American guys who were into the same stuff, and we were able to swap sets, as well as other random bits and pieces like Dipset mixtapes or dancehall riddim selections. I also ended up writing about it on my own blog Pearsall's Tunes, and I even contributed to a site called Riddim.ca for a while, doing reviews of dvd's and mixtapes, as well as doing some interviews.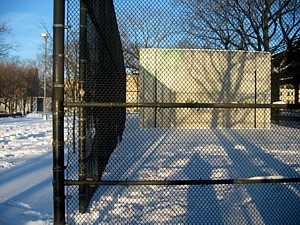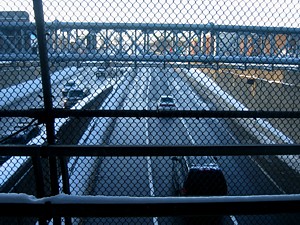 Images from Astoria after a big blizzard, January 2005
For me, music has always had a context – it's not just raw sound on its own, but it comes as part of a bigger package of memories and associations, and whenever I listen to grime my mind flicks back my memories of Queens. When you think back to places you lived in the past, does your mind automatically settle on certain times and images? For me, whenever I think of my time in Queens, I always think of the summer, and of how I used to take really long walks through Astoria, Long Island City, Sunnyside, Woodside, and beyond; once, I even walked in a big circle from our apartment at Broadway and Crescent down to Brooklyn, over the Williamsburg Bridge, up through Manhattan, and then back over the Queensboro Bridge and back home. As it was summer I was a nice shade of lobster by the time I got home!
And always when I think of those long summer walks the soundtrack is grime, the skittering electronic beats and shouted abuse/threats/jokes accompanying me as I ducked into Irish bars on Woodside Avenue for a quick drink, as I munched on a street meat lunch, as I stopped on the Greenpoint Avenue bridge to smoke a cigarette and stare into the murky depths of Newtown Creek, as I walked through the industrial emptiness of Long Island City on a weekend morning, as I dodged traffic crossing Queens Boulevard, or even just lifting weights in the gym. Whatever I was doing at that time, grime was an inescapable part of it.
What I loved about grime was the sound of the music, those strange angular shapes that the music conjured – the blocky beats and the roughly-hewn chunks of bass, the crazy strings and the utterly unkempt rhythms. I wasn't too bothered about the mc's, which is unusual, I guess, because the mc's were/are far more important to grime than any previous forms of electronic music from the London streets. Then again, I've never been all that interested in vocals, except as a sonic element in a larger musical whole, and for the most part grime lyrics are bullshit, so it's not like you're missing anything by tuning them out (although to be fair I obviously wasn't the intended audience).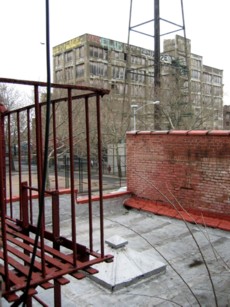 Just like it wasn't so easy for me to explain why I disliked UK Garage so much, similarly explaining my love for grime is not so simple a matter, especially considering that I have just admitted that I wasn't too interested in the mc's lyrics, which is clearly one of the key elements of the whole scene. I guess it was just that it was such a raw, stripped-down sound – many of the tracks were literally nothing more than drums and bass. It was totally fat free – no messing around with fiddly edits or epic journeys or any of that kind of bullshit, just here's a beat, take it or leave it. Raw and pure. At the same time you could often find unexpected moments of tenderness and depth in grime – glacial melodies peering through the mix, like the first rays of sunshine on a cold winter's morning, and those contrasts played a big part in getting me hooked.
And it was this essence, this hard/soft duality, that I was trying to capture with this mix, as well as the rough-but-good-enough mixing aesthetic of the early grime moment … possibly I took it a little too far, since I did this mix in one take and didn't even bother to pre-plan the tracks like I usually do! I just stuck a bunch of records on the floor, pressed record on my laptop, and let rip. That's not to say that this mix is nothing more than a bunch of tracks randomly thrown together – I was working with a clear concept in mind: the mix begins with halfstep beats and then works its way up to some much more intense, rhythmically propulsive material before concluding on a meditative note. I also wanted to include a mixture of well known big tunes, such as 'Forward Riddim' and 'Ice Rink' alongside some more obscure material, and to try to feature a number of different producers and labels from the scene.
I'm quite pleased with how it came out, because, for a few different reasons, this mix was a challenge to put together. Firstly, because so much of grime is so rhythmically unusual, it can be quite tricky to put the tracks together – sliding together two 4/4 beats is a lot easier than mixing together some of the stuff featured on this mix! Secondly, because these tracks are so sparse, you really need to chop through them quickly, meaning that in a lot of cases I was picking a tune out of the pile, slapping it on the decks, finding the cue point and releasing almost instantly, fixing the pitch quickly with little tweaks, so that from the floor into the mix would be no more than 15-20 seconds. Thirdly, even if I had wanted to hang around and be a bit more meditative with the mixing, a lot of these tracks are so short that that is simply not an option, hence my buzzsawing through 28 tracks in just 46 minutes.
Overall, though, I'm really happy with this mix. Sure, there are one or two slightly shonky mixes in here, but even so I think it's a fine tribute to the original grime sound, and I hope you agree.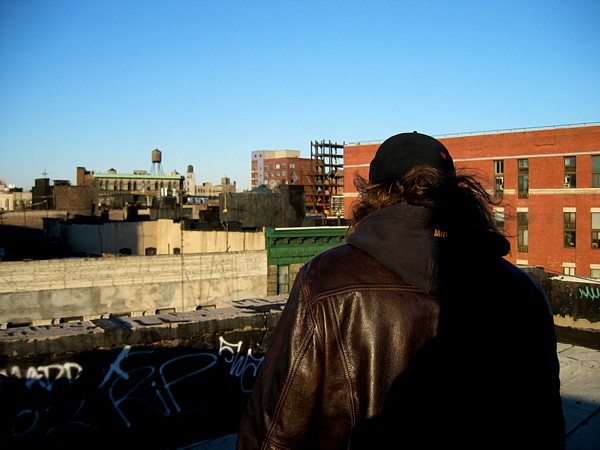 My cousin Ben looking out over Chinatown, 2004
A few old bits of grime writing from myself for you to enjoy:
Interview with Plasticman (now known as Plastician)
Review of Street Anthems 2 mix cd
Review of B.A.R.S. 2 DVD
Review of a Logan Sama radio show
Special shout to my web nerd grime friends from back in 2004/2005: Luca Lucarini, Paul Jasen, Matt Smear, David Drake, Scott Neil, Oliver Craner, various people on Dissensus, and, um, anyone else I've forgotten about since it's been so long!