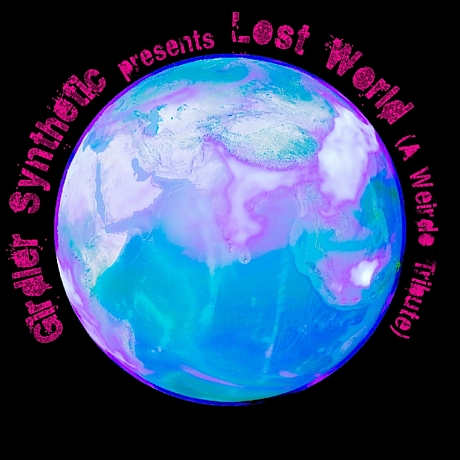 right-click on the title and save as to download
Mixed in October 2011
(79:57, 183 MB, 320 KBPS MP3)
Zip pack (cut into individual tracks)
Large cover
Cue file
Style: A tribute to UK Hard Trance legend Weirdo
Direct link to the mix:
http://sonicrampage.org/guestmixes/gs/GirdlerSynthetic-LostWorld(AWeirdoTribute).mp3
Tracklisting:
01. Captain Tinrib – 2001 – The Final Frontnose (Weirdo Remix) (Tinrib)
02. Weirdo – Curva Peligrosa (Tinrib)
03. Weirdo – Secret Of Life (Recover)
04. Weirdo – The Other Side (Tinrib)
05. Weirdo – Phantasm (Tinrib Digital)
06. Weirdo – Exotic Particles (Tinrib)
07. Weirdo – Fair Warning (Tinrib)
08. Weirdo – Whiplash (Tinrib)
09. Weirdo – I Know A Plaice (Tinrib)
10. Weirdo – Beyond (Vicious Circle)
11. Weirdo – Evil Eye (Recover)
12. Weirdo – Photic Zone (Tinrib)
13. Weirdo – Devil's Plaything (Tinrib)
14. Weirdo – Vinyl Warning (Tinrib)
Enjoy this mix? Click here to leave a comment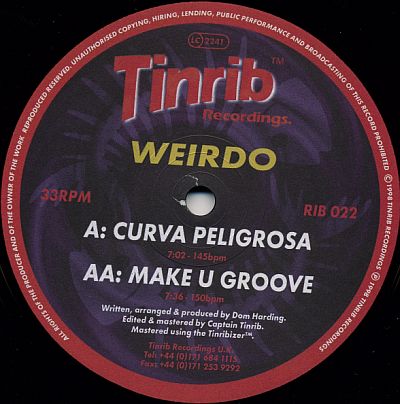 December … where did the year go?
Anyways, the latest guest mix to be featured on Sonicrampage comes from Girdler Synthetic (aka Penguin Conspiracy), who has provided us with a rather fine tribute to UK hard trance legend Dom Harding, aka Weirdo.
Weirdo is best known for his releases on Jon Bell's Tinrib Recordings, which back in the day was one of my absolute favourite UK nu-nrg labels, responsible for a whole series of classic releases from the likes of Karim, RR Fierce, Steve Thomas, and, of course, Captain Tinrib himself. The jewel in the crown for me, however, was Weirdo, which is why I offered to host this mix.
Weirdo had a unique talent for combining the driving rhythms of UK hard house/nu-nrg with stunning trance melodies. Each track of his was a full experience, far more exciting and dynamic than most UK hard trance, which would follow a pretty straightforward pattern of intro beats -> bassline -> few melodic elements -> big breakdown woo I can't feel my face -> snare roll -> beat comes crashing in, hands go in the air, ears get chomped, yadda yadda yadda. I mean, don't get me wrong, that kind of thing worked very well, and was often a big old laugh, but Weirdo seemed to have an uncanny ability to take these fairly prosaic elements and breathe more life into them – his tracks shifted and moved as they went along, with new elements flicking in and out, almost like a psy-trance approach to hard trance (but with less of the hippy wibbling that often hobbles psy-trance).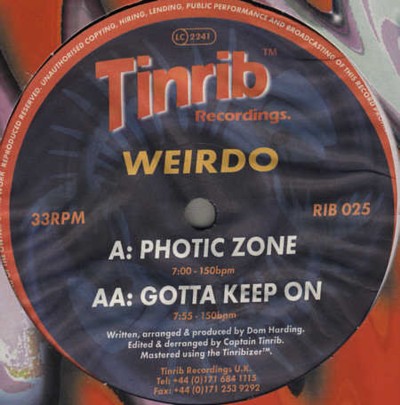 Take Photic Zone for example, which is hands down my favourite UK hard trance track ever (you can also grab it on my Paradise Lost mix). It starts with a chunky stomping beat and a haunting whistle sound before going into a blasting hoover-style riff followed by a spiraling trance arpeggio that builds and builds and builds to the breakdown, when the big riff comes back before the track goes mental again. It's just awesome. It's like the sonic equivalent of giant spaceships cruising the earth strafing your brain with alien ecstasy. Um, in a good way. Amazing track, and totally versatile as well, as it's one that can work equally well in all kinds of different sets.
I don't really know much about the guy (I lie – I know absolutely nothing), but judging by the melodic complexity of his tracks, I would guess that he is a classically trained musician, as the various components always fit together so well. Especially at loud volumes you could really tell the difference when a Weirdo track came on – it would boost the crowd up as it swept through from start to finish. I remember many sweaty nights at Fish parties at Vauxhall's Crash club flinging my hands in the air as the likes of 'Vinyl Warning' and 'Whiplash' pounded through the speakers (and sweat rained from the ceiling. Eww.)
In my usual slightly long-winded way, all of this is my way of saying that Weirdo made some incredible music, and that this is a worthy tribute. Enjoy!