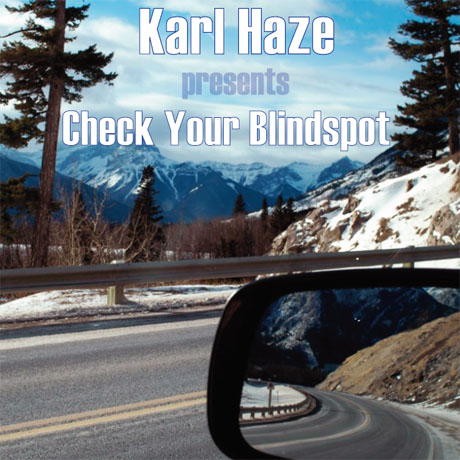 right-click on the title and save as to download
Mixed in Ottawa, May 2011
(65:38, 90.5 MB, 192 KBPS MP3)
Zip pack (cut into individual tracks)
Large cover
Cue file
Style: Serious 1992/1993 breakbeat hardcore business
Direct link to the mix:
http://sonicrampage.org/guestmixes/khz/Karl_Haze-Check_Your_Blindspot.mp3
Tracklisting:
01. Chaos & Julia Set – Fear The Future (Recoil)
02. A Thief, A Lunatic, and A Terrorist – Laughter (Eclipsed)
03. Jim Polo & Neil Vass – Underground Feeling (Dark Horse)
04. Cool Hand Flex – Who's That (De Underground)
05. M-Beat – Rough Like Me (Renk)
06. Erogenous Zone – Zone Of Love (Trouble On Vinyl)
07. Freddy Fudpukker – Keep The Love Alive (Baby Bonny Mix) (Symphony Sounds)
08. Delirium – Days Of Our Lives (Manix Remix) (Reinforced)
09. Krome & Time – Final Destination (Suburban Base)
10. Manix – Turn Away Skull (Reinforced)
11. Tom & Jerry – A Patch Of Blue (Tom & Jerry)
12. DJ Trax – We Rock The Most (Moving Shadow)
13. Foul Play – Finest Illusion (Section 5)
14. D-Livin – Why? (D-Livin)
15. Phuture Assassins – Future Sound (2 Bad Mice Remix) (Suburban Base)
16. DJ Seduction – Live Together (Impact)
17. Unlimited Source – Time Of Our Life (Infrasonic)
18. Nick OD – Jazzy Hardcore (Reinforced)
19. Nasty Habits – Here Come The Drumz (Remix) (Reinforced)
20. Krispy Krouton – Flavour 2. Chicken & Sweetcorn (Empire)
21. Cool Hand Flex – Untitled (De Underground)
22. GBH – Back From The Grave (Boogie Times)
23. New Decade – Get The Message (Out Of Romford)
24. Psychotropic – Hypnosis (SL2 Remix) (O2)
Enjoy this mix? Click here to leave a comment
Firstly, um, sorry for the delay in new mixes from myself. Since moving back to London I've not been able to set up the decks yet, because of a problem so stupid I don't want to discuss it. So I won't!
In happier news, I'm very pleased to present this excellent guest mix from Canadian dj Karl Haze, which is a fine selection of 92/93 breakbeat hardcore mayhem, spanning both stone cold anthems and lesser-known obscurities … indeed, Karl has managed to include a bunch of tunes I'd never even heard before.
I first became aware of Karl when he dropped a comment on That Dream Is Over a while back. Being a curious kind of guy, I went over to his site, downloaded one of his mixes and, well, went on to download a whole stack of other mixes from him. Which, as I'm sure he'll agree, is the highest compliment one dj can pay another!
Karl's mixes, whether they go back to the old skool or they touch on the more modern sounds of drum n' bass, are always characterized by impeccable tune selection, silky smooth mixing, and clever programming. Or, to put it more pithily, they're just really fucking good!
Anyways, a few months back, whilst listening to his Marcus Intalex Spotlight mix, I decided that I just had to ask him to contribute a guest mix, so I fired off an email to ask him if he'd like to contribute a mix, he said sure and asked what I wanted, and, like always, I said I left it up to him. Fast forward a few months and Karl got back in touch and said he had a mix for me, and did I want it?
Well, one listen was all it took to confirm that it was well worth the wait, as I'm sure you'll agree.
On that note, let's move on to a few questions and answers with the man himself:
Pearsall: Tell us a bit about yourself, your background, and how you became a dj?
Karl Haze: I'm Karl Haze/Counterweight, a DJ/producer from Ottawa, Canada. Ever since I was a little kid, I've always been really interested in music. It became obvious to me at around the age of 10 that music was something very special to me, even if I couldn't quite figure out why.
Move ahead to 1992, and I was into all sorts of music: punk rock, metal, hip hop, indie, etc. One night I was surfing the airwaves of my local campus radio station, CKCU 93.1 FM. I happened to hear this really strange & exciting music coming out of my headphones. It turns out I was hearing a slew of early hardcore/rave tunes. Stuff like SL2, The Prodigy, Acen, Messiah and the like. I was hooked right there!
Following on from that first exposure, I started tuning in to radio shows like Planet Rave, tracking down mixtapes, buying 12″ vinyl … which all lead to my later involvement in DJing. I got myself set up with some primitive equipment, and started learning how to mix at home (like everybody does). By 1997 I had a radio show on a campus radio station (Futurhythm, on CHUO 89.1 FM), and began DJing clubs and raves in Ottawa and the surrounding area.
The timing of this interview is strange, as just this past May saw the final broadcast of the Futurhythm show. I hosted that radio show for 14 years, but it was finally time to shut it down and move on. I still play the odd club date here in Ottawa, and promote the music I love online in various ways.
What's the scene like in Ottawa – was it there that you got into jungle, or was it in Toronto?
The scene here in Ottawa is good. It's always been a bit of a house/4 to the floor scene, but early hardcore was played back in the day by DJs such as Rayaz, Teknobrat, Motomasa, Kaos, etc. Toronto has always had the leg up on Ottawa when it comes to club culture, jungle/drum & bass included. However, by the time 1999 – 2000 rolled around our scene was quite strong, supporting several weekly club nights and bigger raves & parties on the weekends.
I feel really lucky to have been directly involved with the Ottawa jungle/drum & bass scene during this peak period. Since then, the scene has declined in numbers a bit, but we're still here. Dubstep has really blown up lately, but you can still head out to hear jungle/drum & bass a couple of times a month here.
What's the story behind this mix?
Basically, this mix takes you through the core years (in my opinion) of early UK hardcore, 1992 & 1993. But instead of going chronologically, it moves from higher tempo 1993 cuts, down to some slower 1992 selections. I think it's a pretty good blend of anthems and well-known tunes, as well as some more obscure bits too. Even though I made a name for myself playing "modern" jungle/drum & bass, I've always been known to bust out an old school set every now and then. I definitely have a soft spot for the roots of the music!
How did you record this mix – vinyl, cd's or digital?
This mix was recorded using 2 X Technics 1200′s, a Pioneer VMC-004XL mixer, and 100% vinyl. I still love my records!
Awesome, me too! In your opinion, what is it that made the original UK hardcore sound so special?
I've thought about that many, many, many times, and you know what? I don't really know for sure. I think that partly, it goes back to the first time I heard this style of music. I remember being more excited and blown away by it than I had ever been by any distorted guitar chords or drum solos. Also, even in the early days of the scene, the music has always had a huge variety in terms of sound. Some of it is aggressive, while other tracks are soothing. Some tracks are dancefloor jams, some are better suited for a late night headphone session. It's all there!
You've done mixes in a bunch of different styles – old skool hardcore and early jungle right through to modern drum n' bass – what's your favourite sound?
I love it all, but the old skool hardcore will always be the one for me for the reasons stated in my previous answer. It's the original and the source!
Let's say the Quebecois became infected en masse with a zombie virus and they marched on Ottawa demanding delicious tasty brains – what tunes do you grab before you make your escape?
Ha ha! You've done your research on Canadian socio-politics. Nice one! In reality, I think the zombies would get me while I was filling my record bag. I am notorious for taking ages when picking out records for a gig. You're probably saving my life by making me think about this in advance!
OK, the tunes I'd save would have to be:
Doc Scott – NHS (Disco Mix) (Absolute 2)
Various – Enforcers 2 (Reinforced)
3 Thieves & A Liar – I Get A Chill (3 Thieves & A Liar)
Photek – Complex (Photek)
Marcus Intalex – Refreshed (Soul:R)
Quality selection! Besides hardcore/drum n' bass, do you spin any other styles?
Given the opportunity, I play anything I like. On top of the previously mentioned hardcore, jungle, and drum & bass, I also play: classic house, old skool techno, classic dance/club tracks, hip hop, and rock/indie. I don't rule anything out though.
If people want to check out any more of your mixes, where can they go?
If you want to check out more mixes and music from me, look no further than my blog. It has a steadily growing slew of mixes from myself, as well as posts on other things I find worthy of blabbing about:
http://turnawayskull.blogspot.com
You can also check out my MySpace pages, my Soundcloud page, and an old archive page I still have online. These don't see updates as often as my blog, though.
http://postmobills.com/khaze/
http://www.myspace.com/counterweightkarlhaze
http://www.myspace.com/karlhaze
http://soundcloud.com/karl-haze-counterweight
One Response to 'Guest Mix: Karl Haze presents Check Your Blindspot'
Leave a Reply