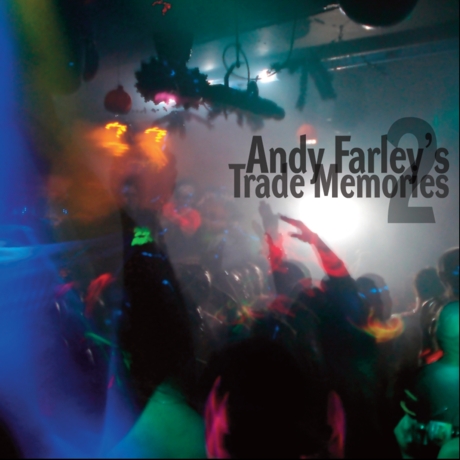 Andy Farley's Trade Memories 2
8 mixes, 128 tracks, and over 10 hours of music!
Recorded in Birmingham, 2009
Style: House on mixes 1-3, Hard House on mixes 4-6, Nu-NRG on mixes 7-8
Each mix available as both a single mp3 file and as a zip file of separate tracks
Click here for my interview with Andy about Trade and these mixes
Click here for Andy Farley's Trade Memories
Click here for a larger version of the cover
I would like to thank Flickr user jamiemojo for allowing me to use his Trade photo for the cover of this mix series. Please see the original here and make sure to check out his photostream as well as his website, Mangachild!
Note: All mixes are 320 kbps mp3
Part 1
Single mp3 file
Zip file (cut into separate tracks)
01. Paul Johnson – Groove Melody
02. Le Knight Club – Intergalactik Disko (DJ Sneak Version)
03. The Rhythm Construction Co. – Disco Daze
04. Todd Terry – A Day In The Life (Tee's Boom Dub)
05. Constipated Monkeys – Cro-Magnon (What About Our Love)
06. "Filthy" Rich Criso – Get It Together
07. Alan Thompson – Lost In Space (Deep Space Dub Mix)
08. GU – I Need GU
09. T-Total – Shake It On Up
10. 4th Measure Men – The Keep (Sharp Shock Dub)
11. Glenn Underground – Do It
12. Bedlam – Da-Force
13. Cevin Fisher's Big Freak – The Freaks Come Out (2000 Freaks Mix)
14. T-Total – Wake Up Your Mind
15. Silvio Ecomo – The Uprising
16. Armand Van Helden & DJ Sneak – Psychic Bounty Killaz
17. Peter Presta's 2 Pump Chump – Pump Pump (Dave's Hard Head Mix)
Part 2
Single mp3 file
Zip file (cut into separate tracks)
01. Peter Presta's 2 Pump Chump – Pump Pump (Dave's Hard Head Mix)
02. Malcolm Duffy – Mrs Ed
03. Paul Vivona Presents The P.V. Project – Don't You Want Me
04. Old Skool Playaz – Base's Loaded
05. Andy Roberts – Ruff N Raw
06. Millenium – Movin' Me (Jose's Move Mix)
07. Sharp Boys – Sharp Tools Volume One B2
08. Restless Rockers – Restless (Restless Original Mix)
09. Hip Hoperation Featuring Kenny C – Hip Hoperation (Original Mix)
10. Mike Dunn – Can I Turn It Up
11. K-Hand – I Feel Good
12. X-Press 2 – AC/DC (Gangbanger Mix)
13. Mr. G – You Been Hit
14. Joe T Vanelli Featuring Tony Bruno – Sexogroove 98 (Sharp Remix)
15. Sharp Boys – Sharp Tools Volume One B1
16. Green Velvet – The Stalker (Laidback Luke Remix)
17. Timo Maas – Eclipse
Part 3
Single mp3 file
Zip file (cut into separate tracks)
01. Timo Maas – Eclipse
02. Eric Powell – Reach And Hugg (Olav Basoski's Samplitude Mix)
03. Killa Green Budds – Keep Slippin' (Sharp DTPM Remix)
04. Gat Decor – Passion (The Naked Mix)
05. Problem Boy – Self Control (Olav Basoski Mix)
06. E-Motion – I Stand Alone (Sharp Dub)
07. K-Klass – Burnin' (Sharp 'Master Blaster' Remix)
08. Diss-Cuss – Save The Day (High Heels And Wig Mix)
09. Yomanda – Synth & Strings
10. DJ Robert & Zoe – Work It Out
11. DJ Gonzalo vs F1 – Let's Go (Gonzalo's Let's Trade Mix)
12. Jas Van Houten – There It Goes
13. CLS – Can You Feel It (Perpetual Motion Remix)
14. Camisra – Feel The Beat (Tall Paul Remix)
15. Fred & Ginger – The Jam Must Go On
16. Untidy Dubs – To The Beat
Part 4
Single mp3 file
Zip file (cut into separate tracks)
01. Untidy Dubs – To The Beat
02. Jonesey – Independence
03. 16C+ – Under 4 Ever
04. The Experts – Take You There
05. Zero The Hero – Direct To You (Kreed's Follow The Leader Mix)
06. Da Junkies – Want You
07. Mauve – 93 (Steve Thomas vs DJ Ziad Mix)
08. DJ Buddah – La Putana
09. OD404 – Let Me Tell You Something
10. Bossi – Funky Technician (Knuckleheadz Remix)
11. Dax – Brooklyn's Theme
12. Lemon 8 – Bells Of Revolution (Steve Thomas Remix)
13. L.H. Puke – Raw
14. Renegade – Feel It (Dave Randall Mix)
15. Steve Thomas – Put Your House In Order
Part 5
Single mp3 file
Zip file (cut into separate tracks)
01. Steve Thomas – Put Your House In Order
02. DJ Ziad – Keep On Rockin'
03. Vinyl Vandals – Don't Ever Stop
04. JP – Sexy Thing (Chunky Bar Mix)
05. DJ Misjah & DJ Tim – Access (Steve Thomas Mix)
06. Dynamite – All Man
07. Paul King – Bring The Beat Back
08. Little Diamond – Do You Hear Me
09. Must – Understood (Dave Randall Red Zap Mix)
10. Club Crew – Kindred Spirit
11. The Captain & Steve Thomas – Get Down 2000
12. Scope – Beyond Gravity
13. The Captain & Steve Thomas – The Leader
14. DJ Randy – Pandomia
15. Donnie And Choci – What Happened (Epik Remix)
16. Signum – Pressure (Baby Doc Remix)
Part 6
Single mp3 file
Zip file (cut into separate tracks)
01. Signum – Pressure (Baby Doc Remix)
02. Rizzo – Housework (Tony De Vit Mix)
03. Tony de Vit – Feel My Love
04. DJ Oberon – Brainwave
05. Flammable – Steppin' To The Sound
06. Mangroove – Get Loose (Racoon Main Mix)
07. The Project – Shout It Out (F1 Mix)
08. Diddy – Give Me Love (Tony De Vit Mix)
09. S-J – Fever (Tony De Vit Club Mix)
10. Age Of Love – Age Of Love (Baby Doc Remix)
11. Exit EEE – Epidemic (Straight From Heaven Mix)
12. Sourmash – Throwing Caution To The Wind
13. Energya – Straight Kickin
14. Epik – The Blob (Tony De Vit Remix)
15. D.M.B. – If We Lose Our Lovin'
Part 7
Single mp3 file
Zip file (cut into separate tracks)
01. D.M.B. – If We Lose Our Lovin'
02. Louise – Naked (Tony De Vit Remix)
03. Interactive – Koma
04. Committee – Trance Line
05. The Establishment – Burning Up
06. Quench – Dreams (Tony De Vit Remix)
07. Karlton – Terrordome (Lectrolux Remix)
08. DJ Randy – Fusion
09. Phenomania – Who Is Elvis? (Tony De Vit Remix)
10. Panik – Put Your Fucking Hands In The Air
11. Force Mass Motion – Lift
12. Weirdo – Make U Groove
13. DJ Edge – Edge Test 3
14. Mandala – The Encore
15. Eric Sneo – Forces Of Nature
16. Tony De Vit – Splashdown
Part 8
Single mp3 file
Zip file (cut into separate tracks)
01. Tony De Vit – Splashdown
02. Microworld – Booby Trap (Commander Tom Remix)
03. Wippenberg – Neurodancer
04. The Disciples – Underrave
05. Nexus 6 – Tres Chic
06. Dream Plant – The Mighty Machine
07. Cygnus X – The Orange Theme
08. Baby Doc & The Dentist – Tales Of The Seraphim
09. Illuminatae – Tremorra Del Terra
10. DJ Reche – Don't Work (Mark Sinclair & Choci Remix)
11. Tom Wax & Jan Jacarta – Music Is The Only Drug
12. Allnighters – Black Is Black (Ian M's Trade '98 Remix)
13. DJ Scot Project – U (I Got A Feeling) (V-Mix)
14. Steve Blake – Expression
15. NRG – Never Lost His Hardcore (Baby Doc Remix)
16. Tom Wax & Jan Jacarta – Wormhole