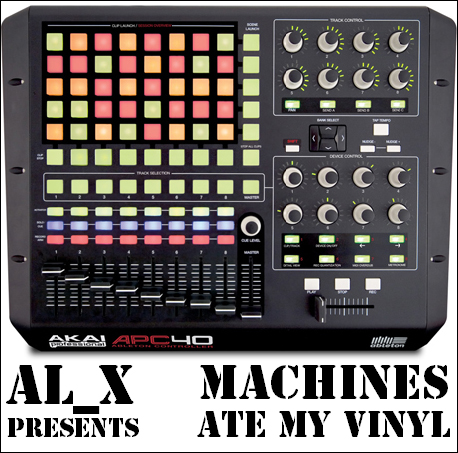 right-click on the title and save as to download
Mixed in London, September 2009
(53:06, 121.76 MB, 320 KBPS MP3)
Style: breaks
Direct link to the mix:
http://www.sonicrampage.org/mixes/alx/ALX-MachinesAteMyVinyl.mp3
Tracklisting:
01. DJ Shadow – GDMFSOB (UNKLE Uncensored) (Island Records)
02. DJ Deekline And Ed Solo – Handz Up! (Stanton Warriors Remix) (Against the Grain)
03. 10 Rapid – Sonic Weapon (Neon Wax)
04. Freeflow 45 – Rock Chemistry (Bombtraxx Records)
05. Tigerfunk & Youthful Implants – Heatseeker (LuQas Remix) (Dead Famous Records)
06. Mr. No Hands – Chuggy (No Handed Music)
07. Stanton Warriors – Steal The Pressure (Punks)
08. Tom Wilkes & Hedflux – Basscake (Broken Robot Recordings)
09. Shystie – Nu Style (Deekline & Ed Solo Mix) (Rat Records UK)
10. Unknown – It's Like That (Cut & Run)
11. Unknown – Poison '08 (White Label)
12. Backdraft – Labrat (Passenger)
13. The Prodigy – Outta Space (Booty Space Mix) (Cut & Run)
14. Stanton Warriors – Precinct (Plump DJs Remix) (Punks)
15. Lee Coombs – Future Sound of Retro (2008 Remix) (Finger Lickin Records)
16. Fatboy Slim – Star 69 (Rogue Element Remix) (Skint Records)
17. Feed Me – The Spell (mau5trap)
Note from Pearsall:
Alex has been a great friend of mine for many years now, so when he asked me if I could host a new mix of his, I didn't hesitate to say yes!
Obviously, I personally remain wedded to vinyl, but I have no particular objections to other people embracing technology, so I am happy to present something entirely different from what is usually featured on this blog. AL_X has provided fifty minutes of filthy breaks thrown through the Ableton blender, and I think you should enjoy it!
Without further ado, here are some words from the man himself: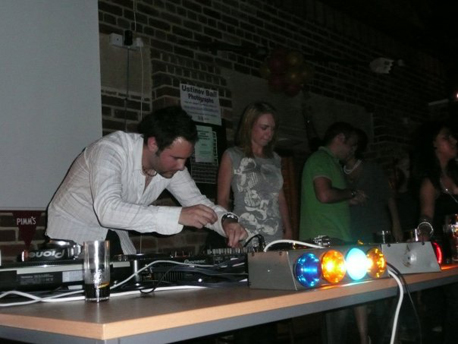 'Machines Ate my Vinyl' has taken me months of preparation and I'm uber excited to release this 53 minute mix of peak time breakbeat. This demo was a huge labour of love; a project for me that represents a serious change in both my DJ style and method. In May this year, after mixing for a decade using predominantly vinyl and occasionally CDs, I decided to set myself a challenge. I wanted to be able to play an entire set off my laptop with as much control & feeling as I would have if I used vinyl. I've been working on this ever since.
Ableton Live is a simply amazing programme for mixing and the Akai APC40 (pictured on the cover of this mix) allows for complete hands-on control of all tunes, channels, EQ'S and FX. This enabled me to create custom FX, layer vocals and basically never be out of the mix. After I relocated to London in June it took me a few months to get used to the software and set up the controller in a way I felt comfortable with. I'll admit that it's a slightly exhausting way to work, but I think that the final product really speaks for itself. To address any purist critics: Yes, the software beatmatches for you, but any monkey can beatmatch – it takes skill to mix. After ten years of DJing I'm pretty confident in my skills and any software or equipment that gives me even a second more to concentrate on the mix itself is worth its weight in gold. For those who are interested: The mix was recorded 100% live using the APC40 as a real time controller, with no automation. For the less techy inclined, this means that everything you hear is done by me live and not controlled by the software.
Tune wise its peak time, balls to the wall breakbeat!! I was originally going to churn out a nice progressive mix, but a mate of mine who promotes a night in Manchester said to put a demo together for him of "what I'd really like to play". I decided to make that demo the end goal of this project. I'm so used to making CDs for promoters that show a smooth progression from the calm to the blisteringly hard that this was a unique opportunity for me. I got to put together a demo of tunes that I love; a demo of the peak time set that I'd want to hear.
My friends would probably tell you that when it comes to putting a demo together I'm a bit of perfectionist. So unsurprisingly it took me another month or so to figure out which tunes I wanted to use and work out some really cool FX mixes, double drops, bass line switches, quick/loop mixes. I also got to road test some of the tunes at a warehouse party hosted by the vinyl pimp, which provided invaluable feedback (Cheerz Eric!). The end result: 17 tracks in just under an hour and rarely a minute where something's not being mixed or tweaked. To be honest, when I recorded the mix, I expected it to be at least ten minutes longer! Never mind – Ableton gives you the power to start one mix the second that you finish the previous one, which can only be a bonus. I guess my next mix will have more tunes in it that one of Pearsall's!! 😉
So what about the tunes themselves? I honestly don't know where to start…. I pretty much love every single tune in this mix! I guess I should just pick out a few highlights. The opening tune, GDMFSOB, is just awesome. I am a HUGE Shadow fan and love Roots Manuva, so was seriously shocked when my friend Gareth played this to me last year. How did this tune slip beneath my radar?? I loved it instantly…. Ninja Tune styles with a fat bassline!! I decided right there and then that it would be the opening tune to my next proper mix.
Moving on a bit… 'Rock Chemistry' is produced by Freeflow 45, an alias for Dom Sweeten, the legendary Hard House producer (and my favourite). This reminds me so much of the breakdown in his OD404 classic, 'Block Party', which strangely enough was the reason I got interested in breaks. Crazy Nintendo-esque synths, fat bass and a killer breakdown. I also love the fact that I managed to double drop it right when the breakdown of 'Sonic Weapon' peaked. No way this one was getting left out!!
A bit later we get to the now classic 'Outta Space' remix. I know this tune has been played to death and probably featured on a thousand mixes. However, there's a good reason I used it. I will never forget when I first heard this tune. Back in 2004 and I'd just finished my set at a free party under a motorway bridge near Hackney when this tune got dropped…. my jaw hit the floor!! I don't think any bassline has ever had such an effect on me and this tune still sends me nuts every time I hear it. My brother (who doesn't even like breaks) danced liked a rabid wombat when this got dropped @ Naughty Panda last year. It simply had to go on this mix.
Lee Coomb's "Future Sound of Retro Remix"…. This tune was a mission to track down. I heard this played @ Naughty Panda at the end of last year, went nuts to it, but couldn't find out what it was called. I was pretty sure that it was Lee Coombs who played it, so spent hours and listening to his live mixes and scouring through his online charts until finally I found it! Pounding bass and a trancy breakdown… Is it breaks? Probably not, but I couldn't care less…. An amazing tune!!
Feed Me's "The Spell"… The intro to this tune is so frickin good that it should be a crime against humanity to mix it in quietly; so I didn't! I looped the vocal in the breakdown of "Star 69", added some FX and dropped it right in!! This tune ducks, dives, screams and soars its way very close to perfection. One of the best breaks tunes I have ever heard and the only way I wanted to end this mix.
Anywayz… That's enough from me! All that's left is to say a huge thank you to my buddy Pearsall for hosting this for me and putting together the cover. I guess if you're reading this you don't need me to tell you about the mixing skillz this man possesses.
In short then: A killer peak time set, of tunes I love, using the awesome software that is Ableton Live!!
Hope you enjoy listening to it as much as I enjoyed mixing it!!
Peace,
Al